"In the early 1960s, most vocal backing for records was undertaken by regular session teams, like the Mike Sammes Singers, the Babs Knight Singers, the Bill Shepherd Singers etc. These were large vocal groups who could all read music well. No matter what style of music you were recording, you just gave them the vocal parts and they did a thoroughly professional and competent job. However, the music scene was changing and it was clear there was a need for a harder 'girlie' pop sound.
The Breakaways were introduced to me by their manager Peter Walsh. They had 'broken away' from the Vernons Girls and were looking for a record deal.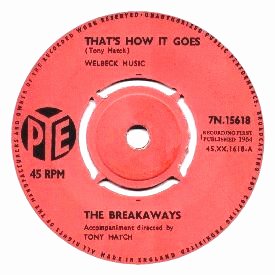 The instant I heard them, I realised they had this unique USA girl group sound, a sound that would also be great behind solo singers, be they male or female. The girls agreed they would like to back other singers whilst waiting for their own records.
They were very adaptable and had a natural instinct for finding the right notes and getting the sound a producer was looking for, always coming up with ideas of their own. They were great fun to work with, very attractive and would come to a recording session dressed to kill. They also had a wicked sense of humour. When I first asked them to back Petula Clark's French records I well remember them winding me up by insisting they could only sing in French with a broad Liverpudlian accent! (Can you imagine it?) They kept this up until the red light went on when, of course, they not only hit the right notes but were word perfect.
Over a short period of time I developed a warm relationship with the girls, especially Margo. As the NEMS stable of artists began to emerge, it was she who encouraged me to visit Liverpool where she dragged me off to a club in Bootle. That's where I found and signed the Searchers and the Undertakers.
The Breakaways not only backed most of my solo artists — including hits by Petula Clark, Jackie Trent, Julie Grant, Mark Wynter and Jimmy Justice — but also made some great records themselves. I'm sorry that their own records failed to make the charts. Perhaps, forty years on, a new generation will learn just how special they were."
TONY HATCH

In Detroit, Michigan — at Motown Records — they had the Andantes. Nashville, Tennessee — Music City — boasted the Anita Kerr Singers and the mighty Jordanaires. In Memphis, they had Jean and the Darlings at Stax, and Rhodes/Chalmers/Rhodes at Hi Records. And out West — in Hollywood, Los Angeles — they had the Blossoms, while New York was home to the Sweet Inspirations and the Cookies. It seems that, in the 1960s, in every major recording metropolis, there existed groups of studio singers who ruled the roost, backing up all the local talent and passing stars. London, England was no exception. Greet the Breakaways — fresh out of Liverpool — possibly the busiest and greatest session group the British recording scene has ever known.
Petula Clark, Cliff Richard, Joe Brown, Dusty Springfield, Mark Wynter, Cilla Black, Jimmy Justice, Jackie Trent, Billy Fury, Marianne Faithfull, Jimmy James & the Vagabonds, Lulu, Kiki Dee, Lonnie Donegan, Dave Berry . . . Sounds like a line-up for a super-spectacular package tour, doesn't it? What it is, in fact, is a (very) abbreviated roll call of British artists that were backed on record by the Breakaways. Plus, of course, there were visiting overseas stars too, like Chubby Checker, Dionne Warwick, Françoise Hardy, Paul Anka, Jack Jones, Brigitte Bardot, Jackie DeShannon, Big Dee Irwin, the Walker Brothers, Johnny Halliday and Bobby Rydell. The Breakaways backed them all. A more complete list, printed below, runs into hundreds. The Breakaways did sessions for an array of labels, and worked for nearly every UK-based producer of note, including Tony Hatch, Joe Meek, George Martin, Shel Talmy, Andrew Loog Oldham, Mike Leander, Robert Stigwood, Mark Wirtz, Ivor Raymonde and Charles Blackwell, not forgetting US visitors Burt Bacharach and Bert Berns. The Breakaways were truly ubiquitous.
| | |
| --- | --- |
| | |
| | |
It was late in 1960 that VICKI HASEMAN, MARGO QUANTRELL and BETTY PRESCOTT planned their 'breakaway' from the original Vernons Girls, the 16-strong girl group from legendary TV shows like Six Five Special and Oh Boy. The trio headed straight for London where they bagged themselves a manager, Peter Walsh, who also handled acts like the Brook Brothers. Dubbing themselves the Breakaways, they began their recording career at Pye Records in 1962 with a stiff-corseted version of the Crystals' 'He's A Rebel'. It was at Pye that they began what was to become their staggeringly prolific career as a backing group, their first session being Joe Brown and the Bruvvers' #2 hit 'A Picture Of You'. The label's A&R man Tony Hatch, who knew a good thing when he heard one, soon had them singing behind acts like Chubby Checker, Jimmy Justice, Julie Grant and Mark Wynter too. Before long they were also working for Decca, EMI and Philips, and for smaller labels like Oriole and Ember. 1962 also saw the Breakaways take to the road, as a support act for Sam Cooke and Little Richard on a package tour of the nation. They made their celluloid debut in the pop extravaganza Just For Fun, accompanying Joe Brown on two songs, and also notched up appearances on TV's Thank Your Lucky Stars.
The girls were well on their way to becoming established when they suffered a major setback - Vicki had to quit due to a family crisis. Margo and Betty continued as a duo for sessions, but live work and touring ceased. Then Betty became unsettled at the idea of not having such steady work, and she too left, joining a Frank Ifield/Susan Maughan summer season as a dancer-singer. Margo then joined Pye's other session group, the Babs Knight Singers. It looked as though the Breakaways were history after only one year. However, Vicki then returned, her problems sorted, and rejoined Margo. Still a member short, they contacted JEAN RYDER, an old mate from the Vernons Girls who had worked for a while as the Two Tones with another ex-Vernon, future Ladybird Maggie Stredder. Jean and Maggie had also recorded a 45 as the De Laine Sisters. Initially less than keen to be part of another girl group, Jean agreed to join her pals for the next Breakaways session. The trio would remain together for over a decade.

Late in 1963 the group was re-launched with a new image based on the Avengers' Cathy Gale look - black sweaters, tight black pants and black spike-heeled boots. Jean, slightly taller in the middle, with her long strawberry blonde hair, was flanked by Vicki and Margo in matching short, dark bouffants, looking like sisters. (Listen, does this sound familiar? Did someone send the Shangri-Las' Svengali, Shadow Morton, a pic of the Breakaways a year later?) In addition, the girls now had a new Liverpool street-tough sound to match, and it stood out a mile on their new record, 'That Boy Of Mine'. Penned and produced by Tony Hatch, the disc bore the influence of the US girl group sound, with the trio sharing lead and sounding much grittier than before. The flip was even better, a fine handling of the Darlettes' claws-out classic 'Here She Comes', written by the American husband and wife team Jeff Barry and Ellie Greenwich. (Curiously, the Breakaways also sang the backing vocals on Christine Quaite's version of 'Here She Comes' for the Oriole label). More TV appearances followed, and they were once more in great demand for sessions, the first with Jean as a member being by Jean Martin at Decca. Other artists backed by the group this year included Carter-Lewis & the Southerners, Bobby Rydell, Billie Davis, Simone Jackson, Coronation Street actor Ken Cope and others. Meanwhile, Margo put on her best Scouse accent and followed in the footsteps of Wendy Richard and Billie Davis, by joining Mike Sarne on one of his novelty shots, 'Hello Lover Boy'; and great records like 'Be Good To Me' marked the beginning of what would be a long recording relationship between the Breakaways and Petula Clark.
| | |
| --- | --- |
| | |
| | |
| | |
In March of 1964, the trio issued their third, and probably finest, single in the form of 'That's How It Goes', another massively produced Hatch rave-up. The b-side, 'He Doesn't Love Me', was a terrific number authored by Ivor Raymonde and Mike Hawker. Again, both sides embodied the best of UK and US influences. The year also saw the Breakaways register as backing vocalists on Cilla Black's #1s, 'Anyone Who Had A Heart' and 'You're My World', Petula Clark's 'Downtown', Dusty Springfield's 'Stay Awhile', Adam Faith's 'Message To Martha', Kenny Lynch's 'Stand By Me', Lulu's 'Shout', Marianne Faithfull's 'As Tears Go By' and others by the likes of Françoise Hardy, John L. Watson & the Hummelflugs, Alma Cogan, Madeline Bell, John Paul Jones and former Searchers lead vocalist Tony Jackson.
By now, each of the group had become hitched to guys in the music biz. Vicki wed Joe Brown, whom she'd known and dated since her days as a Vernon Girl. Jean married Mike Hawker, lyricist on a copious amount of songs, among them several classics for Helen Shapiro and Dusty Springfield, including 'I Only Want To Be With You', the original demo of which was performed by Jean. And Margo was snapped up by Tony Newman, drummer in Sounds Incorporated, whose discs the Breakaways had backed.
Burt Bacharach came on a much-publicised trip to record in London early in 1965. Taking the Breakaways into the studio with him, he cut several tracks, including the now-standard 'Trains And Boats And Planes'. Boasting a very velvety vocal from the girls, the record beat off several rival versions on its climb to #4 on the UK charts. The elegant looking Breakaways - with Betty Prescott subbing for a pregnant Vicki - also guested on Granada TV's The Bacharach Sound, alongside Dionne Warwick, Dusty Springfield, the Merseybeats and the eponymous star. The group also did back-ups on Dionne Warwick's 'You Can Have Him' 45 and 'The Sensitive Sound Of . . .' album, plus Jackie DeShannon's 'Come And Get Me', all with Bacharach in the producer's chair.

The year also saw the release of the Breakaways' fourth single, a version of the old chestnut 'Danny Boy', backed with 'Your Kind Of Love', an excellent Marty Wilde song that featured the trio at their smooth, sophisticated best. On the session front, notable contributions included Petula Clark's international hits 'I Know A Place' and 'You're The One', Jackie Trent's #1 'Where Are You Now (My Love)', Dave Berry's 'Little Things', Peter & Gordon's 'To Know You Is To Love You', Billy Fury's 'In Thoughts Of You', Tom Jones' 'What's New, Pussycat', Pinkerton's Assorted Colours' 'Mirror Mirror' and the Walker Brothers' 'Make It Easy On Yourself', plus great tracks by Sandra Barry, Tammy St. John, Sharon Tandy and Czech exile Yvonne Prenosilova. The Breakaways also contributed a song, 'Someone To Talk To', to the soundtrack of the Dirk Bogarde/Julie Christie movie Darling.
By '66, the trio were residents on Ready, Steady, Go, which now required all acts to sing live. Unlike their archrivals the Ladybirds, who usually remained behind the scenes on Top Of The Pops, the Breakaways often performed routines with the artists they were backing, and sometimes had their own solo spots. During the RSG period, Jean took a temporary leave of absence to give birth to her second child. She was replaced by yet another ex-Vernon, Ann O'Brien, who became a floating member for a while. Session work continued unabated, with the Breakaways backing up Petula Clark and the Walker Brothers on several hits, plus Tawney Reed, Twice As Much, Jan Panter, Mally Page and Jimi Hendrix on his debut smash 'Hey Joe'.
| | |
| --- | --- |
| | |
| | |
| | |
The Breakaways didn't find time to put out another group record until 1967. The disc was the impressive 'Sacred Love', a haunting rock ballad written and produced by Mike Leander for CBS. The girls also supplied vocals for the Tony Hatch Sound's version of the Francis Lai movie theme 'Live For Life'. In '68, they released their last single, the MOR-ish 'Santo Domingo' on MCA, again produced by Leander. Meanwhile, their pattern of work continued as usual, with them supplying lead vocals on a number of tracks by the Mark Wirtz Orchestra and backing Long John Baldry, progressive outfit Giles, Giles & Fripp, Jimmy James & the Vagabonds and, perhaps most significantly, Cliff Richard. Along with Cilla Black, the Bachelor Boy would almost monopolise the backing vocal services of the Breakaways for the next few years on hits like 'The Day I Met Marie', 'Congratulations', 'Goodbye Sam, Hello Samantha' and 'Sing A Song Of Freedom'. Looking particularly glamorous, they flew to Dublin in 1971 to sing 'Jack In The Box' with Clodagh Rodgers at the Eurovision Song Contest. The early 1970s also saw the girls lend a hand to Olivia Newton-John on a series of chart records including 'Banks Of The Ohio' and 'I Honestly Love You'.
Though the work still flowed in the '70s, by then the number of female session singers had swelled considerably, what with the arrival of Sue & Sunny, the Chanter Sisters, Stephanie De Sykes and many others. Finding it hard to remain as a threesome, the Breakaways became more flexible, working individually or in pairs on various projects, progressively using the group name less and less. Margo and Jean, for example, joined the James Last entourage for a period, Vicki teamed up with Stephanie De Sykes to cut a single as the Tree People, Jean went on a Cliff Richard tour, and Margo and Vicki were both on the original soundtrack album of 'Tommy'. Around the middle of the decade, the name Breakaways was dropped altogether.
Vicki was the most prolific of the group following its demise, recording with her husband Joe's group Brown's Home Brew, a few 45s under various names, and several albums as a member of the New London Chorale, the first of which, 'The Young Messiah', indirectly leading to her becoming a star in the Netherlands. Her first solo album, 1977's 'From The Inside', was produced by Shel Talmy. Three further albums followed over the next decade.
These days, Margo, now divorced, lives back in Liverpool and sings with a classical choir; Jean resides in Surrey with her second husband, bassist Paul Westwood, and original member Betty lives in happy retirement in Hertfordshire. Sadly, Vicki passed away in 1991, aged just 50, leaving husband Joe, daughter Sam and record producer son Pete to keep the Brown family name alive in the music business.

"When I was making my big hits with Tony Hatch in England in the 1960s, the Breakaways were 'the' group to have backing you. In America you had the Blossoms and the Sweet Inspirations, but back home it was the Breakaways, and they were the best. They were fast, fun and downright great. They sang on so many things, including 'Downtown' and 'I Know A Place', and they also worked on my BBC TV show. They were special girls with a special sound."
PETULA CLARK