While some songwriters of the Brill Building era - the illustrious Goffin/King, Bacharach/David and Leiber/Stoller partnerships, for example - became household names, others worked away from the spotlight, quietly composing occasional hits and perfecting their craft. Carl D'Errico - who with Roger Atkins wrote the Animals' 1965 classic, "It's My Life" - is a prime example of the latter type. Employed as a staffer by several of New York's largest music publishing houses, he also collaborated with Neil Diamond, Joe Renzetti, Tony Powers, Estelle Levitt, Carole Bayer and numerous others, on material for artists as diverse as the Yardbirds, Jerry Butler and Marcie Blane. Still a songwriter, he took time off recently to tell me his story.
MICK PATRICK: What was your musical training, if any?
CARL D'ERRICO: I was born in Philadelphia, PA, where my father, a police officer, bought me a piano and I took lessons from a lady who came to our house. She would give me a gold star if I played the piece correctly. This was in the sixth grade and I was asked to play at our elementary school graduation. My parents wanted me to play something from my lesson books, but I was determined to, and did, play a couple of pop songs of the day. While my father was pounding the beat he found me two other teachers who specialized in pop music. My last formal education was at Temple University where I received a degree in Music Education. I worked as a teacher for just a year, teaching kids how to play piano, but the music business was calling me (in my mind at that point) and so I had to follow my dream.
How did you get started?
By playing piano in bands in the Philly area. I would do weddings, college frat houses, nightclubs - actually, my first gig was playing for "exotic dancers" in a funky bar where I was the MC too. I thought it was kind of funny and would make up jokes. I got fired because one of the "dancers" said that I didn't keep good time. This was interesting because dancing to them was turning their back to the audience and shaking their ass.
Are you a strictly music man, or do you write lyrics too?
My songwriting started when I would fool around with melodies and write them down in a book. I would write lyrics too but realized I needed help. I hooked up with different lyricists in college and wrote a bunch of things and demoed them but nothing really came of them - but I was learning how to write. There was a record business scene in Philly at the time - Frankie Avalon, Chubby Checker, Bobby Rydell, Patti Labelle - but I couldn't crack it.
So I started to take day trips to New York City with one of my partners, Mike Kurman. He and I would go to the Brill Building and, not having an appointment, we would go from floor to floor and knock on the doors, hoping to get someone to listen to our songs. Most of the time we got the door shut in our faces but we did get a chance to play for some people - that's if they had a piano. I would sit at the piano, Mike would sing and we would learn how to accept rejection. That was the sum of my experience with the Brill Building, but little did I know that my future boss, Don Kirshner, was beginning his empire in those hallowed halls. In the late '70s my wife Didi and I were signed to the New York Times who started a music publishing house, and when they closed the business two years later they sold it to Leiber and Stoller, who had the penthouse in the Brill Building.

What was the first song you had recorded?
I had another friend from Philadelphia, Tony Messina, who I met while playing gigs. He was using the name Marc Anthony and I was Sonny Derr (don't ask!). Tony was trying to make it as a singer, so he, Joe Renzetti and myself set out to write and produce a hit for him. We came up with a song called "Let's All Cheer Again", which was one of those summertime fun songs - school's out, so let's party! We got a record deal with a New York label, Diamond Records. That was my first record. The writer credit on the label said Renzetti, Messina and Derr. The name Sonny Derr appeared on my early records until I came to my senses. It actually got some airplay in NYC, but they couldn't break the record. Much later, Joe Renzetti got an Academy Award for scoring The Buddy Holly Story.
Tony Messina introduced me to Harry Ascola from the promo department of Columbia Records. I had written a song for Tony, and Harry really liked it. Harry introduced me to Tommy Catalano, who was in charge of the new publishing company that Columbia was starting up, April-Blackwood Music. Columbia eventually passed on Tony, but Tommy Catalano put me on the staff and gave me a month to prove myself. That was my first job as a staff writer. I passed the test by writing a song that Tommy loved with another staffer, Estelle Levitt. I was at April-Blackwood for a year.

You wrote quite a few songs with Neil Diamond. How did that come about?
Neil Diamond was also on the writing staff at April-Blackwood. At first, we were to share a room in the basement of the old Columbia Records building on 7th Avenue, along with a group of cockroaches - friendly, of course. We worked out a time schedule to use the room, and eventually hit it off and began writing together. April-Blackwood had its office at 1650 Broadway and soon they created more writing rooms there, so we shifted to them. 1650 became the new Brill Building with lots of publishers and agents. Don Kirshner had Aldon Music's office there, but I would not hook up with him until two years later, when he ran Screen Gems at the Columbia Pictures building on 5th Avenue.
My favourite Diamond/D'Errico compositions are "Bobby Did", which Marcie Blane recorded in 1963, and "That New Boy In Town", which Jan Tansey did. What can you tell me about these songs?
I only vaguely remember "Bobby Did" and can't find the record or the demo of it. "That New Boy In Town" was written after Neil and I and most of the staff at April-Blackwood got fired. Later of course, Neil and Tommy would hook up and create a ton of hits. Neil decided to sublet part of an office that was used by a printing business a block from 1650 Broadway. It was large enough, or should I say small enough, to hold an old upright piano, a chair and a pay phone. Neil and I would knock out songs there just to make the $100 or so advance that we would make by selling them to publishers. The Richmond Organization, with British roots and Anthony Newley, liked our stuff and bought a few of them. They got us the Jan Tansey record.
At that time I knew that Neil basically wanted to write by himself and for himself, so we drifted apart as writers, but we still remained friends. I knew his wife and his parents at that time and was invited to his shows whenever he performed in the New York area. He had a powerful drive to succeed and I was happy for him when he made it because I know how difficult it is to succeed on that level. Besides, I was having my own success as a writer, and that's what I had set out to do. I last saw Neil in 1982, backstage at the Meadowlands Arena in New Jersey.

Who did you get to sing the demos of your compositions?
When I wrote songs with Neil, he would sing on the demos and also do the backup vocals and play guitar. There was one song that we wrote, "I Just Need You", where we used Dee Dee Warwick, the sister of Dionne. We wanted a rhythm and blues feel and Dee Dee had a great voice - she did a lot of demos and also sang with her sister. Other demo singers that I used with various writers were mostly the big guns back then: Kenny Chandler (he charted with the song "Heart"), Jean Thomas (charted with "Moon River"), Kenny Karen (did a million demos), Billy Carr (sang the heavier rock songs), etc. Freddie Scott, who already had a hit with "Hey Girl", sang on the demo of "Why Did I Lose You", a song I wrote with Roger Atkins, which was covered by Jerry Butler. I was hoping Freddie would put it out but I think he was going through some difficulties at the time.
Dee Dee Warwick is one of my absolute favourite vocalists. Do you still have your demo of "I Just Need You"?
Yes I do. "I Just Need You" is a pretty good song and we should have gotten a cover on it. Chuck Jackson would have been a great choice to do the song but as far as I know it was never covered. I wrote about a dozen songs with Neil at April-Blackwood. I still have some of the acetates but unfortunately not all of them. I guess the ones that I have the most of are from the Screen Gems period.
I'm a fan of Jean Thomas too. You and she also wrote together, didn't you?
I met Jean and her brother Don when I was at April-Blackwood. They were freelance writers and performers (Don played guitar) from Florida. Jean did a ton of demos including a bunch for me. At the time she had a chart record with "Moon River". Don wrote "This Door Swings Both Ways" with Estelle Levitt, which Herman's Hermits covered. Jean, Don and I got together and wrote "This World Wasn't Meant For Me", hoping to get a cover with Brenda Lee, but it never happened. The three of us did the demo, which I still have, and that was the only song we ever wrote together. I still believe in the song and am going to re-demo it one of these days - it would be perfect for Norah Jones or Willie Nelson. I was just talking to Don a couple of days ago. He has a recording studio now. After Jean ended her singing career she went into management, working with child actors. Then she was Mira Sorvino's manager when Mira won the Oscar. I'll always have fond memories of Jean and Don, not only because they are nice people, but also because they introduced me to Emil LaViola, and it was him who brought me over to Screen Gems, and that's where my career took off.
Another favourite of mine is "I'm So Lost", a lovely ballad you wrote with Ted Cooper in 1964. It was recorded by Major Lance, then a year later by Jimmy Williams. I'm not sure which I prefer. How about you?
I met Ted Cooper, along with other writers, at Shapiro-Bernstein. He liked R&B and soul music, but on one demo of ours that he sang on he actually sounded a bit like a country Truman Capote! After we wrote "I'm So Lost", Ted said that he got it to Little Anthony's people, but was turned down. After that, we heard their new record, "Hurt So Bad", which has similarities in the verse melody and chord structure. Coincidence? We'll never know. I'd forgotten about the Jimmy Williams version until you mentioned it. I realized that I had a copy of it, so I gave it a spin. Ted put so much reverb on the chorus that I thought it was recorded in the Grand Canyon! I like Jimmy's vocal better because Major Lance was more of a rhythm singer, and he was trying something new with a ballad. I don't think he was comfortable yet with that kind of song. I remember going to see a radio DJ with Ted to play the Major Lance record and the DJ put it on for 10 seconds and said that he wouldn't play it because it was a ballad.
Ted Cooper, Carl Spencer, Eddie Rabbitt and I wrote a song called "Night People" where the demo turned into the master. The four of us were hanging out at the office and decided to write a song together. Carl Spencer sang the male vocal and I'm not sure who did the female vocal. That's Eddie and me struggling in the background with our falsettos to sound like a female backup group. Teddy got a deal with the Fontana label for the demo and came up with the brilliant name for the group, the Leaders. There was another cover of the song by a group called Harry Deal and the Galaxies - I'm not sure if that's a step up or down from the Leaders. I don't know where Ted's career went after I left Shapiro-Bernstein, but I heard later that unfortunately he died at a young age.

Which studios did you use? Which engineers?
There were three main demo studios then, Associated, Dick Charles and Regent Sound. I mostly used Dick Charles. The hot engineer there was Art Polhemus who did practically everyone's demos. Art went on to produce and engineer the Blues Magoos. He has his own studio now and I know that he did all the Angelo Badalamenti and David Lynch movies. Bill (no vowels) Szymczyk started at Dick Charles and then went to Bob Lifton's Regent Sound. Bill became the main engineer there and was very popular. Eventually he headed west and had a lot of success producing the Eagles among others.
Your most famous composition is probably "It's My Life", which you wrote with Roger Atkins, your most frequent lyricist. How did you get together with him, and how did the song find its way to the Animals?
It was after I left April-Blackwood that Jean and Don Thomas hooked me up with Emil LaViola, who was running Shapiro-Bernstein Publishing. Previously, Emil had worked for Don Kirshner at Aldon Music, but he switched to Shapiro to head up their group. Eddie Rabbitt was also there. I wrote some songs for Emil, but then he left and went back to Donnie Kirshner, who was now head of Screen Gems Music. Emil gave me a call one day and said he wanted me to get together with a staff writer named Roger Atkins. Roger and I clicked and soon after I signed a staff contract with Screen Gems.
Screen Gems, of course, had a powerful group of writers and there was a strong sense of competition. When Emil or Donnie or the other professional managers learned of an upcoming session, they would let the writers know, and we would all set out writing songs to get on the session. "It's My Life" came about when Mickie Most, the producer of the Animals, said he was looking for songs for the group. The writers got busy writing and then handed in their acetates and there was a tall stack of them waiting for Mickie when he came in from London. Three of the songs in that stack were "We Gotta Get Out of This Place", "Don't Bring Me Down" and "It's My Life". Actually, the melody for "It's My Life" was the second one that I wrote for it. When I played the first one for Emil, he said that it didn't have enough punch and it was the wrong groove, so I rewrote it. After the rewrite everyone knew it was a hit. Some of the writers would play their songs for one another to get feedback - we used these small rooms with pianos in them, so people would hop around and check out what was happening next door.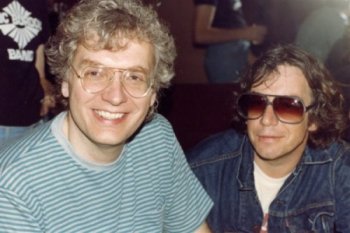 Another of our songs, "Don't Cry To Me Babe", was also written specifically for the Animals. Roger and I were excited about this one, because we knew it would be another hit for them. It was actually picked to be their next single but, as everyone knows, the Animals had heavy-duty personality conflicts and they decided to break up at that point. So the song was never recorded by them, or anyone else as far as I know.
When Roger and I were in England we wrote a song called "No Excess Baggage", and I did a quick piano-and-voice demo of it myself. That was the only time I sang on one of our demos. We redid the demo with studio musicians when we came back to New York, and the song was recorded later by the Yardbirds. If you listen to the Jimmy Page solo on the Yardbirds record, it's the same solo that Hugh McCracken did on our demo. Hugh is one of the best and later played with John Lennon and Steely Dan.
In 1978 I met Bruce Springsteen backstage at the Palladium in NYC when he did his epic 14-minute version of "It's My Life". We became friends and I invited him over to our apartment for one of Didi's famous Italian dinners. Bruce and I had some fun doing an acoustic version of "It's My Life". He said he would put the song on a live album, but never did. As a result, you can buy it at your local bootleg store.

I've done some research on your compositions, but a few titles have me stumped. What can you tell me about one called "All Of My Dreams"?
"All Of My Dreams" was the only song I wrote with Gerry Goffin. It's a pretty ballad. Recently, I changed the melody in the bridge to make it stronger and did a new demo (with me singing) and gave it to EMI. The Nashville office liked it for country artists, but so far no covers.
How about "The Goodbye Tree"?
"The Goodbye Tree" was a folk ballad written with Estelle Levitt, who did the lyric on the first song I wrote for April-Blackwood, "The Day Before Yesterday". Going back in time with you got me thinking about these old songs, and when I met a jazz pianist and arranger recently I played him "The Day Before Yesterday" (a Diana Krall-type ballad) and he loved it. So thanks for picking my brain - I've found some gems that may now see the light of day.
"You Want A Boy, Not A Man"?
That one has me stumped too! I don't remember ever writing that title, but I checked with Shapiro-Bernstein and indeed I did write it with Teddy Cooper. They don't have a copy of it. Apparently it was put in storage somewhere out of town, probably next to Jimmy Hoffa.
How and when did you meet your wife? Is she in the music biz?
Didi and I met in my bathroom. That's right. I had a friend who designed album covers for Columbia and I invited him to one of the parties that my roommates and I used to throw. He in turn invited his friend, Jim Moran, who was a big press agent for David Merrick, the Broadway producer. He also promoted the Rolling Stones when they came to the USA, and was known for sitting on an ostrich egg in an attempt to hatch the bird as one of his publicity stunts. Didi was a friend of his, and he brought her to my party. I had gone into my bathroom, which had a large open window, to get away from the thick smoke in the living room, and Didi followed me in. She admitted later that she had her eye on me, as I did on her, and she made her move and that was it. We've been married for 31 years.
Didi is a multi-talented person. She studied acting with Lee Strasberg and worked in theatre, film and TV. She danced with a Canadian ballet company and also in rock and roll. She always painted and right now she runs a group called DidiArt Angels - she and other volunteer artists go into children's hospitals and paint murals on the walls for the kids. She sang in a West Coast folk duo and also with me as a duo when we wrote songs together. We both were signed to the New York Times in the '70s when the Times went into the music business … they only lasted a couple of years.

Do you have kids? If so, are they musical, or in the arts?
We have no children. It's a cliché, but true, that your songs become your children. However, we had a great dog, Puccini, who was very musical and sang (kind of a mellow howl) along with my songs in perfect time and in key!
How do you earn your living these days? Still in music?
In addition to my music, I also am a SAG actor working in film, TV and commercials. Didi and I still write together. In fact we wrote something that I am going to record and get out on the internet - I'm about due, don't you think? I also wrote something new with Roger Atkins that I have high hopes for. It kind of feels like it did when I started in the music business - due to the internet, "singles" have again become a dominant force in music. The Brill Building lives!