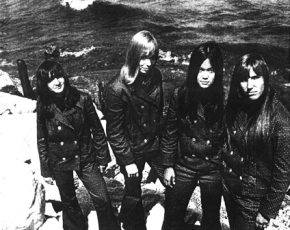 Line-up #1: Debi Pomeroy, Judy Johnson,
Marsha Tomal & Andee Levin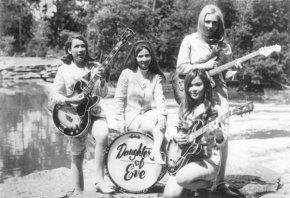 Line-up #2: Marilou Davison, Debi, Marsha & Judy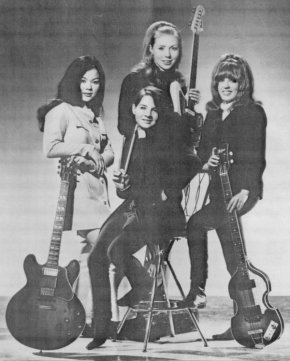 Line-up #3: Marsha, Debi, Judy and Lori Wax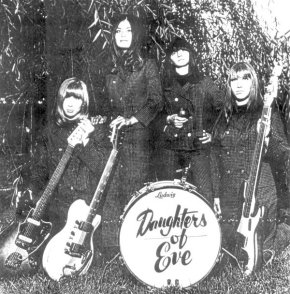 Judy, Marsha, Debi & Andee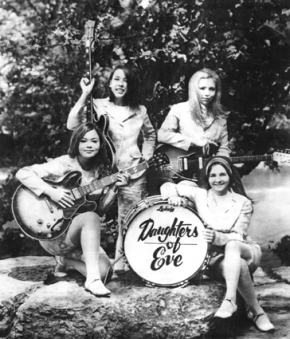 Marsha, Marilou, Judy & Debi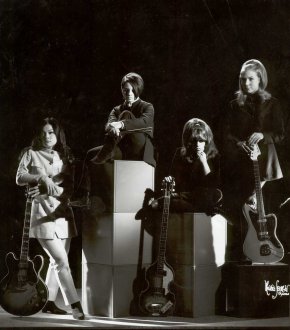 Marsha, Debi, Lori & Judy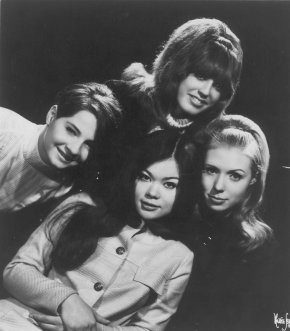 Debi, Marsha, Lori & Judy
The Daughters Of Eve were formed around Christmas of 1965 by our manager Carl Bonafede. He was managing a band called the Buckinghams at the time and was also DJ at a local hotspot called the Holiday Ballroom. He was interested in putting together an all-girl band, so put the message out and found Judy Johnson, Marsha Tomal and a girl named Connie, their drummer. Connie did not want to go with Carl, so she left the band.



I knew a guy in my high school who was friends with Marsha. He heard me jamming on drums with my brother, Justin, in our basement. I used to play with my boyfriend's surf band, Debi and the L.A. Classmen. L.A. stood for Loyola Academy, which was an all boys Catholic school. The band used to rehearse in our basement and kept their equipment there. He asked me if I wanted to audition as drummer for this new all-girl band. I was actually lead guitarist and didn't even own a set of drums yet. However, I borrowed the Classmen's drums and went and auditioned.



They liked what they heard and saw and hired me on the spot. Carl convinced my parents that I was a drummer and that they should buy me a set of drums. Which they did. The first kit I owned was a Ludwig, identical to Ringo's. It was a blue oyster pearl color with Zildjian cymbals and a red stool just like his. It was a great kit. I never played guitar in a band after that.



I had been playing musical instruments since I was 5 years old. My grandfather was a well-known classical pianist/organist in Chicago and had many students. He taught me to play the piano. I also played the violin in my grade school band. Then I studied the guitar at the Old Town School Of Folk Music, and with a private teacher at Lyon & Healy's, a music store in Chicago.



I listened a lot to the Ventures and played many of their songs in the L.A. Classmen. I liked Dion and the Belmonts, the Four Seasons, Elvis, Sue Thompson, Brenda Lee, Wanda Jackson, the Everly Brothers, Harry Belafonte and Frank Sinatra. I was a big fan of Bob Dylan and went to a concert of his with my brother when I was only 13 years old. I also listened to tons of classical music because of my early classical training. I liked the Beatles, of course. In fact I went to three Beatles concerts. I also saw the original Yardbirds, who were great, and went to a Stones concert when they had Brian Jones with them.



Later on I listened a lot to the Jefferson Airplane and Janis Joplin. I actually went to see Janis, Jimi and the Doors in concert. I also enjoyed music by Frank Zappa, Led Zeppelin, Jethro Tull, Vanilla Fudge and the Velvet Underground. And I listened to Tammy Wynette and a few other country artists like Johnny Cash and Loretta Lynn.



The original Daughters Of Eve line-up was Marsha Tomal on Farfisa organ, rhythm guitar and vocals, Judy Johnson on lead guitar and vocals, me on drums and Andee Levin, our first bass guitarist. Andee was replaced by Marilou Davison, and then Lori Wax - we went through so many bass players. I was the youngest member.



I recall my dad and I discussing a name for the band in the kitchen of our house, and somehow we came up with the Daughters Of Eve. Everyone liked it. We used to rehearse in the gymnasium of my dad's church. He was a Lutheran minister on the north side of Chicago, and later managed my brother's blues/rock band, the Dirty Wurds. They were also very popular in the '60s. Our dad was a cool dude.



The first stage outfits we wore were from a store on Taylor Street in Chicago that Carl took us to. They were awful actually; just maroon v-neck tops with black cotton turtlenecks under them, and dark green jeans with Beatle boots. Then all of us went shopping together and found bell-bottom outfits. I forget where we bought the silver gear we wore at the McCormick Place shows. We also had a couple of hot pants outfits that we teamed with mesh stockings and white Mary Jane shoes, and Nehru jacket and pants suits which were popular at the time. Later we wore purple and green bellbottoms with bright green turtleneck sweaters and bright green suede Beatle boots.



We went on to play two and half years of one-nighters, travelling in our own Dodge van with our name on the side. I don't recall any bad times on the road. When we first started touring, one of our mothers would accompany us as a chaperone. They would take turns. Then, once they built their trust with Carl, they would let us go out on the road alone. I never felt that it was or could be dangerous. Times were different back then and that is why I always felt safe. Mostly we would play teen places, which there were a lot of back then. We travelled as far south as Dothan, Alabama, near Panama City, to as far north as Iron Mountain, Michigan. We toured all over the Midwest and the southern states to promote the records that were getting airplay in certain cities and small towns.



Of the eight tracks we released, I played on all but 'Symphony Of My Soul' and 'Social Tragedy'. Those two tracks were already done and just needed vocals. I guess that was to save time and money. Carl had already spent a fortune on us. He was very motivated and loved our band. 'Hey Lover' was our first release. Andee Levin, our original bass guitarist, played on that one. 'Symphony Of My Soul' is my favorite of our records. Marsha and Judy sang solo on different parts and in harmony on the chorus. It's a nice blend. Carl added horns to 'Social Tragedy' and I remember thinking I did not like it. But that one went Top 40 on the radio and even overtook the Beatles' 'Lady Madonna'. Marsha and Judy both sang on 'He Cried'. Judy has the high voice and Marsha the low one. They sang harmony on that one.



I remember appearing on a local TV show in Chicago with Janis Ian when she first came out with 'Society's Child'. And we opened for Gary Puckett & the Union Gap at the famous Clearlake Ballroom. That's the place Buddy Holly, Ritchie Valens and the Big Bopper left from when their plane went down. We also opened for Rufus Thomas of 'Walking The Dog' fame at a nightclub in Lawrence, Kansas. Being under age, we weren't allowed to sit in the club when he performed. And we shared the stage with Neil Diamond when he first came out - no one knew who he was at the time. Many of the local Chicago bands, like the Buckinghams, the Shadows Of Night and the Cryan' Shames, were with the Willard Alexander Agency. Being on the same circuit, we did shows with them all.



The best gig I remember was at the Cotillion Ballroom in Wichita, Kansas. It was a beautiful room with a good sound system and a very large stage with curtains and all. The worst was in Rapid City, South Dakota. There wasn't a rug on the stage and my drums slid everywhere. My roadie got the idea to put a fire extinguisher in front of my kit. It did not help. So I put it inside the bass drum. When I kicked the drum it exploded onto the audience. They just thought it was part of the show and applauded.



The band broke up in late '68. Both Judy and Marsha got married and Judy became pregnant with her son, Paul. The following year I moved out to Los Angeles. I tried to be as versatile as I could when I first came out here, so I could eat and pay the bills. The first gig I got was with Marlane & the Swinging Dolls. Their drummer, Jenny Jones, had been deported back to Canada. I travelled across the country and Canada with them many times. We also played Tahoe and Vegas lounges.



I went on to play with numerous bands including one with Michael McDonald of the Doobie Brothers and the Harry James Band with Phil Harris and Frank Sinatra, Jr. We played the main stage in Vegas at the Frontier Hotel in Vegas. I got a gig in Hawaii in 1975 and spent almost three years playing over there with several bands, sharing the stage with people like Bobby Rydell and Jose Feliciano. I moved back to LA in the late '70s and played around the area off and on until now. I did a few jazz clubs too. In 1987 I took a three-month gig in Japan with an all-girl band called the Secretarys. I'm always learning new things and ways to improve my playing as I enjoy it so much.



I have wonderful memories of the Daughters Of Eve but many of my photographs of the band were lost in a fire that burned down my house during the earthquake in 1994. Being in the band was an experience I will never forget. Judy lives in Florida now, and Lori has been in Fort Oglethorpe, Georgia for the last 20 years. Marsha's in San Diego, Andee lives in San Jose, and I'm still in Los Angeles. I haven't seen Marilou since she left the band to go off to college. Maybe she will see this article and contact one of us.



Carl Bonafede was a good big brother figure to us and always looked out for us. I have great affection for him. The last time I saw him was in 1996 in Chicago when I was back there for Christmas with my family. He took me to dinner and we talked about the old days. Obviously, it was the best time in his life as well. He wanted to try and get the girls together again but it did not happen.

Discography
USA 1779, 1966.
'HEY LOVER':
Originally a modest hit for Debbie Dovale in 1963.
'STAND BY ME':
The Ben E. King song.
Produced by Carl Bonafede and Ron Malo.
USA 891, 1967.
'SYMPHONY OF MY SOUL':
Penned by Chicago songwriter James Butler (with a little help from Tchaikovsky).
'HELP ME BOY':
As 'Help Me Girl', a hit for Eric Burdon and the Animals earlier in 1967.
Produced by Carl Bonafede and James Butler.
Spectra Sound 920, 1967.
'DON'T WASTE MY TIME':
Written by John Serafini.
'HE CRIED':
As popularised by the Shangri-Las, and previously a hit, as 'She Cried', for Jay and the Americans in 1962.
Produced by Carl Bonafede.
Engineered by Ron Malo.
Cadet 5600, 1968.
'SOCIAL TRAGEDY':
Written by James Butler, and subsequently recorded, as 'Don't Let It Slip Away', by Ral Donner.
'A THOUSAND STARS':
Introduced by the Rivileers in 1954, but popularised by Kathy Young and the Innocents in 1960.
Produced by Carl Bonafede.
Engineered by Gary Knipper and Ed Cody.

With thanks to Justin Pomeroy, Clark Besch, Ian Slater, Dan Agnotts of myfirstband.com and Patty Carman. Photos supplied by Debi Pomeroy and Lori (Wax) Haddon.