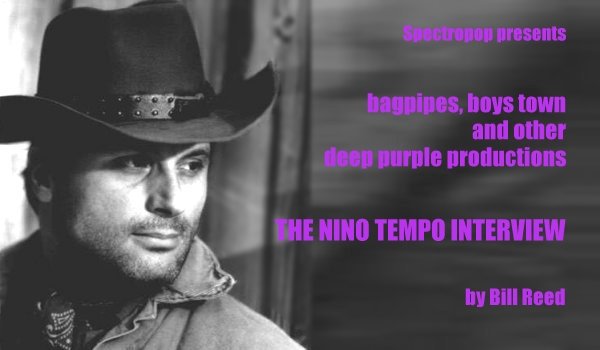 Even though 'Surf City', 'Fingertips', or 'He's So Fine' - all 1963 hits - might seem closer to the real McCoy, it was Nino Tempo and April Stevens' extra-categorical 'Deep Purple' that ended up winning the Grammy for the best rock record of the year. After all, the infectious updating of the 1934 standard was so good they had to give it an award for something. Completed without rehearsal during fourteen minutes remaining on a record date, seldom has anyone cut a hit record in shorter time under more pressing circumstances. Afterwards, Ahmet Ertegun, Atlantic Records executive and the side's co-producer with Tempo, was so dubious about its prospects, that the side sat in the can for several months. Upon its release, however, it quickly shot to number one.

The Grammy episode illustrates how difficult it is to classify this arranger-singer-producer-songwriter-actor. There is even some debate about whether Tempo, born Antonino LoTempio in Niagara Falls, NY, is, first and foremost, a rock and roll saxophonist, or a jazz player.

To sort some of this out, I called on Tempo for an interview recently at his high-rise condominium overlooking Los Angeles. It was a bright and uncommonly smog-free day and the view was breathtaking. But a symbolic cloud hung over the proceedings. Tempo had just purchased a brand-new car, safely parked it the day before, and was walking away when an out-of-control driver plowed into it. The limited edition beauty was damaged beyond repair. But Tempo kept our appointment and even though the phone kept ringing - lawyers, insurance companies, car rental agencies, friends offering condolences - he was eager with answers to my questions about his colorful career. Tempo is no stranger to surprise: "As a kid, I sang an entire number in a movie with Gene Krupa, George White's Scandals, only to attend the Hollywood premiere with my family and discover my scene had ended up on the cutting room floor."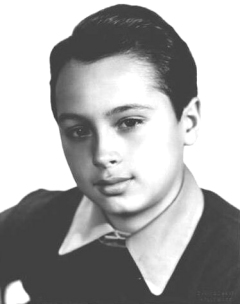 In the early 1940s, the LoTempios had migrated to Los Angeles with mother Anna's express desire of getting her two talented offspring into the movies: "My father was a grocer in Niagara Falls and my mother was quite beautiful when she was young. She was entered into the local contest that would decide who from that area would go to the Miss America contest for that period in time. Then word got back to her father, who was a very old fashioned Sicilian, that one of the judges' niece was in the contest and he had worked a deal for the other judges to vote for her. That meant that my mother didn't stand a chance, so my grandfather got so mad that he pulled her out of the contest. I think she always felt she missed her chance and through my sister and I she kind of vicariously lived a career. I would say she was a show business mother type to push us, but not to the point where it was sick. She always told us, 'There's nothing you can't do if you try hard enough and another day, another way'. I won Major Bowes' Amateur Hour when I was five, I sang with Benny Goodman when I was seven. She got me a part in The Story of G.I. Joe. I was the little kid who said to Bob Mitchum, 'Chocolate, senor, chocolate?' I was a handsome little boy, I took direction well, and knew that I was talented. Then to be invited to the premiere of George White's Scandals and to wait and wait and wait…" Tough on a nine-year-old touted as 'the next Mickey Rooney'.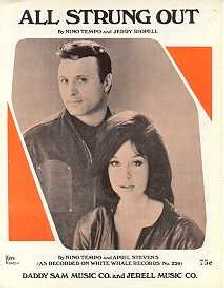 What happened with 'Deep Purple' was every bit as unexpected as the fate of a side he co-wrote and co-produced with musician Jerry Riopelle in 1966: "'All Strung Out' was written for the Righteous Brothers in the 'Lovin' Feelin'' style. I presented it to them. For some reason they didn't want to do it, so I told my sister, April, 'Why don't we try it? The worst that could happen is that it won't sound good and we won't release it.' Through Jerry Riopelle I got to Nick DeCaro to arrange it. It's the Wrecking Crew. It was recorded at Gold Star with Larry Levine engineering on one part, Stan Ross on another. It was made on a small budget. We did things on the fly, and there was a lot of movement. I had to bring this up here, push that down there and then get this out here. It was a tough one; the guys I was mixing with initially couldn't make it happen, it still sounded like an incomplete record." Tempo turned to Bones Howe, one of the most respected record engineers around: "I went to him and said, 'You gotta help me with this, I can't seem to pull it together.' He finally gave me one evening because he was busy. He did a brilliant job mixing it. Bones put the right echo, he was able to work a little magic with all the faders, made everything sound like it was well-recorded. Bones put the record together, made a wonderful mix of what was on tape. He really took a rough recording and pulled it together beautifully."

As a result of Howe's tinkering, Tempo was certain he had a hit with his catchy Mamas and Papas-meet-Phil Spector synthesis. But the song only crawled to 26 on the charts and then disappeared. Around the same time, producer Phil Spector's 'River Deep - Mountain High', the (now) classic by Ike and Tina Turner, was also perceived as a sure fire hit by nearly everyone who heard it in advance of its release. Unlike 'All Strung Out', 'River Deep' took months and a small fortune to make. Yet it fared even worse on the US charts than Tempo's record. In recent times, though, the latter has emerged as a cult favorite, regarded as one of the two or three great neo-Spectorian singles. For years its initial failure nagged at Tempo but it doesn't seem to bother him that the best of his own production work is often compared with Phil Spector's: "I give Phil full credit for everything he did musically. He was certainly a front-runner, a brilliant kid. I was in my early twenties and he was a teenager when we met at Jerry Leiber and Mike Stoller's New York office. Jerry was leaving on vacation, and said 'Why don't you guys watch my place for me?' Phil and I were roommates for five or six weeks."

These were days of what Tempo describes as "great laughing times together" with Spector: "One weekend in New York back then, we had five dollars between us. The subway was fifty cents, so if two people get on the subway . . . Now you've got four dollars for breakfast, lunch and dinner and to get back on the subway. Phil said: 'Wait a minute. I know this girl and she told me if I was ever broke she always had five dollars under the gargoyle on her terrace.' So we made it to her place and climbed out on her terrace from the fire escape. 'It's here!' Phil shouted. More money to live an extra day on. Great laughs, great times. I came back out to California a few months later and Phil stayed in New York. That's when he had some hits with Leiber and Stoller. At that point, Phil had his finger on the pulse of what kids wanted better than anybody I ever knew. He just knew what would be a hit, he just absolutely knew. It is great stuff, he made some great, great records."

So intertwined are their careers, the subject of Spector must come up often: "It's true, I get asked about him a lot. He can be the nicest guy or he can be a hellraiser. On a session when he has one too many drinks he drags out his concertina and starts playing like it was an Italian wedding and the regimen of the whole session falls apart."

Most listeners do not think of Spector as a player on his sessions, just a producer, but Tempo is quick to add, "He's a great natural musician, a pretty good guitar player and as bright as they come." As if I ever doubted it! Spector's so-called Wrecking Crew consisted of the highest caliber musicians to be had on the Hollywood music scene, including Tempo, not only on sax but also on piano, drum and guitar. He also did some arranging on the 1975 Spector–John Lennon album, describing the experience as: "Chaos!" And letting it go at that. Another session bearing Tempo's arranging credit resulted in one of Spector's most memorable late-period recordings, Dion's 'Born to Be With You'.

"I also did a lot of work with arranger Don Costa. I was his number one favorite saxophone player. I would be there just to play solos. Everything he ever did that had a saxophone solo." In addition, Tempo estimates that he produced approximately 200 sides for himself (with and without sister April Stevens) and others. Even on those rare occasions when Tempo wasn't playing on Spector's sessions, he was, "always flattered when Phil would call up and say, 'Come on down I need an extra pair of ears.' He always valued my reaction. He would look at me and if I had a pained look he would say, 'What don't you like? What's wrong?' And I would tell him. Very often, not always, he would say, 'Let's see if we can't change that'."

So identified has Tempo become with his friend and employer, the canard persists that Spector was responsible for producing 'Deep Purple'. Tempo is familiar with the rumor, though, and just laughs it off: "Not only was Phil NOT in the studio, I don't even think he was in the same city, state or country at the time."

There is no question, however, that the best of Tempo's productions often invites comparison to Spector, especially 'Boys Town', a late-60s production effort that few heard at the time but which has since, like 'All Strung Out', begun to attract a late-blooming following. Even Tempo himself describes it as, "Beach Boys meet Phil Spector." There is even a rumor afoot that 'Boys Town' was produced by Brian Wilson, as if only he and Spector are capable of making great, booming, airy 2:19 pop singles. Neither this, however, nor the perception by some that 'Boys Town' is a gay song, bothers Tempo: "In fact, 'Boys Town' is about what happened to me after my marriage ended. I tried to date other women to get over the hurt, but it wasn't helping. And so maybe you just give up for a while and spend some time with your buddies, the boys, until you're healed. I called Phil Spector and complained to him how miserable I was over my divorce. He said, 'Why don't you hop on a plane and hang out with the Beatles and me in London.' And I did, and it helped." How globetrottingly glamorous. It just doesn't get any cooler than that! Tempo adds, "I just sent out through Leiber and Stoller, who administrates the songs I have written, a sampler of 24 compositions. I don't know why I didn't add 'Boys' Town'. It just didn't occur to me."

No matter how many times Tempo finds the description 'neo-Spectorian' used to describe his own productions, there is one thing Spector never attempted, the combining of fuzz guitar and bagpipes on a rock record. That's what Tempo did on 'I Love How You Love Me', a side he produced and sang on with his sister in 1965. "I got the idea of it when I heard a song by the Byrds on the radio and it sounded like bagpipes." It could have been almost any track on the album 'Younger Than Yesterday', on which producer Gary Usher utilized electronic drone sounds, possibly by running sitar tapes backwards, to achieve a sound similar to that of bagpipes. "It might have been, I don't remember anymore, but that gave me the idea, and I thought what song to use and I came up with 'I Love How You Love Me'."

The use of duelling fuzz and the wind-blown ethnic instrument playing over and under Tempo and Stevens' vocals, set off against a Merseybeat rhythm shouldn't have worked but it did. Unlike 'Deep Purple', it took many hours in the studio: "When I produced 'I Love How You Love Me', I didn't have to answer to anybody. I cut everything first, separate from the bagpipes. The guitarist might have been Jerry Cole. I told whoever it was, 'Just play everything in a low register through a fuzz box'. So he played something and I said to just keep repeating that section. And he just kept playing it over and over and over. I put the vocal on it, then brought in the bagpipe player, the only one I could find. You don't get a bagpipe player through the union. He couldn't read music. He said, 'I can only play what I play'. Suffice to say it was a labor-intensive process wedding the bagpipes to the track. I told you that 'All Strung Out' was a great disappointment. Well, this was another one. Atlantic put it out and thought it was going to be an absolute smash. Then, a short time later, two brothers in England called the Ryan Twins copied it exactly as close as they could." Including the bagpipes?! "Yes. Just recently a friend of mine sent me a copy, and it was a copy of our record but it was done so poorly." Not an easy trick to bring off, due to the problems inherent in bagpipes, and the player Tempo secured through a referral. "He didn't have any rhythm. He would get off the beat and we would have to stop the machine. Then the bagpipes would run out of air and he would have to pump it up to speed again. Time and time again. I thought I had something that had never been heard before. Jerry Wexler said, 'You have a smash, an absolute smash'." The end result was surprisingly swinging, engaging, effective and somewhat mad! It's my favorite Tempo track.

The time for our interview is drawing to an end. Besides, I can no longer compete with the still-ringing telephone. I offhandedly ask Tempo if he has ever been to Japan. A creature mostly of Hollywood, he tells me no, then adds: "You don't happen to know if I am well-known in Japan do you?" Why? "You know, after I had a hit in the pop world with 'Deep Purple', the jazz world just never really took me seriously again. But I have never thought of myself as anything but. I would love to record a jazz album for Japan. I've always been a jazz player. I was a jazz musician immediately as a little boy. I had private lessons out here. I played clarinet first. I thought Benny Goodman was the best thing ever. Then, when Charlie Parker and Dizzy Gillespie and be-bop came in, I switched to saxophone, because that's the only way I could work with a band is to play saxophone. Then I became a jazz musician and I got some calls from the studio. But it always seemed to me that musicians always got the short end of the stick. They made the least money and received the least credit. The guy who went out to make the record made the money. I have always been ambitious. You can call it a lucky break or a curse but I've been able to do many things: sing, write, a little acting, I could play the saxophone. But I never knew what I should spend my time at. A bit of a curse. It's almost like I had a split personality."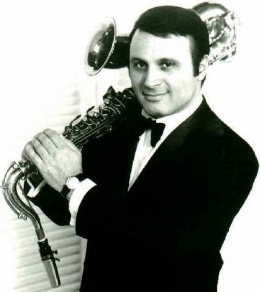 Tempo then proudly takes from the wall a framed review the prominent US jazz critic Leonard Feather wrote of a live Tempo performance in the early-90s. "He wrote I was in the same league with Stan Getz, Zoot Sims, Al Cohn, the great tenor sax players from the Lester Young school," says Tempo. He hands the Feather review to me, I read it and think to myself that it is not a bad stylistic leap at all for the man who appeared in arguably the best and worst rock'n'roll movies of all time - The Girl Can't Help It and Bop Girl Goes Calypso, respectively - and who probably holds the record for the most successful rock'n'roll side, 'Deep Purple', cut in the shortest space of time. Not only that, Nino Tempo is the man who single-handedly came up with the concept of rock'n'roll bagpipes!