Ron Dante is best known as the lead singer for The Archies, but that's only a single entry in his show-business resume. Ron was multitasking well before the word made its way into the vernacular - his career has more facets than a five-carat diamond.
Born in Staten Island, New York, Ron had a love of music, a natural singing ability, and a proximity to Manhattan and the hallowed offices of the Brill Building. In 1965, Ron got his first taste of fame as one-third of the parody group The Detergents; a few years later, as the lead singer of The Archies, Ron enjoyed his first #1 record with the million-selling 'Sugar, Sugar'. He went on to become Barry Manilow's producer, a partnership that lasted from 1973 to 1981 and spawned record sales in the tens of millions.
A childhood accident indirectly led to a career in music. At the age of eleven, Ron fell from a tree and broke his wrist. Following doctor's orders, the boy took up guitar as physical therapy. In short order he'd formed a group, The Persuaders, and got his first taste of live performing, playing at school functions and the like. While still in his teens, Ronnie (as he was then known) began making the rounds of the music publishers in Manhattan. He started working for Don Kirshner in 1963, recording demos and singing backgrounds for established talent such as Neil Sedaka. 'My goal was to break into the music world and get a hit record', Ron says. 'I wanted to learn all there was to learn about the music industry and could not have been in a better place than Don Kirshner's office. Being there offered me the opportunity to work with famous singers (Sedaka, Tony Orlando) and writers (Carole King, Gerry Goffin, Mann & Weil, Howard Greenfield) on their records and demos'.
During the next few years, Ron released several singles on various labels. 'Paul Vance and Lee Pockriss signed me to a record deal [and] wrote and produced 'Don't Stand Up In A Canoe'. I had great hope that we could repeat the success of 'Itsy Bitsy Teeny Weeny Yellow Polka Dot Bikini' that they had written for Brian Hyland but no such luck'. The problem the teenager faced in getting his hit record was that Beatlemania was raging, and despite being sound productions, none of the early releases became the sensations they should have. ''Don't Stand Up' was my first experience with [Vance] and co-writer/co-producer Lee Pockriss', comments Ron. 'I remember we did the track one afternoon with me singing live with the band. I found it strange since no one ever recorded live with the band those days. Most of the time we overdubbed on the track so we could make changes while we went along.
'After the 'Stand Up' session Paul got it released on Musicor Records, and they promoted it pretty well. I heard it on some [New York] radio stations and did some local TV shows including the Clay Cole Show'. Despite being a strong, professional production, 'Canoe' sank after only a short stint on local radio. Undeterred, Ron resumed his job as staff writer for Screen Gems Columbia Music and continued recording demos. He later released a second Vance/Pockriss single, 'Look At Me (You Did It)' b/w 'There's Love'.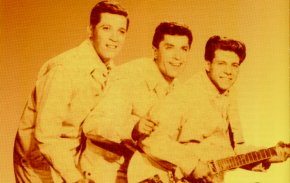 One demo gave birth to a group called The Detergents. Along with fellow staff singers Danny Jordan and Tommy Wynn, Ron recorded a parody of the then-popular 'Leader Of The Pack' called 'Leader Of The Laundromat', written by Vance and Pockriss. This led to an album called 'The Many Faces of the Detergents', a few television appearances on shows such as Hullabaloo and Shindig, and a summer tour. 'The Detergents tour was a real blast. I had the best time singing on the Dick Clark Caravan of Stars with Herman's Hermits, Little Richard, The Animals, Little Anthony and The Imperials and so many others. I was very happy to be working on the road and getting all the live experience to use when I returned to the studio'.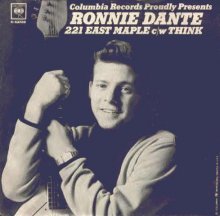 After the tour ended, Ron resumed his temporarily shelved composing career. One of Ron's most frequent songwriting partners was Gene Allan. They met while Ron was working for Bobby Darin's music publishing company during the mid-'60s. 'We wrote four songs the first day we met', Ron says about Gene, who was already an established composer, having written hits such as 'Mr. Lonely' for Bobby Vinton. The Dante-Allan songwriting team turned out dozens of tunes for artists like Jay and The Americans, Johnny Mathis, Gary Lewis, and Bobby Vee. In 1966, Ron recorded the upbeat 'Janie Janie', a Dante-Allan creation, b/w 'I'll Give You Things' (written by producer Neil Levenson) on Columbia. In 1967, Dante and Allan composed most of the tracks for an album being recorded by a new five-boy, two-girl group, The Eighth Day (no relation to the R&B group of the same name); the LP, titled 'On The Eighth Day', was co-produced by Dante, Allan, and Bob Feldman. Singles spawned by the LP included 'Hey Boy (The Girl's In Love With You)' b/w 'A Million Lights', and 'Glory' b/w 'Building With A Steeple', all of which were penned by Dante and Allan. Feldman also produced several of the singles Ron recorded from 1966 to 1968, including 'Hold Back The Sun' b/w 'I Think I Wanna Love You Baby' (released under the name Noah's Ark), 'The Absence of Lisa' b/w 'Gypsy Be Mine', and '(He's) Raining In My Sunshine' b/w 'Follow A Dream' (which was arranged and conducted by Jimmy Wisner).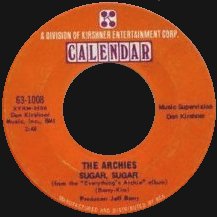 In 1968, as history records, Ron won the spot of lead vocalist for The Archies. A condition of his duties was anonymity; Ron's name would not appear on any of the records, nor on the credits for the TV show. Did he have any issues with that aspect? On the contrary: 'I lobbied for the job', Ron says. 'I felt it [The Archies project] was going to be a huge success what with the TV exposure and the people involved. I knew Don Kirshner and [producer] Jeff Barry were hit makers and my sound would be perfect for the show'. From 1968 to 1972, with Ron recording both leads and backgrounds, The Archies released five studio albums, a greatest-hits LP, and eleven singles. Their third single, 'Sugar, Sugar', due in large part to Ron's sweet, youthful voice and brilliantly understated vocals, was the #1 song of 1969. 'When I finally had my number-one record and had accomplished what I set out to do I felt an enormous wave of gratitude for what I had been given. I still had more dreams. I wanted to build on my success and continue to grow as a performer, writer and producer. I continually set new goals for myself'. The follow-up single, 'Jingle Jangle', earned a second gold record for the group.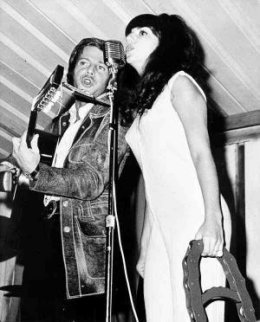 Ron with Donna Marie, as the Archies, 1971.
During the summer of 1969, Ron was approached by Vance and Pockriss, who asked him to record a demo of a new song. 'I had a meeting with Paul and Lee and they played me 'Tracy'. Right away I knew it was a very well crafted song and I could put my voice and backgrounds on it easily. The 'Tracy' session was a great night in the studio. Lee did the musical arrangement and I did the vocal arrangement. It took Lee just a couple of hours to get the track recorded and then I went to work. I did the lead first, which took about a half hour, and then did the background parts. There were at least three different parts I wanted to do to create the effect of many singers. The next time I heard 'Tracy' was on the radio being introduced as The Cuff Links'. 'Tracy' quickly soared up the charts alongside of 'Sugar, Sugar', and Ron found himself with two Top-Ten hits at the same time - neither with his own name on it! 'Not long after 'Tracy' was released I was in the studio completing the album with Rupert Holmes doing the sweetening. I finished all the lead vocals and backgrounds in one or two days. It was such a great feeling to have two hits out at the same time and both in the top 10 nationally'. (A real-life group of Cuff Links would be formed when contractual obligations with Kirshner prohibited Ron from recording a second album or going on tour to promote the first.)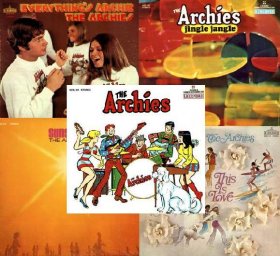 The Archies and The Cuff Links weren't Ron's only 'ghost' groups. 'Free' by Pearly Gate and 'Chirpy Chirpy Cheep Cheep' b/w 'Let's Get It On Today' by The California Gold Rush are among the gems that dedicated Dantephiles count among their stacks of wax.
Ron released his first solo album for Kirshner Records, 'Ron Dante Brings You Up', in 1970. He also kept busy recording jingles for companies such as Pepsi, Coca-Cola, Coppertone, and American Airlines. He wrote, recorded and produced a catchy jingle for the breakfast drink Tang and actually was able to effect an Archies sound by bringing fellow bandmate Toni 'I'm gonna make your life so sweet' Wine into the studio to assist him on vocals. During these years, it was impossible to turn on a TV or radio without hearing Ron's voice.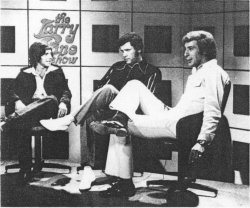 Ron Dante, Larry Kane and Jeff Barry, 1972.
In 1972, Ron recorded an album for Buddha records entitled 'Spiderman: A Rockomic', offering up infectious (and literal) kick-butt tunes like 'Goin' Crosstown' interspersed within a storyline. The album was released under the name The Webspinners. 'The Spiderman project came to me through the writer/producer of the album, Steven Lemberg', Ron notes. 'I had met him [while] singing commercials. He was a jingle writer at the time. I remember going to the studio and singing the lead vocals, then doing all the backgrounds in one night. I loved the cover and artwork when I saw it. It's a quite nicely packaged record'. From 1972 to 1974, again under the supervision of Don Kirshner, Ron wrote and recorded several songs (such as 'I Got The Goods On You' and 'Number-One Son') for another animated group, The Chan Clan. On this particular project, Ron had a little help from a friend. Although he couldn't have known it at the time, Ron was about to make musical history. The friend was Barry Manilow.
Ron: 'I met Barry on a commercial for one of the jingle houses I worked for in the early '70s. I walked into the date and was introduced to Barry as the composer and arranger of the spot. He was very friendly and outgoing and was really easy to work with. I remember he said he was working with Bette Midler at the time. Barry's spot was for a soft drink in test market that never happened so we never heard it again. The other singers on the spot were Melissa Manchester and Valerie Simpson. It was a monster of a vocal group that day.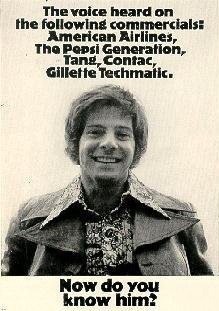 'I felt [Barry] had great talent and was very pleased when he asked me to meet with him the next day and listen to his original songs. Almost immediately afterwards we went into one of my favorite demo studios, Associated Recording in NYC, and recorded our first sides. They were 'Sweet Water Jones', 'I Am Your Child', and 'Sweet Life'. When I heard Barry sing 'I Am Your Child', I knew there was something extra special about him. Even though it took over a year and a half for us to have our first breakthrough with 'Mandy'. I never forgot the feeling I had during that [initial] session. During the first demo sessions we used some background singers with Barry and me, but when Barry and I did the backgrounds together there was a chemistry between our voices that was just perfect for his kind of music. On 'Mandy' it's just the two of us multi-tracking our voices so it sounded like a full group. I think I knew Barry would become a major star for sure the night of the 'Mandy' session. Barry sang it just a few times and on the third go-round he caught the vocal of a lifetime. Although there were only three instruments playing the track that night (we over dubbed the entire orchestra later), lightning struck and everyone in the studio knew it. That moment would stay with me forever. I could not have been happier to see that record become the number one song in the country and launch the Manilow career. Of course my favorite Manilow song is 'Mandy'. I have many others but that one is forever my cherished recording of his.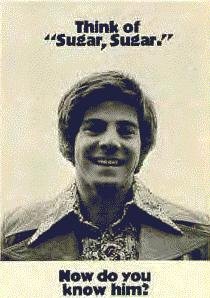 'At the time I met Barry I was working with Don Kirshner's publishing company and he gave me a few projects to write and produce. One was the Chan Clan series for CBS Saturday morning [Amazing Chan and the Chan Clan]. I wrote about a dozen songs for the show with Howard Greenfield. He was a wonderful person and gifted lyricist with tons of hits to his credit'. (Greenfield, of course, is best known as Neil Sedaka's lyricist on hits such as 'Breaking Up Is Hard To Do' and 'Love Will Keep Us Together'.) 'I sang, wrote and produced the whole season of songs in about three weeks and booked Barry and Melissa [Manchester] to sing backgrounds with me. Barry played keyboards on some of the sessions too. I remember that on the theme song Melissa barked for the part of Chu Chu the pet dog on the show'.
Ron had already been doing some production work, off and on, 'for many years. My credits included songs and production for The Archies [Ron produced the final Archies album, 'This Is Love'], some very successful commercials … and my own solo efforts with a few labels'. But the moment he became aware of Barry's talent and potential, Ron dived headlong into the role of producer, putting his own recording work on hold temporarily in order to fully support Barry's efforts. In 1975, Barry and Ron reversed roles for a couple of singles - with Barry as producer, Ron recorded a dance version of 'Sugar, Sugar' on RCA, and 'Midnight Show', released by Bell Records.
Ron got to try his hand at another kind of production in 1978 - on the Great White Way. 'My involvement with 'Ain't Misbehavin'' came about as a result of a party I attended. An old friend of mine, James Lipton of the Actors Studio interview show, asked me if I'd be interested in backing a little show in town. I saw the show and invested that day. I helped to get RCA records to do the cast album and the rest is history'. 'Ain't Misbehavin'' premiered at Broadway's Longacre Theatre on May 9, 1978 and had a total run of more than 1500 performances. It garnered Tony Awards for Musical of the Year, Director (Richard Maltby, Jr.), and Featured Actress (Nell Carter). Ron released a dance album on Infinity in 1979, 'Dante's Inferno', which featured disco versions of 'Ain't Misbehavin'', 'T'ain't Nobody's Biz-ness If I Do' and 'Could It Be Magic'. In 1980, Ron produced a second Tony-Award winning play, 'Children Of A Lesser God'.
In 1981, Ron's third album, 'Street Angel', co-produced by Paul Shaffer, was released on Handshake. Ron and Barry Manilow amicably parted ways, and Ron found himself at a career crossroads. He wouldn't release another solo album until 'Favorites' in 1999; but he was far from idle. 'From the mid '80s until my 'Favorites' CD was released, I made a move from NYC to LA and set up shop working at Motown in their publishing company Jobete. I wrote and produced for different TV shows such as 'The Little Mermaid' for Disney, Showtime Cable Comedy series 'Full Frontal Comedy' and The Comedy Channel'.
Ron Dante hasn't slowed down one bit. Still handsome and youthful, Ron remains active both in and out of the studio. 'My favorite thing to do is perform followed closely by singing in the studio and producing'. Although his was never a household name, Ron did develop a cult following after his first solo album was released in 1970. After he launched his web site in 1999, many of his old fans, now into their 40s, contacted him; several stay in touch.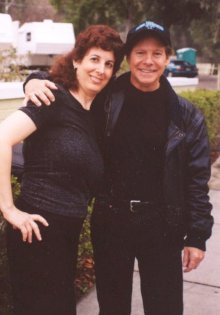 I was curious as to whether the technology of today, much of which did not exist in the '60s and '70s (most notably, CDs and the Internet), has made it easier for up-and-coming singers to get their start. Ron: 'The technology has added many things to making music but it's still the song and the singer. It is very, very hard to break into the record business today because there are only a few major companies that control all the access. Also there are not as many original artists around as there used to be. Many singers copy too closely to their idols and never manage to develop their own personal stamp. [Plus] there are so many home CDs being made that the A & R people at the labels still throw them out by the tons if they don't come in from a reputable source. Often new artists are brought in by known managers, hit producers and even other artists on the label. I would advise new talent to know where they want to position their career and do the very best demos of their songs. The best way into labels is through the production and publishing companies. It's easier to get to see a music publisher than it is to get into a label. Also talent managers are always looking for their next big artist'.
Ron is still touring, playing concerts all over the country with other '60s sensations such as Andy Kim. What does the future hold for this multitalented man? 'In the future I see myself performing more and running an international music company'.

Special thanks to Ron Dante and my friend and mentor, Don 'Stuffed Animal' Charles.
(Copyright 2003 Laura Pinto)
Ron Dante online:
http://www.rondante.com
Ron Dante Official Mailing List:
http://lpintop.tripod.com/rondante/
Laura's Ron Dante Fan Pages:
http://lpintop.tripod.com/laurasrondantefanpages
Ron Dante Remembers The '60s
http://www.spectropop.com/RonDante60s/index.htm
Jeff Barry - The Man And His Music (Official Fan Site):
http://lpintop.tripod.com/jeffbarry/
Ron Dante Online Official Yahoo Group:
http://launch.groups.yahoo.com/group/rdwebmaster/
Presented by the Spectropop Team