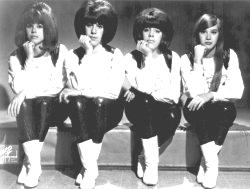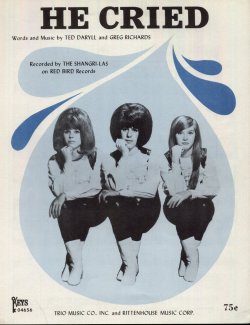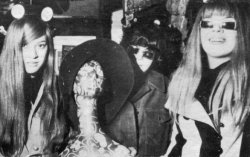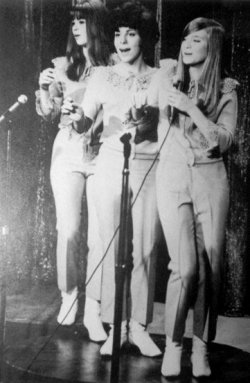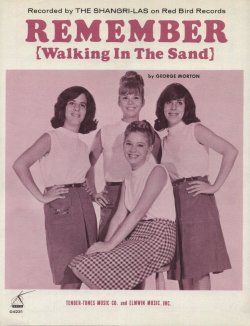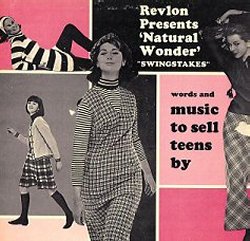 The legendary Revlon LP. Mary and the girls ask, "How pretty can you get?"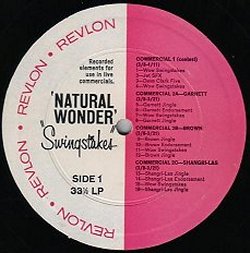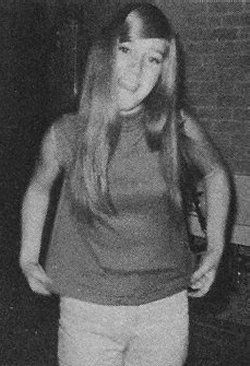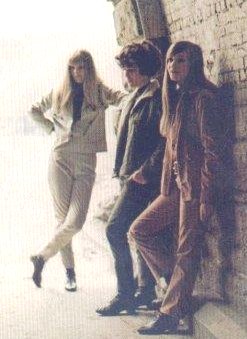 Rare poster for a Michigan gig in which the Shangs were backed by the "Fabulous" Iguanas, with the future Iggy Pop on drums.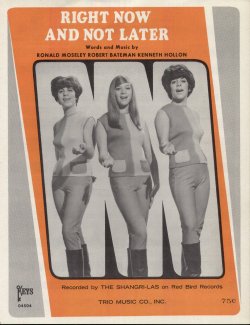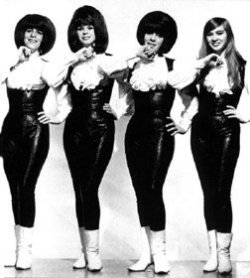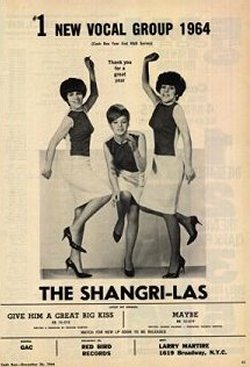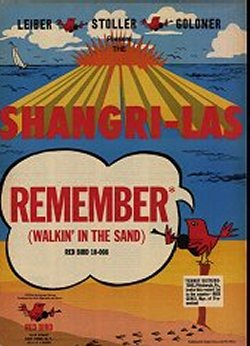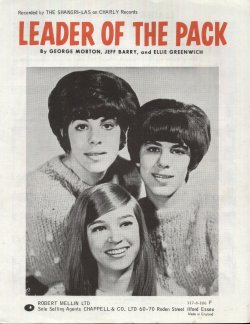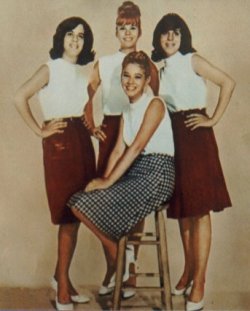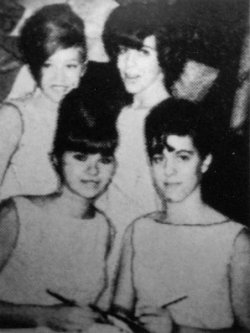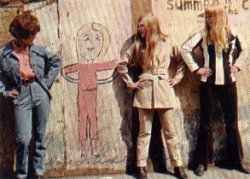 Clever pic, used on the group's fan-club membership card, with a graffiti girl standing in for a missing Ganser.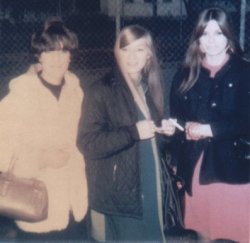 Mary Ann, Mary and Liz after a gig in Rome, New York, Halloween 1966. Photo by Frank Calaprice, courtesy Juan Casiano.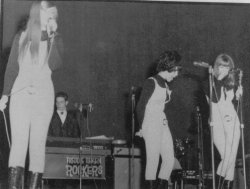 The girls backed by The Freddie Tieken Rockers.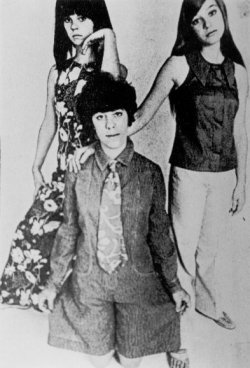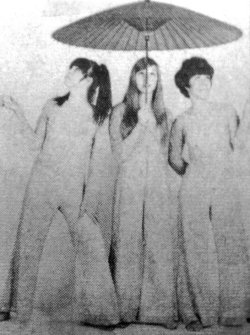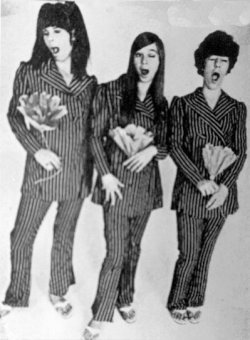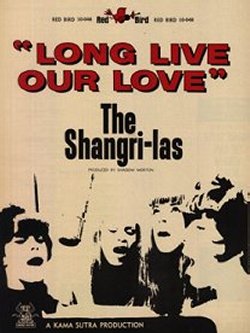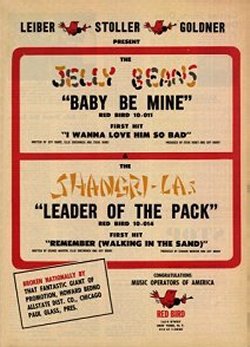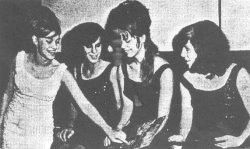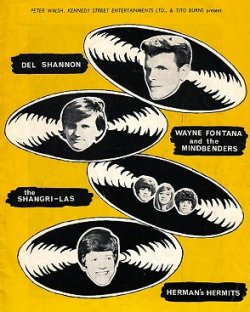 Peering down from the apex of the Archival Age - an era in which untold highway-lengths of tape have been unleashed from long-locked crypts; in which trunkloads of unexamined demos have been battled over as if they were pirate booty; in which theme restaurants and halls of fame have been erected to enshrine industry-anointed artistes; in which seemingly every concert and recording session that has ever taken place in the history of humankind has been identified, catalogued and scrutinized as if it were an Article of the Faith - it is becoming clear that, in spite of all such intensity of investigation, there yet remain some conspicuous imbalances in the otherwise increasingly stable architecture of Pop History.
So it is despite such productions of documentary evidence that the four holy Shangri-Las - St. Mary, St. Mary Ann, St. Marguerite and St. Elizabeth, of Queens - have remained the most underexamined major act of rock's adolescent years. While it may be that the girls themselves - the surviving Weiss sisters, at any rate - are largely responsible for their own absence from the retrovisionist party, it is only to their disadvantage that such inequity be permitted to persist. Artists of far lesser value are inducted into the consarned Rock & Roll Hall of Fame - the Valhalla of that History - with each passing year, an appointment that carries with it the honor of official recognition; the prestige of household-name status that came once, and then went, and will now last for eternity; and an upsurge in visibility that even for a defunct group can, with clever marketing, be converted to material assets.
None of these residual factors are really our concern, of course. If the Weiss sisters wish to decline the rewards that come with such elevation, that is their business; it comes attached with certain consequences, too. But if for no other reason than the cosmic essentiality of at all times doing what it takes to set and keep the annals of history in order, it is our duty to finally return The Shangri-Las from the dark closet to which they have become consigned to the warm and accurately-reflecting light of day. The group deserves such reparation, their audience deserves it, and, beyond all other considerations, their brilliant music deserves it.
But the telling of the complete and detailed story of The Shangri-Las will have to wait until someone with far greater knowledge of and insight into their lives and work than I possess comes along. Rather I have given myself the more modest assignment of examining a little-known, and admittedly minor, aspect of their career: their abortive comeback of 1977. Although nothing of public consumability ever came of this reunion besides one magical performance before the leather-jacketed elite of Lower Manhattan, the story behind it does provide us with some valuable clues as to what made The Shangri-Las tick.
Mentors and protégés
The Shangri-Las' return to the recording studio, and even, for a night, to the New York stage - the 1977 hub-of-it-all stage of CBGBs, at that - did not pass without notice at the time. In fact, the only way I came to know of these events was from a brief mention, with accompanying photos, in the February 1978 issue of Rock Scene magazine, with a similar treatment in the same-dated issue of its cousin publication, Hit Parader. When I first read these, at the time of their currency, I assumed I would soon hear more about the album the caption said they were then making, the album that would reclaim The Shangri-Las from has-been inspiration of younger artists (i.e., New York Dolls, Blondie, The Damned) to contemporary musicians with something fresh to offer. The sort of give-and-take relationship between oldies acts that weren't yet all that old and the postmodern whippersnappers who'd drawn so much from them was starting to bubble up at the time, and I believed The Shangri-Las were as due to partake of its benefits as anyone was.
But the promised album never did emerge, and after a while I conceded that it probably never would. Indeed, I never heard talk of it again, and eventually it was as if I had never actually seen those magazines in the first place but had merely imagined them. But not long ago I stumbled across them again, and confirmed that their layouts of the Shangri-Las' reunion were indeed exactly as I'd recalled. I restudied Roberta Bayley's photographs, and reread the all-too-brief texts. I was reminded that Andy Paley - who at the time I knew only by name, but had since come to know personally, if barely so - was named there as the producer of the sessions, and I hit upon an idea: call the man and ask him to put his memories of his Shangri-Las sojourn on the record. Happily, he obliged.
The brother Paley
Andy Paley's music career began in the early 1970s, as leader of The Sidewinders, one of the great pop hopes of the day. Commuting regularly from their home base in Boston to New York City, the group generated an industry buzz during a stint as house band at Max's Kansas City [1]. Signed by RCA in 1972, their self-titled album was produced by Lenny Kaye, a friend of Paley's since 1969 when they both worked at Village Oldies on Bleeker Street [2]. The album, containing a number of memorable tunes, was to be The Sidewinders' only release.
In 1977 Paley joined with his younger brother Jonathan to form The Paley Brothers, a pure-pop duo with a self-titled album - as well as a ripping, Ramones-backed version of 'Come On Let's Go' on the Rock & Roll High School soundtrack - released by Sire. With a push from 16 magazine [3], The Paley Brothers were being groomed for teen heartthrob stardom, but ultimately proved a bit too rough to be successfully made over into the next David and Shaun Cassidy. Andy next turned his attentions to record production, and went on to enjoy a career that has included work with such legends as Jonathan Richman, NRBQ, The Real Kids, Darlene Love, LaVern Baker, Little Jimmy Scott, Brenda Lee, Jerry Lee Lewis and Brian Wilson.
'Out' or out
In late spring or early summer of 1977, the three surviving Shangri-Las - Mary Weiss, Liz Weiss and Margie Ganser [4] - contacted Seymour Stein, president of Sire Records, about returning to the studio to work on a record for his label. According to Paley, the girls knew Stein from their time at Red Bird, where he'd done a stint earlier in his career. Stein eagerly OK'd the project, and the girls next asked him to recommend a few producers for them to interview.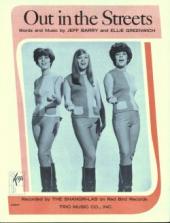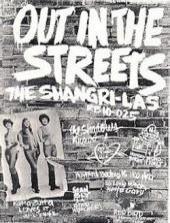 "Seymour suggested Richard Gottehrer [5] and Stephen Galfus, who was a partner with Charlie Calello in a studio called House of Music in New Jersey," Paley recalls. "I guess he also told them about this guy Andy Paley who's up and coming, or something like that. In one day the girls interviewed all three of us. They met in the morning with Gottehrer, around two in the afternoon with Galfus, and then met with me last. When I got there they told me that they wanted to know just one thing: they asked me to name my favorite Shangri-Las song. I didn't realize it at the time, but there was only one right answer, and the other guys hadn't gotten it. I said 'Out In The Streets,' which turned out to be the one. Basically, they didn't like any of the other records they made. I do, but they didn't. So they all jumped up and down and hugged me and said, 'You're the guy. Seymour, this is the guy, we don't want to work with the other guys, we want to work with this guy.' I had the gig within a minute of walking in the door."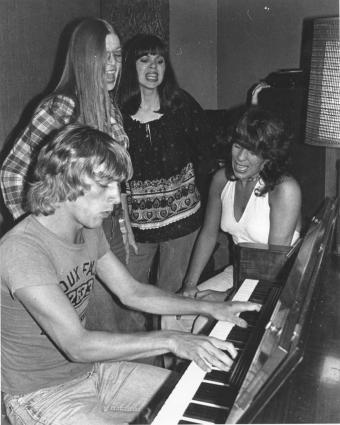 Andy Paley and the girls work it on out now. Photo by Roberta Bayley.
The girls never did articulate their exact reason for wanting to return to making music, but it may have had something to do with their apparent distaste for their old material. I asked Paley if he sensed that they'd resented having had those songs thrust upon them, and he agreed that that seemed to have been the crux of the problem. This time, however, they'd be in charge.
Repertoire
Paley and the girls set about selecting songs to record. "We were all kind of going for it," he says. "They didn't do everything they wanted to do, and I didn't do everything I wanted to do." If the girls were still making compromises, now at least it was their option to do so. Unfortunately, Paley doesn't remember all of the titles they worked on (and, even more unfortunately, no longer has a copy of the tapes), but what he does remember is most enticing. "We did 'I'm Not Lisa', by Jessi Colter. We all really wanted to do that song. We did 'I Need Your Lovin'', by Don Gardner and Dee Dee Ford. We did a version of 'Bony Moronie'."
There was, also, nearly a Shangri-Las first: a song written by one of the group members. "Margie was one of the most talented people I've ever met," Paley says. "One of the most energetic musicians. She played piano, and she wrote songs. She really was just a super-musical person. We played around with a couple of her songs, but I don't think we ever recorded any of them." Of those songs they did do, "Mary did 95 percent of the lead vocals," Paley says, "but Margie also did a couple." Liz, who is said to be very shy, contented herself with backing vocals and harmonies [6].
Another unfinished song inadvertently stirred the embers of an old love affair. "Michael Brown from The Left Banke wrote songs about Mary. He told me some of his big hits were about her," Paley says [7]. "He really loved her. I think they had a real intense thing back in the '60s, but Mary and him had been over for years." By coincidence, Paley and Brown had recently written a batch of songs together, including one based on Star Wars. "He had this title that he was just absolutely obsessed with, 'May The Force Be With You', and we wrote a song around that title. A really, really stupid song, of course, but that's the one I remember. We had other ones that I thought were much better." The sessions were done in a variety of instrumental configurations, one of which included Brown. "He came down and played piano. We took one of the songs he and I had written and tried it with the girls. I can't remember which one it was, but it was definitely not the Star Wars song." Brown didn't stick around long. "It was a little awkward having him there, because I think he still had a big crush on Mary. He was a great guy. I really liked him, but I never saw him again after that."
The song Paley has the fondest memory of was an old standard by Rodgers and Hart. "The best thing we did was a version of 'Bewitched, Bothered And Bewildered', which was really, really beautiful. The way we cut it, it sounded like a Shangri-Las record from 1965. The arrangement was the important thing. Have you ever heard The Angels' version of 'Someday My Prince Will Come'?" I'm hep. "Girl groups doing those kinds of standards can be a really beautiful and sexy thing. We didn't do it in a loungey style. It was more like a stroll."
The sessions, at Sire's 8-track studio in the basement of their building on E. 74th Street, were a freewheeling affair, spanning most of the summer of 1977 - the now-infamous steaming, teeming New York summer of Summer Of Sam. "We spent the whole summer rehearsing and going over songs, doing arrangements of songs and taping them. We worked in every possible combination: we did stuff live with other musicians, we did stuff the girls overdubbed to, we did stuff where it was just me and Mary for three hours, trying something. Then we'd do something with maybe just Margie and me. They brought in a friend who played guitar, we screwed around with him a little bit. I had players come down, I played a few instruments myself." Most importantly, "the girls sang really, really great, and were really enthusiastic." Yet for all that, the sessions generated just a handful of usable masters. "We cut probably five or six things that sounded like records," Paley says. Perhaps ironically, they made no attempt at a new version of 'Out In The Streets'.
Summer means fun
Stein, for his part, was more disappointed than angry with the collapse of the sessions. "I think he wanted to make a Shangri-Las record more than they did," Paley says. Upon hearing the tapes, "he felt everything was great," yet the sessions were never completed. Paley is at a loss to explain why things dissipated the way they did. "I can't even describe to you what happened, but at the end of the summer, it just seemed like it was over. It was almost like we were just doing it for the fun of it. I don't think they really cared that much about making a record." Which brings us back to speculating on the girls' reasons for approaching Stein in the first place, and to attempting to connect their new interest, such as it was, to disenchantment with their original material [8]. "When they had the big hit records, they were kind of embarrassed about their greaser image," Paley says. "They were on the road with Herman's Hermits, they loved The Beatles, they loved that whole scene and didn't want to be identified with motorcycles and leather jackets. They thought that stuff was not hip. I think they were interested in doing a more sophisticated music than they were allowed to." Hence, Rodgers and Hart.
Another possible explanation is the last-fling theory. "They hadn't really been together," Paley says. "They hadn't seen each other or been singing together at all. Mary and Liz were sisters so they saw each other, but Margie hadn't seen them that much." When the girls got together this time, even more than working on music they worked on having fun. "I loved hanging out with them and just talking with them. They were a lot of fun to be with. We spent a lot of time playing pool, going out and eating pizza, just hanging around and having a good time. That summer was a really fun summer for me, 'cause all I did every day was go to the studio with The Shangri-Las, or hang out with them, or just go someplace with them and shoot pool." Margie - who died of breast cancer in 1996 - was an avid pool player, and besides that and her musical talent is remembered for her sense of humor. "Margie was really outgoing, really funny, always pushing the envelope. She was absolutely outrageous, she made things really, really fun. I mean, they're all really funny, but I thought Margie was the funniest."
I suggested that the girls all seemed to have had a lot of New York sass in them. "Yeah, yeah," Paley agrees. "A lot of attitude, and they managed to have a lot of fun. I remember one night, I was driving a convertible that one of them owned, and we went out to Long Island after we had been drinking in the city. They were flashing guys, giving people the finger, throwing stuff, but they knew it was all just a goof. This is what they must have always done, and I think they hadn't hung out with one another in so long that they immediately went back to what they used to be like." Now grown-up women with grown-up responsibilities, a summerful of recording gave them an excuse to get together and act like teenagers one more time. "If some guy looked at them the wrong way," Paley says, "they would start something. They would do it just to see how far they could push things, and then they would all laugh hysterically about it later. And then, after having castrated the guy in front of his friends, buy him a beer. It was just part of what The Shangri-Las were into." Which makes me wonder how they ever had a problem with their tough-chick image. "I think they enjoyed and detested that whole thing at the same time. I really do, and I called them on it a few times."
Live from New York
By the end of the summer, the girls had become excited about their new, grown-up sound. "Margie said, 'Wouldn't it be cool if there was someplace we could go and play a gig?' I said, 'Well, you know, there's this place CBGBs,' and they didn't even know what it was. I called Hilly Kristal and told him what was up, and he said, 'Whatever you want. There's nothing happening here tonight' [9]. I called up Jay Dee Daugherty [10] and Lenny Kaye [11] to play, and called Lester Bangs and Roberta Bayley [12] and said 'Tell everybody you know.' The girls called a few of their friends." With Daugherty on drums, Paley on guitar and Kaye on bass, "We rehearsed probably a couple of hours, and just went up there and did songs that were easy. The only ones we rehearsed were probably 'Bewitched, Bothered And Bewildered' and I don't know what else, but it was really, really fun. Everyone had a great time. I remember Lester Bangs jumping up and down screaming, telling me how great it was. Debbie Harry, you know, everybody was really impressed. We had a really good crowd. It was very professional, considering Jay Dee and Lenny only had two hours to rehearse with us. I used a borrowed guitar, I don't even remember who it belonged to."
With no finished recording to present to Sire, the spur-of-the-moment gig became the culmination of the reunion project, and allowed it to end on a high note. "We spent the summer doing these sessions. It wasn't a typical recording session - it was almost like summer camp. It was like, 'OK everybody, I'll see you tomorrow.' 'Yeah, OK. What are you doing, where are you staying?' We'd just kind of hang out, and then we'd hook up the next day and do it again. Then one time it was kind of like, 'We're getting good, let's go out and do a gig,' and we did this gig." And when that gig was over, Andy Paley and the three Shangri-Las all went their separate ways and went on with their lives.
Joined by a wandering minstrel, Paley and the Shangs revive the ancient art of New York street-corner crooning. Photo by Roberta Bayley.
Special thanks for help with this article to Tom Ardolino, Billy Miller, Morgan Neville, Mick Patrick, Roberta Bayley, Erik Lindgren, Frank Calaprice, the late Ray Casiano, Michael Hill, Risa Morley, Larry Demellier, Mike Stax, Seymour Stein, Robert Ganser and Rita Ganser. I am particularly indebted to John Grecco and Juan Casiano for service above and beyond, and to Andy Paley for his memories and his candor. Finally, it would be a most unwelcome feat if I were to somehow get through this article without paying homage to the genius of Shadow Morton.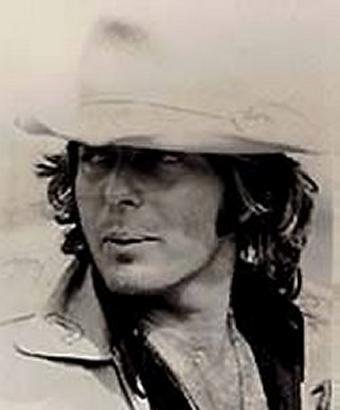 Footnotes
1. The only house band in that club's exalted history. During this same period Debbie Harry was famously a waitress at Max's; less known is that one of her busboys was Jonathan Richman.
2. Kaye would become an editor at Rock Scene and Hit Parader, a fact that may have played into their coverage of the Shangri-Las reunion. The magazines were notoriously incestuous, reporting incessantly on the extracurricular doings of their staff and friends.
3. With like coverage in Rock Scene.
4. Mary Ann Ganser, Margie's twin sister and the fourth original member of the group, died in 1970 of complications from a barbiturate overdose, a cause which has been misattributed in most accounts. Besides having been an excellent singer, Mary Ann is said to have also been a talented pianist and guitarist.
5. Co-founder, with Stein, of Sire, in 1966. Then fresh off his work on the first two Blondie albums as well as Richard Hell & The Void-oids' debut, Gottehrer had recently left Sire to devote more time to independent production.
6. Mary Weiss sings lead on every released Shangri-Las recording save two: 'What Is Love', the flip of 'Leader Of The Pack', features Liz, while either Margie or Mary Ann takes the mic for their cover of The Ikettes' 'I'm Blue', from the Shangri-Las '65 LP.
7. Brown's identification of Mary Weiss as his muse conflicts with the interpretation of Left Banke bassist Tom Finn. In the liner notes to Rhino's 1985 compilation The History Of The Left Banke, Finn claimed that Brown wrote the lyrics to 'Pretty Ballerina', 'Walk Away Renee' and 'She May Call You Up Tonight' - all in the same day! - about Finn's girlfriend, Renee Fladen. But, of such variances are pop myths made.
Less debatable is the source of inspiration for 'I Shall Call Her Mary', a song Brown and his frequent collaborator Tom Feher wrote for The Montage, a young group Brown adopted for use as his next musical vehicle after leaving The Left Banke in 1967. In the liner notes to Sundazed's 2001 reissue of their 1969 Laurie album Montage, Feher stated unequivocally that the song was about Mary Weiss.
8. A disenchantment which may partly explain why, apart from a few dates scattered across a three-year period following their official breakup in 1968, The Shangri-Las never put themselves out on the oldies circuit. After the 1977 reunion they performed together only once, at a 1989 Palisades Park remembrance at the Meadowlands Arena in New Jersey. In a display of chutzpah profound even by music industry standards, oldies promoters Dick Fox and Larry Marshak, who included an ersatz Shangri-Las among their stable of bogus acts, had sought a court injunction to prevent the original group from performing the Palisades Park show under the Shangri-Las name. The promoters argued that since it hadn't been used in so long the name had lapsed into the public domain, and they had by now established themselves as the owners of the trademark. Their request was wisely denied, and the girls were able to do the show.
9. Which leads me to assume that it was a Monday.
10. Patti Smith Group drummer.
11. Besides record production and music journalism, Kaye was guitarist for The Patti Smith Group. Paley himself was somewhat of a PSG alumnus, having filled in for pianist Richard Sohl on a 1976 European tour.
12. Roberta Bayley was the single most important photographer in one of the most important musical milieu of the 20th century, the CBGB's scene of the latter half of the 1970s. Her cover shot of the Ramones' self-titled debut album virtually defined its time and place.
Visit her at http://www.robertabayley.com
This article appeared originally in Ugly Things magazine, which apart from Spectropop is the world's premiere organ of 'wild sounds from the '60s and beyond'. No one who subscribes to this site should dare miss a single issue: http://www.ugly-things.com
And don't miss "Out In The Streets", John Grecco's thrill-ride of a Shangri-Las history. The research behind this piece is impeccable, and the wealth of photos John presents - most of them rare and several never before published - will take your breath away. Unless and until someone writes a full-length book on the queens of Queens, "Out In The Streets" will stand as the world's most authoritative Shangri-Las biography: http://www.redbirdent.com/slas1.htm