It's been about a month since Shel Talmy - the man who discovered, inspired and produced the Who, the Kinks, the Easybeats, Manfred Mann, Chad and Jeremy and Pentangle - did part one of this interview with me. After being out of touch with my longtime friend for ten years, we spoke again for hours on the telephone; he in his Southern California home and me in my California desert retreat. Our interview continues...
Artie Wayne: The next question comes from Spectropopper Clark Besch, who located about a half dozen songs of mine I never knew had even been recorded. First he wants to compliment you for producing records that will be everlasting for decades to come, and asks about true stereo tapes: "Do you know if mix down stereo tapes exist or have already been released of the Kinks or the Who's early hits?"
Shel Talmy: Well, I owned the original multi-track tapes on the Who. I remixed them in stereo for the first time, and the double CD called "My Generation - Deluxe Edition" came out about three years ago. As far as the Kinks are concerned, that was totally out of my control, because it was done for Pye, and as Pye was the most disorganized label I was ever associated with, it was no surprise to hear that they "lost" the multi-tracks and stereo mixes. The only thing that's left are the mono tapes, and those aren't first generation! I don't believe any of the stereo tapes have ever been found.
So you were there a year and a half before the English invasion.
Absolutely! I was there before it happened and actually came back a year after. I tried to tell everybody in the States there was about to be a British invasion, but since I was about 22 at the time, they just patted me on the head and said, "Sure kid, now go away". [Laughter]
How many tracks did you use when you made those original recordings?
Three tracks usually. Four if the studio had a four-track machine.
When you did tape-to-tape overdubs, how many generations did you usually go?
I'd try not to go down more than one, or I'd start getting tape hiss. I used very good tape and could actually go two generations if I had to. That's one reason why the Who tapes lasted as long as they did. In fact the AGFA tape was so good that it used to wear out the heads of the machines!
The next question is from Country Paul Payton: "Why was 'See My Friends', one of my favorite early Kinks tracks, omitted from their CD compilation?"
Good question … again nothing to do with me. I've never been asked about compilations or anything else to do with releases, which I have to say is not unusual, just the way the biz works. 'See My Friends' was a real groundbreaker! The evolution of that came about as I was recording Jon Mark, who eventually became part of Mark-Almond. He was a very good songwriter and turned me on to Indian music - ragas and all that kind of stuff. He wrote a song that incorporated an Indian drone, which I loved! I asked him if he'd mind if I played it for Ray Davies, and he said, "Be my guest." I did … and Ray came back the next day with 'See My Friends'. There weren't any sitars available at that time, so we re-tuned the guitars and double-tracked it to get the drone effect. It was the first record on the charts to have a sitar type sound on it. I heard it recently and it really holds up!
A lot of things you did really hold up, especially sonically.
Thanks. I certainly hope that's the case, since I went out of my way to do the best I could do and was constantly experimenting to make it even better.
We've all heard horror stories about artists who think they can go in the studio and write their songs, and they spend thousands and thousands of dollars...
I always thought that was really dumb!
Our Spectropop pal, Phil Milstein writes: "Until reviewing the discography at Shel's site, I had forgotten (or perhaps never even realized) that he had produced the magnificent Dave Davies tracks, 'Love Me Till The Sun Shines' and 'Death Of A Clown'. The mid-'60s, though, was still early in the game of band members stepping out for recordings that would appear under their own name, and so I wonder if there were any political repercussions within the Kinks of his doing so?"
No political repercussions over Dave doing his own thing as Ray encouraged him to, and I thought at the time that Ray did it not out of munificence, but it kept Dave, who could be unruly, out of his hair!
Phil also asks: "You also worked on the earliest David Jones/David Bowie records. In my opinion these are very good records, yet still pretty much standard Mod fare, and so I wonder if Shel recalls having noticed anything special about Bowie at that early stage; any signs of greatness to come from the young musician?"
The first time I met David he was 17, and I thought he was gonna be a big star, as he had all the right stuff, which included an attitude and the fire in the belly to make it. I tried hard to make that possible, and used what David did best, but the only problem with what I recorded, if you listen to it, is that it was about six years ahead of the market. Oh well, can't win 'em all! By the way, I think I'm safe in saying that the only free gig David ever did, was for my then wife's 21st birthday!
Spectropopper Mick Patrick has been on pins and needles waiting to hear a story or two about one of his favorite girl groups that you produced, the Orchids.
The Orchids were one of the artists that Larry Page managed, he being one of the Kinks managers, so I was asked and agreed to record them and you know the results. They were a very good girl band who I thought never really caught a break. Maybe they weren't promoted right, and as they were very young, didn't have any input and, as was the way in that time in the '60s, wouldn't have said anything, so they kinda sank into the west.
I know you've been watching American Idol. Even though Chris Daughtry didn't win the competition, I think he's gonna be a star!
He should be … he's had great exposure and certainly has a good enough voice.
I see you producing him, or at least a couple of sides, which is what most of the recording companies like to do now.
That's a good idea! It doesn't commit you for an entire project. I'm up for that. I don't know many producers these days that have the patience to sit in the studio for ages to do the whole thing anyway.
If an artist puts himself in the hands of a strong producer like you, he not only has a chance to make a hit, but a chance to make a classic! Chris Daughtry, seems to be open to that possibility, at least for now.
If asked, I'd be happy to do a couple of sides with him.
Do you always pick the songs for the artist?
I'm a hands-on producer, meaning that I always work with the artist on choosing material, doing the arrangements, getting musicians if necessary, choosing the studio and being there for the entire production on through the mixes and mastering.
When is someone going to finally put together a Shel Talmy compilation CD?

That's a good question, I'm open to an offer!
With so many companies merging, it will probably be easier to put one together today, from a licensing standpoint, than it would have been, let's say ten years ago. Now let me ask you about two acts that most Americans aren't familiar with. Can you tell us a little about Vicki Brown?
Vicki Brown was one of the best singers in England or anywhere for that matter. She was one of the Vernons Girls and later part of the Breakaways. Absolutely the best background singer in England! She looked great and was one of the nicest people I ever worked with. The solo album I did with her was one of the productions I'm really proud of, and through circumstances beyond our control, it was never released. Vicki died of cancer at a much too young age and it's a shame the record buying public never got a chance to hear how terrific she was.
I have to say Shel, that you and Vicki Brown cut the best version of my song 'From The Inside', which was released as a single. The next group I want to ask about is the English group Creation. I was really proud, as a publisher, to have given you one of their biggest hits, 'Midway Down' by the late Johnny Wonderling.
Great band with the best "unknown" guitarist in rock, Eddie Phillips. I had a bunch of hits with them like 'Makin' Time' and 'Painter Man', that topped the charts throughout Europe. I had just made a deal for them with an American label for big bread and they broke up. I tried everything I could do to stop them from breaking up, but... Ron Wood, now of the Stones, played bass in the band, as did Kim Gardner, later of Ashton, Gardner and Dyke. Eddie Phillips was asked to join the Who after the band broke up and turned it down. The Creation have become a cult band, were in the feature film Rushmore with the track 'Makin' Time' and continue to sell a lot of CDs, but ... what could have been!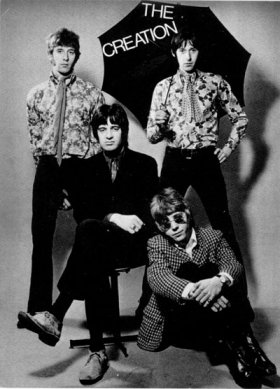 The popularity of the Who-themed CSI TV shows over the last few years has introduced the group to a new generation and sparked a new interest in their body of work, especially the early hits that you produced like 'My Generation', 'Substitute' and 'The Kids Are Alright'. How long do you think this phenomenon will last?
Let's hope it lasts forever! [Laughs]
Speaking of the Who, I hung out with Keith Moon a couple of times ... a couple of times that I don't quite remember! [Laughs] Michael Butler, from the Rock and Roll Geek show, wants to ask you if you have any stories about Keith's wild antics in the studio?
Actually, I never had a problem with him. He was always on his best behavior, and many times, would be the one who would hold the session together musically.
Now, I'd like to bring something up we've talked about privately that you've never discussed in a public forum. You started losing your sight with RP (retinitis pigmentosa) in your early 20s. I think it's amazing that you produced all of those hits with failing eyesight.
I wasn't deaf! [Laughs] I was diagnosed with RP, which we could refer to today as the "Steve Wynn disease", as he has it nearly as bad as me, and I guess it hasn't held him back from building all those Vegas hotels. My vision deteriorated to a point that I needed help to do things. I've always had the best personal assistants, engineers, arrangers, and musicians, so producing records has never been a problem.
I think it's important for people to know that you didn't let your condition hinder you.
Artie, I really had only two choices. I could've curled up in a corner and had stuff done for me, or get out there and do things. As far as I'm concerned there was no other choice! But, if there is one major downside, it's that I can't get out and socialize like I used to and enjoyed, by the way. As you know, this biz is about "contacts".
It's like what I have to deal with right now. I don't think I mentioned it to you, but I have limited use of my hands. I'm no longer able to play guitar or piano. I'm only able to control one finger, on my right hand, which I use to type with.
Really? What do you have?
A word processor.
[Laughs] What CONDITION do you have?
[Laughs] Oh ... I'm still recovering from a spinal operation I had a few years ago. Like you, I use the Internet to help me "get around" better. Now I can promote my songs and run my publishing companies better than I did before ... in ways I never dreamed possible!
The Internet is a great opportunity for instant communication like nobody ever dreamed of. And some of those who are taking advantage of the net and whom I'm particularly interested in, are the signed artists without a producer and new artists who might be monitoring music forums like Spectropop or listening to music oriented podcasts, like Brian Ibbott's Coverville and Michael Butler's Rock and Roll Geek show. I know there's a lot of undiscovered talent out there!
Shel, I want to thank you for doing this inspired interview ... but most of all I want to thank you for being my friend!
If you are in a signed or unsigned band, looking for a producer, you can send me an mp3 of ONE copyrighted, unpublished song that you think could be a World Class hit, and I will pass along the best to Shel. This is not a contest, but a rare opportunity. If he wants to hear more, you'll be contacted. You can send your mp3s to artiewayne@gmail.com. Thanks and regards, Artie Wayne.
Special thanks to all at Spectropop, Mick Patrick, Allan Rinde, Clark Besch, Richard Kimball, Country Paul Payton at http://www.paulpayton.com, Phil X Milstein at http://www.philxmilstein.com, Joe Klein at http://www.podcastvoiceguys.com, Patti Dahlstrom, Brian Ibbott at http://www.coverville.com and Michael Butler at http://www.rockandrollgeek.com for the questions, suggestions and encouragement they gave me for this part of the interview.