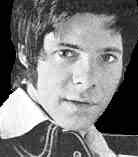 The Ohio Express's Joey Levine, songwriter Ritchie Adams, and demo singer Kenny Karen were among those Kirshner and Barry considered for the singing voice of Archie. However, there's reason to believe that Jeff Barry was always partial to Ron Dante, the third member of our magic triumvirate. He'd previously used Dante as a backing vocalist on Neil Diamond's recording dates, and had cast him in a Broadway-bound musical he was producing called The Freaking-Out of Stephanie Blake. The blue-eyed, chestnut-haired Staten Island native had also crossed paths with Don Kirshner in the early '60s. Kirshner hired him as a staff songwriter, actually his first job in the music business. Later, Dante joined a novelty trio known as The Detergents, whose solitary Top Forty hit "Leader Of The Laundromat" just happened to be a spoof of Jeff Barry's song "Leader Of The Pack." (A lawsuit ensued, but it was settled so quickly, there wasn't even enough time for hard feelings to develop!) After leaving the Detergents, Dante became one of New York's most in-demand jingle and demo singers; his vocals graced TV and radio commercials for Lifesavers, Dr. Pepper, Kentucky Fried Chicken (KFC), Coppertune suntan lotion, and many other products, as well as original demo versions of classic rockers like "Five O'Clock World," "It Hurts To Be In Love" and "We Gotta Get Out Of This Place." When the Archies gig rolled around, keyboard player Ron Frangipane urged him to audition for Don Kirshner and Jeff Barry. Dante, who aspired to a career as a pop singer, reasoned that The Archies could be a vehicle to move him in the direction he ultimately wanted to go. "So I called, and the office set up an appointment, and I walked into RCA," Dante later told journalist Carl Cafarelli. "They auditioned me. They said, 'Well, can you do different types of voices?'" So I did, like, two or three different types of voices for Jeff and Donnie, and they finally locked into one sound. They said, 'Oh, you'll be good . . .'"

As skilled at harmony singing as he was at singing lead, Ron Dante performed both duties at most of the studio dates, and eventually started writing songs for The Archies, too . Before long, Jeff Barry had roped Andy Kim into writing for the group. Bobby Bloom, another of Barry's up-and-coming stars, took part in the sessions as a songwriter, musician and background singer. His solo career wouldn't take off until after The Archies had cooled down, but he'd already co-written the garage rock classic "Mony Mony" with Tommy James, and his 1970 hit "Montego Bay" would become a pop standard. Although her voice would not be prominently featured until 1969, Toni Wine (another of Don Kirshner's ex-staff writers) was recruited to provide a distinctive female background voice. "People would come in and out in the background," Dante recalled in 1997. "Some girls came in, a few background singers. Toni Wine, of course, sang on 'Sugar, Sugar.' We did maybe an album's worth of material together (where) the background group was Toni Wine, Jeff Barry and Ron Dante." Reportedly, Ellie Greenwich, Ritchie Adams, Steve Tudanger, Joe DiBenedetto, Jamie Carr, Tony Passalacqua, Jeannie Thomas and Joey Levine were among those various and sundry background voices. However, since The Archies were promoted via their TV show, and no (legitimate) touring band was ever formed, Ron Dante sang all the voice parts on many dates, with Barry employing the same overdubbing techniques he'd used in 1963/64 on The Raindrops' recordings. The aforementioned Ron Frangipane, guitarists Hugh McCracken and Dave Appell, bass player Chuck Rainey, drummers Buddy Saltzman and Gary Chester and other regulars at Steed Records studio dates joined Barry, Bloom and sometime guest percussionist Ray "Gitarzan" Stevens to create The Archies' exceptional musical backing.

Right around the time Japanese dive bombers were blitzing Pearl Harbor, comic book editor John Goldwater, writer Vic Bloom and artist Bob Montana introduced the characters of Archie Andrews, Betty Cooper and Jughead Jones. While their impact was not quite as explosive, the repercussions of their debut would be felt for decades. By the time the 1940s had given way to the '50s, and new characters like Reggie Mantle and Archie's richbitch girlfriend Veronica Lodge were introduced, the strip had come to epitomize middle-class American teen life as much as had its archetype, M-G-M's Andy Hardy movie series starring Mickey Rooney and Judy Garland. Mickey, Judy and their friends got musically inclined early on, but it would take The Archies much longer to break into song. They finally debuted as a rock group on the CBS television network the morning of September 14, 1968. Fred Silverman felt they were just what he needed to counter charges that children's TV had become too violent. There was just no pleasing some critics, though! "The Archie Show was not what one would call inspired," writes Hal Erickson in his book Television Cartoon Shows. "Its sledgehammer humor (was) made obvious by the overuse of a canned laugh track, and the potentially endearing traits and catchphrases of the characters (notably Principal Weatherbee's oft-repeated I DIDN'T SEE THAT! I DIDN'T SEE THAT!) were likewise pummeled into weariness." Be that as it may, "The Archie Show" garnered phenomenal ratings. With 75% of the viewing audience hooked on the madcap adventures of these zany high-schoolers, they were, in fact, the highest ratings in the history of Saturday morning TV at that time.

True, the animation and storylines weren't particularly outstanding, but that wasn't what kids were tuning in for, anyway. The ticket was catching the boss new tunes every week, and checking out the outrageous dance lessons! The 1960s, after all, was the era of dance craze mania, so viewers were instructed on how to do "The Hamburger Hop," "The Surfer," "The Veronica Walk," and a dozen or so other imaginative steps dreamed up by Jeff Barry, Ritchie Adams and Mark Barkan. Barry's rock 'n' roll songs bristled with rockabilly, country, doo-wop, blues and gospel influences. When "Truck Driver" aired on that first telecast, it was probably the first time a bonafide twelve-bar blues had been featured in a cartoon. The TV show may well have been aimed at preteen audiences, but the music was sophisticated enough to appeal to a wider range of people. "The Archies have everything going for them," agreed Billboard in its September 21, 1968 review of the soundtrack album. "They have a smooth vocal blend (and) the material is first-rate." The Archies' full-tilt rocker of a debut single on Don Kirshner's Calendar label, "Bang-Shang-A-Lang," climbed to #22 on the Billboard charts. With "Truck Driver" on the flipside, it was truly a double treat. Predictably, though, rock purists wanted nothing to do with the record, or the group. Archie? Jughead? Hot Dog? Geez . . . weren't The Monkees bad enough? "Bang-Shang-A-Lang" was dismissed as nothing more than a fluke, a throwaway. When the follow-up single, another pair of blistering rockers in the form of "Feelin' So Good" (SKOOBY-DOO)" and "Love Light," failed to crack the national Top Forty, critics were sure they'd heard the last of Don Kirshner's prefabricated funny paper band.

However, in January of 1969, Kirshner and company assembled in RCA's Manhattan studios to prove otherwise. Ron Dante and Toni Wine lay their vocals on top of a meaty rhythm track that rocked steady on a pulsating bass groove and a Caribbean-flavored keyboard riff. Barry and Kim had penned "Sugar, Sugar" as a change-of-pace for The Archies (it was never offered to The Monkees, as has often been reported.) Listening to the playback, Don Kirshner had no doubt as to the record's hit potential. Songwriters Ritchie Adams and Mark Barkan, present to observe the waxing of two of their own tunes, were not as impressed. "I remember Ritchie looking at me and saying, 'Sugar, Sugar' will never even make the Top Sixty," Barkan recalled in 1990. Initially, that prediction appeared to come true. The single failed to generate much interest upon its release that June; but later that summer, it broke out on San Francisco's Station KYA, becoming a regional #1 smash. When the hippie counterculture adopted it as their anthem (rumor has it they interpreted the famous "pour your sugar on me" lyric as a drug reference), its future was assured. By fall, "Sugar, Sugar" had sold a staggering five million copies globally, topping charts in England, Japan, Germany, Mexico, and a half-dozen other countries in addition to the United States. It wound up selling nearly twice that number, and being chosen 1969's Record of The Year by the Recording Industry Association of America. "Sugar, Sugar" also went Top Forty on Billboard's Adult-Contemporary chart, and Wilson Pickett covered it in May of 1970, making the song a hit all over again and lending it credibility in soul music circles. The crowning achievement came when the animated Archies plugged their smash on television's top entertainment showcase, "The Ed Sullivan Show", probably the first and only time such a thing ever happened.

Jeff Barry cranked up the volume on the next single, "Jingle Jangle." Taking his cues from Broadway's hot new rock musical, Hair, he overdubbed Dante and Wine until they sounded like a massive church choir. Handclappings, a growling bass (courtesy of Chuck Rainey), and an abundance of guitar reverb put the finishing touches on this powerful record. The result was a second million-seller in the closing months of 1969. Rock critics were livid at The Archies' success, but like it or not, five goofy teenagers from a cartoonist's ink bottle had become one of the hottest acts on the pop music scene. "The Archie Show" grew more popular than ever. It expanded into "The Archie Comedy Hour" (where Sabrina, The Teenage Witch made her debut as a cartoon character), and then was reincarnated as "Archie's Funhouse," which mixed animation with live audience sequences. A flood of Archie toys and merchandise hit the retail market (remember those Post cereal box records which played songs from the TV show?). Don Kirshner posed for publicity shots with cardboard Archie stand-up dolls, gleefully raked in publishing royalties, and changed the name of his label from Calendar to Kirshner Records, as if to make sure everyone knew who'd engineered this comic book coup. Yet as 1969 turned into 1970, his miracle band began to self-destruct before his eyes.

Ron Dante was caught off-guard by The Archies' rise to fame. He was pleased enough to have sung lead on an international chart-topper, but he knew the record industry well enough to realize that he could be typecast as a "bubblegum" singer: "I was thrilled to be asked to be the lead voice of The Archies, (but) I just thought that kind of identification might limit me. Financially, it was great, (but) when those records first hit the charts, I just hid! I kept such a low profile that no one could find me. Don Kirshner couldn't even get me on the phone." Singing on Archies records hadn't precluded Dante from taking on other projects. He was simultaneously singing with other studio acts (most notably The Cuff Links, whose biggest hit "Tracy" had been in the Top Ten simultaneously with "Sugar, Sugar"), and producing a group called The Eighth Day for Kapp Records. When Don Kirshner offered him the chance to go on the road with a live Archies revue, he turned it down. Instead, he prevailed upon Kirshner to market him as a solo artist, after which Jeff Barry began working on tracks for what would become Ron Dante Brings You Up, his mostly self-composed debut album. "I'm gradually phasing myself out of the Archies scene," Dante declared to Hit Parader in 1970. Things didn't work out that way, though. Despite strong promotion and equally strong songs, the LP and its singles were stone-cold dead in the market within a month of release. Kirshner was able to coax his frustrated solo artist back into the studio to cut more Archies tracks.