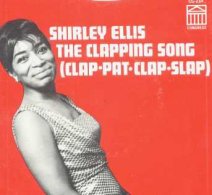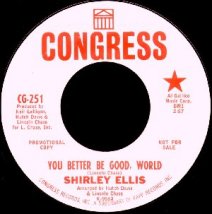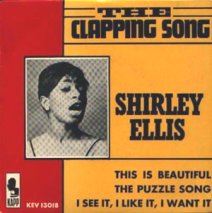 BANANA FANNA FO! . . . Knuckled under by the inevitable oversimplifications of the mass market, conventional history has relegated Shirley Ellis to its slagheap of one-hit wonders, where she is remembered for naught but her deathless playground anthem, "The Name Game".
It is most fortunate, then, that not everyone is content to leave history to such drastic conditions, and that there are some devoted souls out there willing to roll up their sleeves and poke around in its embers, searching for the sources of the flame. With that in mind, those habitual sparkies Mick Patrick and Malcolm Baumgart have recently come up with "Shirley Ellis: The Complete Congress Recordings", released by the British label Connoisseur Collection.
The CD presents the finest work of a blazing talent, who deserves to be known for far more than that one mere ditty. Abetted for most of her career by her musical (but not, as the liner notes clarify, personal) partner Lincoln Chase, Ellis was a most versatile performer, capable of taking authoritative turns at Caribbean modes (a natural, given her island heritage), the streetcorner R&B canon, jazz-pop standards, adultified nursery rhymes and a plethora of sweet novelties delivered with indomitable gusto. Although it is Ellis' grace at the mic that puts her material across so convincingly, it is the eccentric lyrics and rhythm-track brilliance that elevates "The Complete Congress Recordings" well above the output of more orthodox stars. (Note that while such pros as Charlie Calello and Hutch Davie are credited with having produced many of these sessions, Lincoln Chase does receive an intriguing "directed by" credit on a solid handful of them, and should probably be recognized as the auteur behind Ellis' Congress recordings.) The tracks percolate like nobody's business, shooting a vibrancy and joie de vivre throughout the four corners of the collection.
Much of the charm of Chase's (the principal lyricist) peculiar point-of-view is expressed in the opening lines to "Give Me A List", the flip of Ellis' 1963 hit "The Nitty Gritty": "Give me a list of what's not to be done, and I'll start doing it today". He embodies a strain of healthy, upright contrarianism and independence, which is then set to the handclappiest beat ever heard. Alas, not all of the handclaps serve to underpin Ellis' singing. Many of the cuts gathered here were culled from her faux-live debut LP, "In Action", and retain its dubbed-in applause and other audience sounds. While these intros and outros are intrusive at first, tripping over the music like a chatty DJ, after a few listens they thankfully recede into the background.
Among the memorable tracks on this set are a couple, "Whisper To Me Wind" and "Shy One", that'll have you reaching for your reference books in an attempt to identify the sources of what seem like neglected '30s standards. You won't find 'em there, however, as they are both Chase originals (the latter co-written with Shirley herself, and both with Tony Hornedo) of contemporary vintage. Also included is a stupendous version of Chase's stomper "Such A Night", first intoned by Clyde McPhatter (and later by Johnnie Ray and E-man Presley), which Shirley turns on a tambourine dime. Another Chase specialty is the message song, a mode highlighted by "You Better Be Good, World", an ominous 1965 Christmas song cum nuclear warning, which may cause you to rethink the term "silent night".
For all the range on display here, Ellis' musical adventurousness shines most brightly on her 1966 version of "Stardust". Had you described for me a mid-tempo "Stardust" set over a racing bongo beat, I'm sure I'd have replied, "It'll never fly, Orville," but, with producer Hutch Davie, Ellis tried it nonetheless, and fly it does. It is an astounding achievement, and one of my very favorite versions of the Hoagy Carmichael classic.
There is much to chew on here. Fortunately the swallowing is made easy by the panoramic clarity and stunning frequency range with which nearly all of the tracks on this album have been delivered. Were it not for the fact Connoisseur Collection is a budget line, I'd snipe a bit about the dearth of photos of Ellis and Chase, but I think we can all agree that it's the real nitty-gritty in the grooves that ultimately counts, and "Shirley Ellis: The Complete Congress Recordings" will leave you clapping for more, and then more again. Now let's do Chuck. (Phil Milstein, February 2003)