RUTH BROWN (1928 - 2006)
MISS RHYTHM
Ruth Brown was the second most popular female R&B singer of the early and mid-1950s, right behind Dinah Washington. Her magnificent voice could sell a song (sometimes in spite of the song itself) and, with the greatest number of singles issued by a female singer on Atlantic Records, she made trip after trip to the R&B charts - the label became known as "The House That Ruth Built".
But Ruth had little business acumen and her career was hampered by the poor fees and royalties black artists received. Personally, her unhappy and career-damaging relations with men also hurt. She was voluble on all these subjects. "I can pick a good song, but I sure couldn't pick a good man," she regretted after three failed marriages - she divorced her bigamous first husband, was beaten by the second, she said, and quarrelled with the third, a policeman who opposed her singing career. "Crumbs from a rich man's label," she scoffed at a "gift" of $1,000 from Atlantic Records magnate Ahmet Ertegun during a fees dispute. On white singers, who would copy black songs and snare the money, she named one by saying: "I never got to do the Ed Sullivan Show. Patti Page did." Such remarks did not win her friends in the music industry, but eventually Brown won her fight against it. Labels not only scrimped on artists' fees, but also charged them unaccounted "production costs", which were held against payments for their reissued material. Her lasting achievement lay in the reforms for which she campaigned and won within the music industry. Many artists who had been exploited in the past gained financially because of them.
She was born Ruth Weston in Portsmouth, Virginia in 1928. The daughter of a Methodist clergyman, she grew up influenced by church music. In spite of this, Ruth found herself drawn to secular music, revering Billie Holiday and Ella Fitzgerald. Practicing popular music proved a challenge, since her father forbade it in the house. She ended up singing at local USO clubs during World War 2, while her father worked nights at a shipyard. Her mother eventually reconciled herself to Ruth's music, but her father never did. Some servicemen chipped in to send Ruth to New York to compete in the famed Wednesday night amateur show at the Apollo Theater. While she was terrified to be on the big stage in front of one of the toughest audiences in the world, she walked away with first prize, $15. In the mid-'40s, still a teenager, she met and married trumpeter/vocalist Jimmy Brown. They appeared together singing duets as Brown & Brown. Initially Ruth started out copying her idol Billie Holiday, note for note and gesture for gesture. One night, Billie herself caught the act and was not amused. After ranting and raving for a while, she finally calmed down and told (possibly ordered) Ruth to be herself.
In 1948, Ruth was working at the Frolic Show Bar in Detroit, where she was heard by bandleader Lucky Millinder. He hired her as his vocalist, but she only sang with them on a single occasion, after travelling with them and rehearsing for three weeks. They were playing Turner's Arena in Washington, DC, and, when she came off the stage, she went and got some sodas for some of the band. Millinder flew off the handle. Declaring that he was paying her to sing, not be a waitress, he fired her on the spot, refusing to give her any back pay. Ruth was broke and couldn't afford to get back home. Fortunately the Crystal Caverns were only a few blocks away. The manager of the club, Blanche Calloway, the sister of bandleader Cab, gave Ruth a chance to perform - a week's employment for $35, enough to catch a bus home to Portsmouth. When she became an instant success with the crowds, Blanche not only held her over, but also became her manager. While singing at the club, Ruth got her big break when local DJ Willis Conover heard her and contacted the management of Atlantic Records.
Jazz enthusiasts Ertegun and Abramson had started Atlantic Records in late 1947, and the fledgling label had had a couple of hits with Tiny Grimes' 'Midnight Special' and Stick McGhee's 'Drinkin' Wine Spo-Dee-O-Dee'. However, at this point, Atlantic still lacked a "star". Ruth had to finish out her time at the Crystal Caverns, which had stretched from one week to 16. At this time, her absent husband resurfaced. As a favour to Ruth, Blanche put him in the Crystal Caverns band. An Atlantic recording session and an appearance at the Apollo Theater were arranged in New York for November 1948, and they departed in late October. Blanche and Ruth had originally planned to take the train, but with Jimmy Brown now around, they decided to drive. In Pennsylvania, they were involved in a serious car accident, which hospitalized Ruth for months. Atlantic, which had really had high hopes for her, paid all her hospital bills.
Finally, on May 25, 1949, she showed up for her first session, at the Apex Studios, although still on crutches. Eddie Condon's Orchestra was in the studio recording another project and stayed on to back up Ruth. One of the songs from that session, 'So Long', was her first hit, reaching #4 on the R&B charts. Ruth would end up placing 24 of her Atlantic tunes on the R&B charts, six of them also making the Pop charts. Along the way, Atlantic acquired some masters by Brown & Brown that had been recorded years earlier. Ruth's next release, 'I'll Get Along Somehow', was a cover of the Larry Darnell hit. Next came 'Happiness Is A Thing Called Joe', which also did nothing for Ruth's recording career.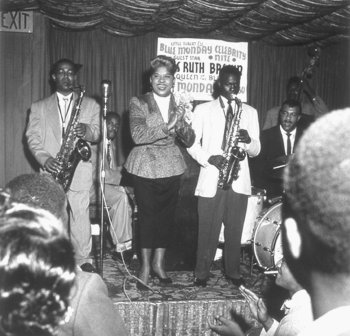 Then, in January 1950, she was brought into the studio to record four sides with the Delta Rhythm Boys: 'Why', '(I'll Come Back) Someday', 'Sentimental Journey' and 'It's All In Your Mind'. The first two were paired in a 1950 release, while the others remained in the can. The coupling was for recording purposes only and the two acts weren't sent on the road together. Two other Ruth Brown releases in 1950 also went nowhere: 'I Can Dream (Can't I)' and 'Where Can I Go'. Later in the year, 'Teardrops From My Eyes', written by Rudolph Toombs and backed by the Budd Johnson Orchestra, zoomed right to the top, spending 25 weeks on the R&B charts, 11 of them at #1. In 1951, there were two chart hits - 'I'll Wait For You' (#3) and 'I Know' (#7) - and a clinker, the non-charting 'Without My Love'. This was the year that Pop singer Frankie Laine, known at the time as "Mr. Rhythm", dubbed Ruth "Miss Rhythm".
In the spring of 1952, Ruth had her second #1 smash, '5-10-15 Hours'. As written by Rudy Toombs, the song was originally entitled '5-10-15 Minutes', but Herb Abramson convinced Toombs that after the Dominoes' tremendous hit with 'Sixty Minute Man', mere minutes weren't enough; he changed the words. The sax work was done by Willis "Gator Tail" Jackson, with whom Ruth had taken up, somewhere along the line having divorced Jimmy Brown. Her other 1952 hit was 'Daddy Daddy' (#3), while 'Three Letters' didn't chart. 1953 saw two more chart hits, starting with '(Mama) He Treats Your Daughter Mean', another chart-topper. The song became Ruth's first crossover into the Pop charts, where it peaked at #23, and readers of Down Beat magazine voted it Number One R&B Record of the year. Her other chartbuster of the year was another kind of triumph: both sides of the record made the top ten - 'Wild Wild Young Men' (#3) and 'Mend Your Ways' (#7). Other 1953 releases were 'The Tears Keep Tumbling Down' and 'Love Contest'.
1954 opened with the release of two tunes she'd done with the Delta Rhythm Boys in 1950 and 'Hello Little Boy', which also failed to chart. But then Ruth Brown soared back to the top of the charts with 'Oh What A Dream', written for her by her friend, Chuck Willis. It was the first Ruth Brown record to feature her back-up group, the Rhythmakers, who were usually Atlantic's ubiquitous Cues, but on this session were actually the Drifters. It was followed a couple of months later by 'Mambo Baby', which also made it to #1, riding the crest of 1954's Mambo mania. Its flip, 'Somebody Touched Me', although popular (and another tune with the Drifters), wasn't a chart item. In a year and a half, Ruth had had a #1 hit, followed by a double-sided top ten release, followed by two #1 hits in a row. Atlantic had certainly found its star. 1955 began with 'Bye Bye Young Men', which rose to #13. This was followed by another 2-sided hit: 'As Long As I'm Moving' (#4) and 'I Can See Everybody's Baby' (#7). Her next release, 'It's Love Baby (24 Hours A Day)', reached #4, and was covered by Hank Ballard and the Midnighters, who climbed to #10 with it. Then Atlantic decided to pair its #1 female star with Clyde McPhatter, whom, it was hoped, would be their #1 male star. The result was 'Love Has Joined Us Together', which topped off at #8 - Ruth and Clyde were having an affair at the time. Finally, there was 'I Wanna Do More', backed by an unusual female version of 'Old Man River' (the last of the four sides Ruth had done with the Drifters in 1954), which climbed to #3. In all, 1955 was a very good year for Miss Rhythm.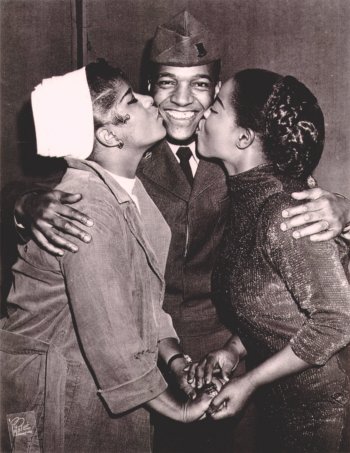 After all this, though, there was only a single hit in 1956: 'Sweet Baby Of Mine', which cracked the Top Ten. 'I Want To Be Loved' and 'Smooth Operator' were chart misses in that year. In 1957, 'Lucky Lips', written by Jerry Leiber and Mike Stoller, went to #6 R&B and #25 Pop (the Gale Storm cover made it to #77). It was followed by the non-charting 'When I Get You Baby' and 'I Hope We Meet (On The Road Someday)' and Ruth's debut LP, 'Rock & Roll'. 1958 saw 'A New Love' and 'Book Of Lies', neither of which charted. But in the fall, Atlantic released Ruth singing a Bobby Darin tune, 'This Little Girl's Gone Rockin'', which jumped to #7 R&B (#24 Pop). Its flip, 'Why Me', reached #17 R&B. While these were big hits and got Ruth a lot of work, they weren't close to the material she wanted to record, and she admitted that her heart wasn't in them. There were two hits in 1959: 'Jack O'Diamonds' (#23 R&B and #96 Pop) and Brook Benton's 'I Don't Know' (#5 and #64 respectively). There were also re-makes of 'Mama, He Treats Your Daughter Mean' (with no parentheses) and '5-10-15 Hours', which went nowhere, and the album, 'Miss Rhythm'. Ruth's last Atlantic chart hit was 'Don't Deceive Me', which reached #10 on the R&B charts (#62 Pop) in 1960 (#62 Pop). That year also saw 'The Door Is Still Open' and 'Taking Care Of Business', which didn't chart. In 1961, Atlantic issued 'Sure 'Nuff' and 'Anyone But You', the latter written by Jeff Barry and produced by Phil Spector, but it was all over. The music had changed, as had the relationship between Ruth Brown and Atlantic. She was instrumental in making Atlantic the success it became, yet there were few people at the company in 1961 who even knew who Ruth Brown was.
After leaving Atlantic, calling herself Venus, Ruth had a single release on the Maynor label: 'Walkin' And Talkin'', in the vein of Bobby Lewis' 'Tossin' And Turnin''. In 1962, with the help of Brook Benton, she switched over to Philips, a subsidiary of Mercury Records, where there were Pop chart appearances with 'Shake A Hand' (the old Faye Adams hit), which reached #97, and a remake of 'Mama (He Treats Your Daughter Mean)', which had its parentheses reversed and made #99. The company also released two Ruth Brown albums, 'Along Comes Ruth' and 'Gospel Time'. There were other labels after that - Noslen, Decca, Mainstream, Solid State, and Skye, which issued the LP, 'Black Is Brown And Brown Is Beautiful'. But there were no more hits, although 'Yesterday' on Skye received a Grammy nomination.
Ruth slid from the top, working as a school bus driver and as a maid. She was also a drug-abuse counsellor in Long Island and continued to sing at local venues. Then, almost broke, to the extent that she'd disconnected her phone, she hooked up with old friend Redd Foxx, who brought her to California for an appearance on his Sanford And Son TV show. He also got her a part, as Mahalia Jackson, in the musical play Selma. Ruth started working clubs, which led to Las Vegas bookings. She also landed the role of Leona Wilson, the neighbour of McLean Stevenson's character on the TV show Hello Larry. In late 1979, she did an overseas tour, returning to do further stage, TV and movie work. Ruth also appeared in the short-lived 1981 TV show, Checking In, in which she played Betty, a floor supervisor at the St. Frederick Hotel. Ruth won a Tony Award for her work in the play Black And Blue and a Grammy for her 'Blues On Broadway' LP.
Ruth "owed" Atlantic $30,000 until her career revived and she hired a lawyer. Supported by the Rev Jesse Jackson, they persuaded Atlantic and its owner Warner Communications to change the system. Brown received $20,000 and was forgiven all "debts". The royalty payments system was reformed to favour pioneering R&B artists, and other labels followed, including the conglomerate MCA. Atlantic also agreed to contribute $1.5m to launch the Rhythm & Blues Foundation to help needy entertainers, which continues to this day in Philadelphia. Yet Brown continued her pressure, criticising the industry for spending lavishly on presentation awards instead of aspiring artists. In 1988 Ruth played the role of Motormouth Maybelle in the movie Hairspray and, in 1993, she was inducted into the Rock And Roll Hall Of Fame. She also recorded for the Fantasy label, hosted a public radio blues programme and, in 1996, wrote a memoir, Miss Rhythm.
Ruth suffered a stroke in 2000, but came back to carry on with her career. Her talent seemed endless; her voice still a treat to listen to. However, another stroke in early November 2006 put her on life support. Miss Rhythm passed away on November 17, 2006. The world of music was lucky to have Ruth Brown; we will miss her. She is survived by her two sons.

(Excerpted and adapted from a tribute by Marv Goldberg at http://tinyurl.com/3afj35v
with the exception of the second and penultimate paragraphs, which are
from an obituary by Christopher Reed in The Guardian.)