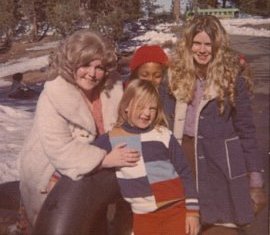 Charlotte, me, Janet and Janet's friend at Big Bear Lake, 1974.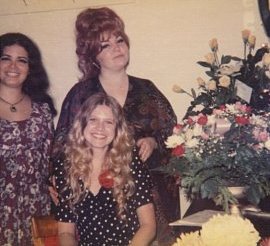 Nita, Charlotte and I backstage at the Troubadour, 1974. I opened for Roger McGuinn.
Unfortunately, I don't remember the name of Janet's friend. I want to say "LaRae" or something like that ... but not sure!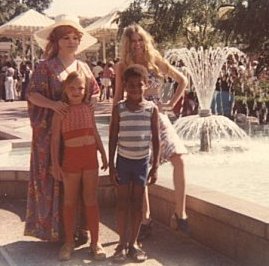 Here we are at Magic Mountain, 1974.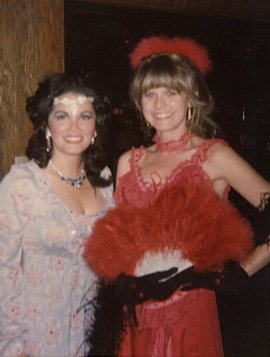 Nita and I on Halloween, 1978.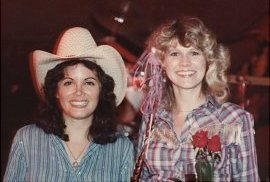 Nita and I on a "Honkytonk Saturday Night" in 1979. Nita used to come to a lot of my gigs in the L.A. area during the "Urban Cowboy" craze! I played 'em all -- the Palomino, Cowboy's in Anaheim, The O.K. Corral in Lakeview Terrace, The Round-Up in Chatsworth, The Rawhide in North Hollywood. This could have been The Ranch in Garden Grove.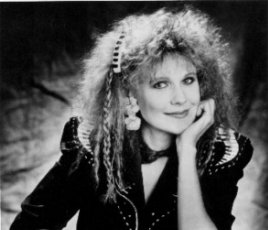 Me, 2003
Becky Hobbs is a talented Nashville-based songwriter/pianist/singer, best known for her 1988 hit "Are There Any More Like You Where You Came From". Already a fan, I recently learned that in between her Oklahoma youth and her Nashville stardom Becky had spent several years in Los Angeles, where she became friends with song-poem singers Nita Garfield and Charlotte O'Hara. Via her website, I checked in with Becky to inquire about this phase of her life. A gracious lady who remembers those years, and those friends, with abiding fondness – and not a little sadness at their passing – Becky contributed not only thoughtful recollections but a batch of very personal photographs, as well.
I was born and raised in Bartlesville, Oklahoma. I started playing music professionally when I was 15 years old. Then, after a year of college in Tulsa and a couple more years on the road with an all-girl band, I landed in Baton Rouge, Louisiana for two years.
In February 1973, bandmate Lewis Anderson and I rolled into Los Angeles with nothin' but dreams. Not long after that, I met Charlotte O'Hara and Nita Garfield. As I recall, Lewis had played guitar on a session with Rodd Eskelin and that is how we all met. Kim Fowley may have had something to do with it, as he was one of the first people I met in L.A., and I know that Nita and Charlotte knew him, too ... but that's a whole 'nother story!!! Anyway, Nita and Charlotte used to come over to my little Hollywood bungalow, which was at 1323 Tamarind Ave. (it's now torn down), to record their demos. Lewis would play guitar and I would play piano and they would sing right into their little "ghetto blaster". They had a wonderful, unique sound when they sang together. I remember asking them how they wrote the songs, since neither one of them seemed to play an instrument, and they laughingly told me that they actually played accordion and violin! I think that Charlotte was the accordionist and Nita, the violinist! Anyway, I never got the pleasure of hearing them play!
I was in my early 20s, Nita was probably mid-twenties and I don't think Charlotte was older than her late twenties, yet they were already "lying" about their age, saying that they were 21, which made them "younger" than me. Guess that's what growing up in L.A. will do! They both looked and acted like they were from some other time period. They would wear colorful low-cut flowing mu-mus, lots of make-up and false eyelashes. They were both very classically beautiful and voluptuous. They told me that Charlotte had had a hit record as a teenager as "Bonnie" in Bonnie & the Treasures. The only version of "Home Of The Brave" that I had ever heard was Jody Miller's version.
They were writing a lot for Hal Davis at Motown at that time. Charlotte had a little girl named Janet, and she and Charlotte both lived with Charlotte's father. Charlotte and Nita would always tell Lewis and I that they would "remember us when they made it!" It always made me feel awkward, because I had a fire in my belly that nobody could put out -- I just knew I was gonna make it someday! They were very kind souls, and loved having little parties and giving gifts. We had a lot of fun and laughs.
I didn't know Rodd very well, and I remember hearing about his death on the Hollywood Freeway from Nita, after the fact. I lost track of Charlotte and Nita for a couple of years after that, and in that time Charlotte got breast cancer and passed away. Nita and I made contact again in 1977 or so. She told me that after the cancer had spread to Charlotte's brain they had gone to Brazil as a last resort for psychic surgery.
Nita and my friend Joyce Richards were very good pals at that time also. In the next few years, Nita, Joyce and I hung out together. Nita and Joyce would come to my gigs at the Ranch in Garden Grove, the OK Corral in Lakeview Terrace, the Palomino and the Rawhide in North Hollywood. It was during the Urban Cowboy craze, so I had all the work I could handle! Nita and I were both very interested in learning more about the Spirit World, and shared many great conversations and experiences.
I moved to Nashville in November of 1981 and only saw Nita a few more times after that, when I would go back to L.A. It became harder and harder to see her, as she expected me to make an appointment with her quite a ways in advance. It was hard for me to understand, but I think it had something to do with her deep involvement in the Spirit World.
In November of 1999, Joyce Richards called me and said that Nita had passed away. She had been living in Santa Monica. It took a while for the cause of death to be determined, but I believe that it was finally decided that it was a heart problem that took her. I miss Nita and Charlotte and the good ol' days in L.A.

(With thanks to Ellery Eskelin)