The Secrets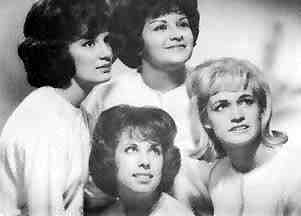 Keep A Secret! by Doc Rock
(All rights reserved to the author.)
It is an old, familiar story. We've heard it over and over again. The artist longed to be a singer from childhood. He (or she or they) begged his parents for a guitar. He practiced. He played local gigs for years. Tried and tried to get a recording contract. Went from label to label. Finally after years of struggling and toiling, he got a big break which led to a hit at last.
With variations, this story fits many artists. Elvis Presley, Roy Orbison, Johnny Burnette, the Beatles, Hank Ballard and a host of others, black and white, big and small.
Even many Girl Groups, such as the Pixies Three about whom I wrote about in the October, 1993 issue of DISCoveries, struggled to gain success. (If you have the article, go back and look on page 30. You'll see a few paragraphs about the subjects of this article there.) The Pixies had been singing together for seven years before their break, which came when they were "discovered" by Johnny Madara and David White. And even then, Debbie's mom had to practically beat Madara and White over the head to get the Pixies noticed.
But sometimes, an artist gets their big break right at the beginning of their career. Such a artist was the Secrets. They are listed twice in the Doc Rock Dictionary of Music Terminology. Once under "Over-Night Success" and again under "One-Hit Wonders."
OK. So I am being facetious. If you look in the Doc Rock Dictionary of Music Terminology, you won't find the Secrets listed like that. Truth be told, there is no such thing as the Doc Rock Dictionary. At least not yet . . . .
However, if you look in almost any real rock and roll reference book, such as Joel Whitburn's Record Research Billboard Chart series, or Norm N. Nite's "Rock On," you will find the Secrets listed as four girls named Patty, Carol, Josie (or sometimes Jacie), and Kragen (for Karen).
In reality, their actual names are Patty, Carole (not Carol), Jackie (not Josie or Jacie), and Karen (not Kragen). Why are they always listed incorrectly?
Well, when the Secrets' record, "The Boy Next Door," first started to break out in late 1963, Billboard ran a brief biography on the female quartet. And Billboard got the names wrong. And writers have been drawing on Billboard as a source and repeating that mistake for 33 years!
I felt it was time to set the record straight. After all, with the Pixies Three and the Angels, the Secrets made my personal 1963 experience perfect! So I went to the source, all four original Secrets, to get the facts about this enigmatic 1963 Girl Group.
Who are the Secrets?
The girls, now women, are Karen Gray Cipriani, lead (June 16, 1943), Carole Raymont McGoldrick, alto (or bass) (August 1, 1943), Jackie Allen Schwegler, high dum-dee-dums (June 6, 1943), and Patty Miller, soprano (July 1, 1943). As far as musical backgrounds go, Karen says, "My father was in a barbershop quartet back in the 1920s. I think that I got my singing ability from him. I sang lead in the Secrets."
Carole was the first musical note on her family tree. "I started singing when I was very young, also I had tap and ballet lessons, and performed at recitals. The first song I sang in public was "Take Me Out To The Ball Game" at a recital when I was eight. My mom was not pushy -- I'm a natural ham."
Patty always liked singing. "I sang in the church choir and in all the school choirs. My father sang and played the drums for years in a polka band, and my brother still does. They do jazz, polkas, rock and roll, standards and everything."
The Secret who had the least musical upbringing (though not from want of trying by her mom) was Jackie. "When I started with the girls, my mom probably thought I was kinda nuts! That was nothing new. Actually, my mother really did enjoy music and played piano at home. But she was pressing me toward learning to appreciate classical music, and I was rebellious, so rock was right up my alley."
High School Secrets
The group originally formed in Cleveland's Shaw High School."Carol and I sang with two other girls in a group in Shaw High School in East Cleveland," recalls Karen. "Jackie sang with us in this group, too, along with a girl named Sue. When we got out of high school, Sue got married, so we picked up Pat along the way. I can't remember what we called ourselves in high school. We sang for school organizations, and after we graduated, we hooked up with another alumni of Shaw High, Tom King. He started Tom King and the Starfires, and later he was in the Outsiders ["Time Won't Let Me"]."
Carole remembers those high school days, as well. "Four of us in high school used to sing for the girls athletic club, the GAA, the Friendship club. We sang songs like 'The Leaves of Brown Came Tumbling Down that September In the Rain' and 'Side by Side.'"
No one recalls any name that the group might have had in those early, school days. Perhaps they had no name. That sure makes sense, in light of the scoop I got when I asked the musical question, "How'd you get the name the Secrets?"
Jackie, Karen, and Patty were not sure where the name came from. "Maybe Madara and White thought it up?" they suggested. So I called up Johnny Madara. Madara and White have had involvement in many musical milestones, including the Danny and the Juniors records like "At the Hop," the Sherry's "Pop Pop Pop-Eye," Len Barry's "One Two Three," the Pixies Three "442 Glenwood Avenue," and Lesley Gore's "You Don't Own Me," among many others. As writer, producer, arranger, and discoverer of the Secrets, Johnny Madara seemed just the person to know the truth! So I asked Johnny if he and Dave White knew the Secret of the Secrets' name.
"We did come up with names in our career for groups. For example, we named the Sherrys. Some groups would have a name that was almost there, and we'd change it, like Sherrys to Sherreens [a fictions example]. But I don't recall where The Secrets name came from."
Finally, I asked Carole where the name came from. Carole, the low voice of the group, the one who sang the immortal line "Stay away if you value your life!" dropped into an even lower, Secretive tone. "You wanna know something? We always say, 'It's a secret.' But that is just because none of us can remember how we got that name! In 1963. we were brainstorming names, and the first time we went out to perform live, we didn't even have a name or a recording contract or anything. The pianist at the show looked down at the piano and said, 'How about the Sonnets?' which was the brand name of the piano. So the very first time we appeared in pubic, we were known as the Sonettes! I don't know if Johnny Madara and David White helped pick the name the Secrets, or what! I just can't remember! None of us can! But because we can't remember, we always say, 'It's a Secret!'"
It's not a Secret any more!
The Secret Break
Going to school with Tom King turned out to be a fateful coincidence. The girls were asked by Tom to do a series of five Twist Shows, hops really, with Tom backing them up. One show was at the Continental in Cleveland, another at the American Legion or Veterans Hall on Cleveland's west side. Karen: "Things happened surprisingly quickly after that. It was really a fairy tale story. We never expected anything like that to happen. We were really doing this just for fun."
Pat: "One of the acts in these shows was Bocky Boo and the Visions, a group which was managed by a local talent promoter named Redda Robbins. She came with them, heard us, liked us and signed us up.
"We were performing at the Chateau, which no longer exists, on the west side of Cleveland. Rhedda got Johnny Madara and David White to come from Philadelphia to see us perform. They liked us and immediately signed us to a recording contract. We went to Philadelphia to learn the songs and then we drove with them from Philadelphia to New York in two cars to cut the songs. It was that fast."
Johnny Madara did like the Secrets from the outset. "I don't recall if we heard a tape on the Secrets before we saw them perform. But Redda Robins had two acts, Bocky and the Visions and the Secrets, so we went in to see two acts at the same time. And we actually did record with the Visions for Mercury. But when we went in to see the Secrets, I really liked them. They looked good, and they had a nice character-look to them also. The girls all worked well together and it was a good grouping. I remember how much I liked them."
Even thought the group was not terribly experienced, Johnny found they rather polished already. "I think they were pretty much ready to go. What we worked on was the kind of harmonies that we wanted for that particular record. Dave White is fantastic with harmonies, so we worked with the Secrets on that for our songs. We did not work on choreography that I remember."
Of course, the girls did not know who Madara and White were when they first met, and Carole, for one, was skeptical that something that happened so fast was truly on the up and up. "We did five shows. And at the fifth show, two guys came up to us and said that they were with Mercury Records and they wanted to record us. We said, 'Yeah, sure, uh huh. Right.' We didn't believe them. But in a matter of weeks, we were in Philadelphia in their offices, Madara and White, and they treated us like gold. They were wonderful, wonderful guys. Total gentlemen. And they treated us like we were big, big stars, not green girls. We made a demo which was sent up there to the Mercury representatives. They liked us and signed us up."
Jackie also has nothing but fond memories of getting a record deal. "We headed to New York just laughing all the way, thinking that it was hysterical that these four girls from Cleveland were going to see the inside of a recording studio. And we thought that that would be the end of it. But not very long after, it became a hit. We were all taken by surprise!"
The Secret Record Deal
Their contract was with Phillips Records, under the parent company Mercury Records, with Madara and White as their A&R men, writers, and producers. "We were out of school, 20 years old when we cut the first record," Pat relates. "Our parents had to sign the record contract, and they were so excited about it. We always had chaperons, we were very square and never got to do anything. Not to say that it wasn't fun. How many people get to do what we did?"
Their first record was a song called "Learnin' To Forget" backed with a Madara and White composition, "The Boy Next Door."
"The A side was supposed to be 'Learning to Forget,'" according to Karen.
Carole agrees. "We worked on the song 'Learnin' to Forget' all the time. The flip side was 'The Boy Next Door,' and we really didn't work on that song much. It was put together very fast in the studio. But 'Learning to Forget' was cut with violins and a whole production, even professional hand clappers! On later sessions, we had to do our own hand claps!"
Karen remembers that "a DJ in Buffalo accidentally turned it over to the other side, and started playing 'The Boy Next Door.' And it took off. It was all live in the studio, we sang with the session musicians. And we had one of the most fantastic guitar players, Al Caiola, on 'The Boy Next Door.'"
On the other hand, Patty is pretty sure that "The Boy Next Door" was always the intended hit side. Looking at the 45, the matrix number for "Boy" is 27552, the matrix number for "Learnin'" is 27554. Usually, the A side of a record has the lower matrix number. Okay, Johnny, do you remember which was the A side?
""I think that 'The Boy Next Door' was supposed to be the A-side. It was the commercial side. We were trying to make a dance record of that era, with the kind of sound that was current then. There were a lot of girl groups happening. We were basically trying to do that kind of recording. In fact, there were a couple of things we had done before [in 1962] in the Sherrys' song 'Pop Pop Pop-Eye' that we also did on 'The Boy Next Door.' We pulled production concepts that we had from those Jamie-Guyden label records for the Secrets. such as the drum elements and the saxophone solo. These were both things from 'Pop Pop Pop-Eye.' Yes, all the production ideas were directed toward 'The Boy Next Door' as being the hit song. I don't remember strings on the session. It was a horn-rhythm thing."
The Secrets first session was a split session. The Secrets had just 30 minutes to record their two numbers. "And Paul Anka was in the next studio," Carole notes. Patty noticed Paul, too, and asked to go meet him.
Patty, who was from Willowick, Ohio, and did not attend Shaw high, vividly recalls when the record became a hit. "The first time we heard the record on the radio we were driving in Karen's convertible and it came on the air. We looked at each other and broke out in happy tears."
In 1964, a local station, WKYC, created a "Secret Student" feature in honor of the local girls who made good. The girls recorded promos for the contest.
Opening
Together: "SSSSSHHHHH . . . We're the Secrets!"
One girl: "And we have a secret to tell you."
Another girl: "The location of today's Secret Student."
Together: "Don't tell anybody! It's a Secret!"
Closing
"Hi, I'm _________ of the Secrets. Just so it won't be a secret anymore, here's the name of today's Secret Student, and the winner of today's contest!
Recently, after three decades, they actually met one of the former Secret Students.
Hit Recording Secrets
Once the record hit, things changed for the Secrets. Karen: "Our lives got exciting after the record hit. We started doing little hops here and there. We traveled mostly up and down the east coast to Florida. The record company would set us up with a limo and a PR guy and we would go from hop to hop, driving around in these limos, maybe three or four hops in one evening. We didn't have a band to back us up. It was all lip sync shows at that time, with Dionne Warwick, Lou Christie, Lesley Gore, Vic Dana. Lesley was just a teenager, about five years younger than we were, and very nice. We played the Palace Theater in downtown Cleveland with Connie Francis, and we thought she was pretty special and a very nice girl. We really liked her.
"We were doing a TV show where we watched Lenny Welch on stage. We loved his song, it was the first time we'd heard it, 'Since I Don't Have You.' We started talking with him, and he told us that this was his 8th record, and finally he had a hit. Shortly after that, we heard that he had gotten drafted. And he was not heard of again. It was a shame. We had a fairy tale story of our first record we put out there and it went so high in the charts, number 18 on Billboard! It was really exciting!" Karen explains.
Well, Lenny did have a half-dozen more chart records, but none as big as "Since." Jackie remembers several times when other long-struggling artists met the overnight success, the Secrets, who got a hit on the first record. "I'm not sure that we were very well appreciated when we met people who had recorded a lot of flops before scoring their first hit."
Secret Songs
The Secret Sound was an interesting approach to the Girl Group style. Having four members, with one low voice, set the Secrets apart from other more typical groups, who had just three members, or four members but no low voice. Besides a low end to the harmony, giving the records a fuller sound than most, most of their records featured at least one spotlight low line by Carole.
A highlight of all Secrets records is the most exciting drum work on any Girl Groups records (apologies to Hal Blaine!). Their songs were written for them specifically, according to Johnny. "We always wrote songs for specific acts. Very rarely did we ever write a song without the person in mind to record it. We didn't make demos. We would play piano and just teach the girls the songs. We would work with them, teaching them the harmonies that we wanted. Then we'd let them rehearse it themselves. They'd go home and work on what we had taught them."
"The Boy Next Door." The big Secret song was a powerful Madara-White record, which came on with a booming sound which was a cross between a wall of sound and a "Locomotion" feel. It opens with drums and a sax, much like "Locomotion," but also features hand claps and the Secret trademark "Dum-dee-dum-dee-dum" refrain. Really, a hybrid of the Angels' "My Boyfriend's Back" and Little Eva's "Locomotion," but with a nod to the Pixies Three "Birthday," also a Madara and White opus.
Who was that great drummer on all of the Secrets' stunning 45s? "We always tried to put drums in, like on Len Barry's 'One Two Three,'" reports Johnny Madara. "We'd always try to place drum things before the instrumental started. Bobby Greg was the drummer on 'The Boy Next Door.' He was on most of the records Dave White and I made, including Len Barry's songs. We used Gary Sherman sometimes, and a couple of other fellows, but Bobby Gregg was our mainstay, and he was on 'The Boy Next Door.'"
"The Boy Next Door" fit well into the mix of Girl Group records of the era, where a lyric refrain
"The boy next door has really got me dreamin',"
"I met him on a Sunday and my heart stood still,"
"There he was just a walkin' down the street singin',"
or "He's so fine" is followed by a nonsense lyric
"Dum-dee-dum-dee-dum,"
"da-do-ron-ron-ron-da-do-ron-ron,"
"Do-Wah-diddy-diddy-diddy-dowm-diddy-do,"
or "doo-lang-doo-lang-doo-lang."
Featured is Carole's classic low line, "Stay away if you value your life!" One of the most exciting Girl Group records ever made, no doubt!
"Learnin' To Forget." Not a Madara-White song, but a Ballard-Marks composition, has a much smoother sound than the hit side. More a drum and piano song than a drum and sax record, the guitar and repeated piano gliss, plus an uncomplicated sax break, set it apart. The beat is almost calypso, and the background is "Shoe-bee-do-bee, do-bee-do-wop."
The lead has a bit of soul, and is almost plaintive in a Lesley Gore-Diane Renay kind of way.
The Secret Follow Ups
"Hey Big Boy" was a perfect follow up to "Next Door," of course it is Madara-White. A great chime harmony is featured on the line "Hey hey hey hey, big boy." The sax break brings back the "Locomotion" again, and the whole record has tremendous energy and power, right to the wild fadeout.
The low line this time is "Hey big boy your gonna be mine." The title is explained by the line, "You're in 12th grade and I'm in 8th, what'll I do when you graduate?"
"The Other Side of Town." This flip side is another Madara and White number, and a slow variation on "The Boy Next Door." The rhythm is similar to Billy Joe Royal's "Down in the Boondocks," which came out a year later. In the fadeout, Karen's vocal is right up to Darlene Love's standards on "He's A Rebel." The line, "He may be poor but I don't care," tells the story in a nutshell.
The Secrets' "dum-dee-dums' are replaced by "Sha-la-la-la," and the cutest line is "He's not the boy next door!"
"He's the Boy.' Yet more Madara and White work, after a count off "A-One a-two, A-one two let's go!" the song settles into a sound much like a 1962 record by another Madara-White Girl Group, the Sherrys, called "Pop Pop Pop-Eye."
The "Dum-dee-dums" are back, and the familiar sax break sounds as good as ever. If the excitement of this very uptempo Girl Group classic doesn't wake up the listener, get a new needle for your phonograph!
Carole's low line this time is "He's the boy I love." The overall sound reminds one of the Raindrops, and the fade is another to excite the Darlene Love aficionado.
"He Doesn't Want You." This record has the coolest drum work yet, even though the beat is slower. Another Ballard-Marks composition (the first was "Learnin' To Forget"), Karen really shines on the lead. The group backs Karen with lyric lines which answer the lead line, as well as with background nonsense, this time "Shoe-wah-do-wah-wah." Here, poor Karen is hooked on a guy, and the other three girls just can't talk any sense into her thick skull: "I'd wait for eternity, if he'd only come back to me! (answer) He doesn't want you!"
As for the two songs from Ballard-Marks, Johnny Madara says, "Those were just songs that I got through one of my friends who gave them to me. I think it was Quincy Jones, because we were going to write some things for Lesley Gore at the time." Neither Johnny nor the Secrets knows today just who those composers were.
"Here He Comes Now." The most peppy Secrets song, this tune was also recorded by the Pixies Three for their LP. It is the only Secret song to be highlighted by an organ. The "Locomotion" sound is back, and the girls deliver much of the cut in a yelling style that raises goosebumps.
Johnny Madara explained why both girl groups recorded the same tune. "We used to write something and try it with someone. And if it didn't make it, or if the artist didn't bring it off well, then if we still believed in it we'd rewrite the song and then try it with another artist. Or, if we were doing an album and we ran out of songs, we'd redo a song another act had done. Mostly our reason for doing things was that we would believe in the track. We redid songs with several artists, including Len Barry and Maureen Gray."
If and Madara-White song deserved doing twice, it was this one! A lost Girl-Group classic!
Ever heard of "Marlena's Rhythm?" That is what the organ plays on "Here He Comes Now," as well as on the Pixies Three version of the same song, although a careful listen reveals that the two girl groups did not use the same backing track.
"Oh Donnie." A slow Madara-White number, the background is simply "Don Don Don," which sounds like "Johnny" most of the time. This is the most blusey track the Secrets ever recorded, even to the sax break's being replaced by a harmonica! The girls say they like the tune "He's A Rebel, " and the lyric content of this song, like most of their songs, carry the "Rebel" theme of a low-income, bad rep boy friend. A very distinctive sound for the Girl Group field.
The false ending here seems an homage to "The Best Part of Breakin' Up," but the cutest part of the song is the inside joke, a line which features the names of all four of the Secrets! And just listen to the "Ohhhhhs" on the fadeout. Darlene Love lives!
So, Johnny, who played that harmonica, and were you trying to emulate Spector on the Secrets' records?
"Buddy Lucas played the sax on the Secrets records, and he played the harmonica on 'Oh Donnie.' He was a real talent. He played on The Spokesman records we did later on as well. He was a lot of fun, I liked working with him. Leon Huff played on a lot of our early sessions, and on the Secrets' records. He was signed to us.
"We always tried to make records that had an identity to them. On most records, we tried to relate them musically to something, to relate the record to what was out there in the market place. We might say, 'The echo sound that is on that Spector record is great, I love that.' And you'd try for that kind of an echo sound on your record. But we always tried to make records that had identity to them. And I feel that we accomplished that on the Secrets' records."
Four 45s, eight songs. Each record featured a rocker backed by a ballad, and the rockers kept up the traditions set in the first song wonderfully. No song ever sounded derivative or repetitive. And when they adapted element form Phil Spector's Wall-of-Sound, or repeated something from their own background, it was done with such flair and skill that it always sounded fresh and original, never imitative or substandard.
With the changes they were making in the last record, and the new sounds on the radio, one can't help but wonder what the Secrets would have sounded like in a year or two? Secret Tours
The Secrets' entire recording career consisted of three recording session, producing eight sides and one national hit. But what a record! "The Boy Next Door" so exciting and lively that it is considered a collector's item and a shining example of the early '60s Girl Group genre today. It was even covered on the Hit label by a studio group called the Belles.
"Our favorite group was the Ronettes, reveals Patty. "The Crystals' 'He's A Rebel' was one of my favorites, but we really flipped out when we heard "Be My Baby" on the radio."
All the girls liked that song. Jackie: "'Be My Baby' was not in our shows. We just did it in the car. Hey, we did some of our best work there!"
Patty remembers the endless shows. "As our song was climbing the charts, we did a lot of shows. We followed the Angels in a couple of places in New Jersey and we traveled all over Pennsylvania and New York. West Palm Beach Florida and the Kandy Kane. Urbana Ohio Coconut Lounge. These were all teenager shows, hops.
"We'd be driving in the car going to a gig and all of a sudden the song would come on the air, and Karen would be driving her convertible with the top down and we'd drive along yelling, 'That's us, that's us!' Playing and laughing."
Carole remembers parts of the touring when there was some confusion about just who the Secrets were. "I don't want to offend anyone, because we are not the least bit prejudiced, but we were a white girl group, in a black girl area, Cleveland. And we had a black girl sound. Many people were surprised to meet us at shows, after hearing the record. I don't know if we sound black by today's standard, but that harmony sound we had sounded black. That probably happened because the fellow who taught us how to sing was black. He was an entertainer named Larry Rogers, who had his own act, but who also made money by teaching groups. In fact, sometimes during our act, we'd ask him to come out and do a number. But it was very hard, because in those days, having a black man working with four white girls was not really acceptable.
"I can remember walking into a restaurant with him in the Little Italy part of town, and we were not made very welcome, if you can imagine. But I think his influence was to give us a more black vocal sound.
"Original rock and roll was considered black music, very much so. Any rock and roll record might be assumed to be by a black artist.
"If you can believe this, on one of our shows in Detroit, Diana Ross and her group the Supremes opened for the Secrets at one point. They were standing on a little stage with homemade costumes. They didn't have their wigs yet. Seeing them perform, I made the comment to Karen, 'Their choreography is wonderful, but they will never make it big.' Shows what a fine judge of talent I was!" In fact, the Supremes were a warm-up act for the Secrets, and actually asked for their autographs, Carole remembers.
Jackie also remembers the Supremes, a group who incidentally had some 11 stiffs before their own first hit record. "We were headlining over the Supremes at a series of hops in Detroit. Two weeks later, it would have been reversed, but who needs to dwell on that! At any rate, everyone else on the bill had several records to perform. And of course, we only had the one record to lip synch. Here were all these other groups with four, five, six numbers, and we had two sides, one record! So we were desperate, we thought, 'Gee, what do we do?'' Well, what we wound up doing was taking 'The Boy Next Door' and playing it at 78 and doing it chipmunk-style! The audience loved it! And that's how we managed the night we sang with the Supremes! We worked real quick after that to get some more sides cut!"
There was a scary time or two, as Patty vividly recalls. "I think it was in Detroit in early 1964 when we did a show in a Detroit gymnasium with 4,000 kids in the audience. We were one of the stars of the show. Dionne Warwick was the number one attraction. That was the first time we met her. While we were on stage singing, the kids were reaching, trying to touch us. Well, the stage starting rocking. After we finished, the staff was trying to get us off the stage because it was rocking so much.
"We were running to get off. As we were running under the bleachers, the kids were grabbing at our clothes and pulling at our clothes. We will never forget that as being one of the scariest times ever. Not that they wanted to hurt us. They were reaching out to touch us, but a couple of them grabbed our sweaters by mistake and didn't really mean to. They wanted to show their appreciation. But performing for crowds was a wonderful feeling, kids coming up and asking for our autographs was wonderful, we were always very well received. The fans are what make you.
"We did a lot of shows with other artists. Lesley Gore became a good friend, we did a show with the Beach Boys but we never got to meet Jan & Dean. We also played with the Four Seasons, Gary US Bonds, Freddie Cannon and Lou Christie became good friends."
Interestingly, even though the Secrets were signed to the same record group as the Pixies Three (Phillips/Mercury), shared the services of Madara and White, and had their hits at the same time, the two girl groups never crossed paths -- although it coulda happened! Carole: "The Pixies Three would come in and record after our sessions, but we never met them."
Johnny remembers another reason why his two girl groups never met. "We went to Cleveland to work with the Secrets, while the Pixies always came to Philly. I think that is why they never crossed paths."
To me, the sound of the Secrets was sort of "Pixies-Three-With-A-Bass-Singer." This was when I heard them on the radio. Years later, I learned that they were signed to the same family of labels, and had the same writers, producers, and arrangers, the legendary Madara and White.
The Secrets spent a lot more time on stage than in the studio or on the charts. They had done shows in school, plus those five Twist Shows, so they knew how to put on an act. Plus, Larry Rogers had taught them a few steps of choreography.
But they did a real show whenever possible, not just a lip-synch.
"I think that we had a wonderful stage act," boasts Carole proudly. "We did all kinds of songs, very entertaining, we did 'Will You Love Me Tomorrow,' we'd open with 'You Can't Sit Down.' But we never did 'My Boyfriend's Back,' a song which is often mistaken for our 'The Boy Next Door' these days. We also did comedy in our act. I was the comedian. See, I was average looking and the heavier one in the group. Karen, Jackie, and Pat all had beautiful figures and I learned very early to develop something with my personality, and that happened to be humor. So I did all the jokes, and dragged them in. We did some good comedy, and for the time, I thought we had a really great act. We'd probably have a great act today if we got it back together. Not that we are going to. But we did clubs where the act did an entire show, people came for the evening, and there were three shows a night, 9:00, 11:30, like that. They don't do that any more."
"I'll tell you something else funny. I was chunky. If I had a nickel for every guy who came up and asked me, 'Hey, can you introduce me to Jackie, Pat, or Karen, I could be retired today!" Secret Payments
Speaking of money, one often hears of '50s and '60s acts who got ripped off. Usually, it is white-run record companies ripping off African-American artists. But the more oldies acts I talk to, the more I learn that this is a stereotype that is not necessarily valid.
"We don't like to talk about those aspects of it all, but we got cheated," asserts Pat. "We never made any money. You know how it was back then. We never made any money. Our manager made out fine on us. She was still getting royalties ten years later. We were in litigation for a couple of years with our manager, then she turned around and sued us. The record company sided with her, and for ten years after we stopped singing, they sent royalty checks to her. We seldom talk about it because it really left a sour taste in our mouths. For two years we weren't allowed to mention her name."
"Most of the money we made off the big record was put back into costumes by us," says Karen. "They took care of our traveling arrangements, but we still had a lot of expenses. We also played night clubs, both before and after the recording contract. We put a lot of the money back into costumes, routines, into our 'art,' etc."
Carole is more blunt. "By today's standard, we didn't make any money at all. We got maybe 5 cents a record, split four ways. We had trouble with a manager, we lost a lot of money that way, too."
But Madara and White were not the culprits. Pat speaks for all four Secrets on that. "We have very very fond memories of Madara and White, we became great friends. We got along with them great, and kept in touch with them for a few years afterward. I'd like to get together with them again, because we all got along great."
The feeling is mutual. Johnny: "Carole, the low voice, was a sweetheart. They were all great, they were some of the best artists ever to work with. It was fun, they were nice people. I haven't seen them in a ton of years. I'd love to talk to them. I did talk to Debbie of the Pixies after your article on them." Growing Up As A Secret
Although it was great to get their big break at the beginning of their career, Carole felt the effects of becoming so popular so very suddenly.
"Our group wasn't really ready for show business when we first became successful. We were green kids, and there we would be in a room with musicians who were smoking pot and really high, and we were so green. We even had a chaperon who traveled with us. Being green never led to any problems. In fact, we were so green that we didn't even know that there could have been problems!
"Once, a DJ wanted some 'favors,' and we were told about it but we said NO. It was a different world!
"Back at home, things didn't change at all. We still had to do the dishes. Actually, we went on the road, we slept by day, worked by night in the clubs. We traveled by car a lot of times, sometimes by bus. It was a great, great experience. I'd do it all over again. Sometimes I see someone on television that we played with, Diana Ross or Dionne Warwick or Lesley Gore, and I think to myself, what if.... Not too long ago I saw Bobby Rydell and Fabian and Frankie Avalon and went backstage and they remembered working with us. It was a neat way to spend your 50th birthday.
"We did a lot of TV, including Dick Clark, the One-O'clock Club, which was on channel 5 for years with Dorothy Fuldheim. We met George Montgomery on there. We did many many local shows, including Clyde Graves and Clark Race on KDKA in Pittsburgh many times.
"Joey Powers was the nicest person we ever met. He had us over to his house. He sang his song 'Midnight Mary,' and we backed him up, 'Don't let anyone, don't let anyone, don't let anyone know.' Lou Christie. Len Barry. Lesley Gore. We did shows with them, yet I wanted to ask for their autographs!"
Pat reports that a local group, The Twilighters, liked the song "Here He Comes Now." "We went down to see them once after we finished a show where they were also playing. We were dancing on the floor, and they played it and dedicated it to us, the Secrets. Then they had us come up on the stage and they did it again, but had us singing with them!"
Besides the local shows and the teen hops, the Secrets did make it to the big time, as well. They played on many local TV programs, and some national shows. One of the things Carole remember the most happened in November, 1963. 'We were at the Franklin Motor Lodge in Philadelphia. We had gone there to be on the Dick Clark show, but we landed the day that President John Kennedy was shot. We got off the plane and the cab driver told us.
"By the time we got to the hotel, he had been pronounced dead. Being away from our families, that was very hard. And there was no way we could do anything, we were trapped in the hotel. Everything was shut down, no lounges, bars, theaters or anything were open. They closed everything. We really did have a chance to mourn, and it was spooky. [There was no Dick Clark show that day in 1963.] We came back four months later and did get to do the Dick Clark show.
"That was also interesting. We always stayed in the same room, double beds, four girls. And we go in to do the Dick Clark show, and we all get sore throats. We were on in two days, so we called the house doctor. He came up and we thought we'd be real cute and the four of us sat in a row on the bed and sing "La- La- La- La" while he is looking in our throats. We thought that was real funny. And we really bragged to him that we were there in town to do the Dick Clark show. I don't know if he had even heard of the Secrets. But we were toying with him.
"A day later, when we walked in to the Dick Clark studio, Dick Clark says, 'Well, hi girls. I understand you met my doctor! Lots of egg on our faces."
There was another interesting note that Karen remembers from doing the Clark program. "We did the very last Dick Clark Show from Philadelphia before he moved out to California. That was a highlight."
Since the Secrets formed in late '61, and had their hits in late '63 and '64, they encountered several British acts on the road, and played to an audience of 10,000 kids with the Dave Clark Five.
"The Dave Clark Five bought animals!" exclaims Carole even today. "Sheep and a goat! Maybe they liked goat's milk? The audience was very good to us. But once the Dave Clark Five started pounding those drums and singing 'I'm in pieces, bits and pieces,' they had the show from then on."
Secret Day Jobs
For a while the girls tried to keep their day jobs. But the touring put a lot of stress on the relationships between them and their bosses. Remember, this was 1963, rock and roll was not yet accepted by the establishment.
For Karen, it was fun, but "we were all trying to hold down nine-to-five jobs at the same time we toured, and those jobs all sort of fell by the wayside. My employer was very nice about it and very understanding, but after a while, you couldn't expect to be able to keep asking for more time off. We had to part ways."
The conflict between show biz and the nine-to-five world impacted Jackie in a very interesting way. "I would have to take time off from my Suzy-Secretary job to go on tour. My bosses were district sales managers for their company and they did a great deal of traveling themselves. Finally, the Secrets were preparing for a Florida trip, and my bosses and I kind of had a little conference at work. Bud and Fred said, 'You know, Jackie, do you realize that we are scheduling our trips around yours now? This isn't the way it is supposed to work!'
"I was in total agreement, what could I say? So that was the end of my job. The irony was, we made very little money from these performances, so when we got back from this trip, I needed a job. So I went to the Kelly Girls temp agency. And the first job they sent me out on was replacing myself at my company! I worked that way from then on part time, until we quit, then I went back to my company full time."
The Secret Ends
Eventually, the fairy tale existence of the Secrets had to come to an end. They had four records, a national hit, a couple of regional hits, and two years full of touring. But soon it was all over. Fortunately, for some of the girls there was no burning desire to have a life in show business.
"When the records stopped selling, it didn't affect us at all, because we just loved performing," says Carole. "But the record company wondered what was happening. And they were suffering on a major level because in 1964, the whole industry was changing. Actually, they renewed our contract, but the group decided to leave show business.
"It was a unique situation. No one on the group ever got mad at anyone else, except little things like 'Did you take my brush?' or 'Can I get in the bathroom?' And today when we get together, it is as if we still see each other every week."
Karen did not regret the end, either. "A couple of us got tired of the business pretty quickly because, as I am sure you know, it is a very rough business. Every song we recorded was released. The last one did not do very much because, although we were supposed to have an exclusive on it, we found out that Molly Bee was also given the song." Phillips did not want to promote the Secrets' version after Molly Bee's version came out.
"We had a national fan club, and we got a lot of mail that was answered by our president who sent out little cards. We tried to answer mail if we could. Although we met a lot of really really nice people in the business, there were some stinkers out there, too. Also, I was falling in love with my future husband at the time, and Jackie was falling in love with one of our managers. I think we sort of got tired of being on the road a lot and of being away from them. Jackie and I were the first two to talk about leaving the group. Patty and Carole went on as a duo for a while. We broke up at the end of 1965." Pretty good run, since their only chart hit charted in the Winter of '63-'64!
Of all the Secrets, Patty was the most disappointed to see the act end. "I did have a burning desire to have a life in show business. I never got tired of it. I would not have quit. I was not even tired of the road."
Jackie is philosophical about the end of the Secrets. "It was a lot of fun in many ways, but it was also a little irritating to not be able to go someplace without a lot of recognition. We couldn't count on walking out the door and being anonymous. We were recognized just often enough that you had to be very conscious of everything you did from that point forward. We were never prepared for that kind of life. But it was a thrill. There was never any pressure, it was all an absolute lark because we went in with no expectations.
"When we realized that we could have the option of going on, we made a decision and opted out instead. And who knows, we may have been just a flash in the pan anyhow. Or we could have gone on to much bigger and better things. We'll never know. But we were offered some shows that we turned down. We picked the date of the end of our contract with Phillips and then took no shows beyond that.
"But we didn't officially tell anyone that we were quitting. They figured it out pretty quick when we turned down a couple of shows that anyone who was serious about making it in the business would have given their eye teeth for. One of them was 12 weeks at the New York World's Fair, and the other was to join Bob Hope's Christmas Tour, meeting him in Newfoundland or Greenland. If you were planning to try to make a career in singing, you'd be a damn fool to turn that down, wouldn't you! And those shows would probably have had a great impact on our future. But our last records were not supported by the company, because we were turning down offers and they saw that we were not 'keepers.' If I were in their shoes, I'd so the same thing!
"We had a lot of fun. It was just not the right thing for us for a lifetime. We did a lot of growing up in that time. It is an experience that very few people will ever have, and I feel privileged to be one of the few that has a background like that. Most of my friends today don't even know about it. It doesn't come up as a topic of conversation that often, 30 years later. But it is nice to have that in your background. It was a very special way to grow up, and we had the opportunity at very young age to really look in the mirror and ask, 'Who am I? What do I want?' And make some life decisions that most people don't have a chance to make. So we really had to decide who we were and what we were early on, and I think it has served us well throughout our lives.
"Back in 1963, none of us ever imagined that this conversation would possibly take place, that anyone would be doing a magazine story on the Secrets in 1996. I certainly never imagined what would happen later, which was each of my kids in turn taking mom's records to show and tell in kindergarten and first grade. I though that was the epitome of our comeback, I thought that was the big time!!
"But it was all for fun for me. I never had any aspirations of having a musical career."
Jackie may have been OK with the idea of quitting but according to Patty, a couple of the Secrets may have had a tiny aspiration or two to continue in the biz. "After the group split, Carol and I performed as a duo for a while, a year, locally," says Pat. "We were in litigation and Karen and Jackie had fallen in love and gotten married. Carol and I weren't quite ready to quit, but we could not legally use the name the Secrets. So we sang as the Memories. We did new material, Carol was the witty one and I played the straight guy. We put on a regular show, we sang duets and solo songs, and a funny skit. Carole always wrote all the funny material."
One of Carole's bits featured a medley of songs, which included the Kingston Trio's "Tom Dooley." "Patty would sing, 'Hang down your head Tom Dooley, hang down your head and cry. Hang down your head Tom Dooley,' and I would step forward with a real stupid look on my face and say, 'Your tie's caught in the zipper of your fly.' That got a big laugh.
Post-Secrets
There have been some Secret rumblings since the '60s. "Our keyboard player from 30-some years ago, Dennis Chandler, recently contacted us," Karen explains. "He had seen an article on us in the area paper when we got together for our 30th High School Reunion. He called us up and said, 'Gee, you're all in town, can't you get together with me and we will just have a good time.' So we sat down, got the harmony down on three songs, and we recorded them. It was basically for him, although we sent out copies to see if there was any interest."
There has never been a Secrets LP. Carole:
"We had some more tunes that we did in our show that we could have put on an album." Karen: "We were told that if you had a million-dollar seller, then you got to do an album. So, for selling 870,000 copies we got the next best thing for our second record, a photo sleeve." That sleeve, for the song "Hey Big Boy," has a book price around $25, but has been sold for over $60 in places.
Today's Secret
Today, when the Secrets get together, they are not a Girl Group, but a Woman Group! Their last show was with Norm N. Night at a Cleveland Theatrical Grill. "When we get together, we do the old songs, but it's hard to get the sound because the voices have gotten lower," says Carole, "But not mine, it was always low! Karen has a beautiful voice, she could have made it on her own. She didn't really need the 'Dum-Dee-Dum-Dee-Dums.' And she is a lovely girl, too."
Jackie fell in love with their road manager and got married. Today, divorced, she is a human resources manager for an Illinois firm. Karen married Earl, a fellow Shaw High alumni, is the mother of three children, and is in the restaurant business with her husband. Carole is a mom and recently was widowed. Pat's single, never married, is "still looking for the right guy. I'm still a rebel!"
Carole says the years mean nothing when the Secrets get together, as they do about once a year. "We have different backgrounds, married life, some in offices, some not. But when we get together, it was like we never stopped. It is so much fun we always have a hard time saying good-bye. Jackie and I are like sisters because she lived with me for several years.
"The funniest thing happened when I met with my son's teacher a few years ago. She told me, 'Your son has such a vivid imagination. In fact, he has gone so far as to tell me that you were a rock and roll singer. He's so creative! Ha Ha Ha!' Then I told her that I was a rock and roll singer, and she didn't know what to say!" laughed the Secret comic, Carole.
We can hardly blame the teacher for not knowing, after all these years, that Cleveland once had a Girl Group called the Secrets, let alone that the Secrets' alto had a son in her class. But when it came to One-Hit Wonders, the Secrets were one of the best, and lovers of the early '60s Girl Group sound won't forget them soon!
Secrets Discography
Philips 45s
40146*The Boy Next Door/Learnin' To Forget
10-63 #18, 10 weeks
40173*Hey Big Boy/*The Other Side of Town 3-64
(picture sleeve)
40196*Here He Comes Now/Oh Donnie 6-64
Features Leon Huff, who co-wrote
40222He Doesn't Want You/*He's The Boy 10-64
1993 Promo Cassette
Rock and Roll Melody/Never Too Old to Rock
/Can You Feel It
Notes:
* denotes songs written by John Madara and David White
"He Doesn't Want You" was also recorded by country-pop
singer Molly Bee, available on Marginal Records
LP and CD Girls Girls Girls Volume 1.
"Here He Comes Now" appeared on the Party with the Pixies Three under the
title "That's Why I Love My Guy."
A Secrets song was included on a West German album called
The Girl Groups. Mercury album #6498032
In 1984, a Pride of Cleveland Past album came out,
and the Secrets were the only female act included.
>>>written by Doc Rock