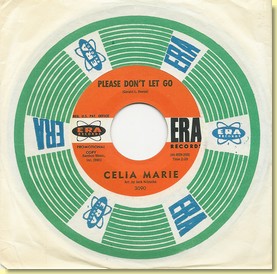 Celia Marie (the unknown singer),
                  other Tucson babes &amp Vicki Sallee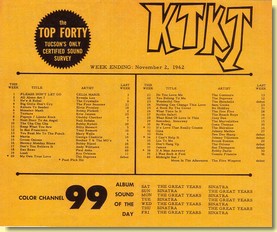 KTKT Radio Survey 2nd November 1962
KTKT Radio Survey 9th November 1962
(Scans courtsey Charlie J. Brown)
In the first two weeks of November 1962 the Top Ten charts of Billboard and Cashbox included Elvis Presley "Return To Sender" (RCA), The Crystals "He's A Rebel" (Philles), Chubby Checker "Limbo Rock" (Cameo), Brenda Lee "All Alone Am I" (Decca), Gene Pitney "Only Love Can Break A Heart" (Musicor), Neil Sedaka "Next Door To An Angel" (RCA), Bobby (Boris) Pickett & Crypt Kickers "Monster Mash" (Garpax), The Contours "Do You Love Me" (Gordy) and the Four Seasons "Big Girls Don't Cry" (Vee-Jay) sitting proudly at #1. Illustrious company indeed. The Top Forty chart of Tucson (Arizona)'s Sound Survey from radio station KTKT featured most of these records and a few local hits as well BUT perched above all of them was Celia Marie's ERA Records recording, "Please Don't Let Go".
"Please Don't Let Go" IS an excellent record and Celia deserved to be rubbing shoulders with these greats from the world of 60s pop. It's just a shame that Era didn't have the clout to turn a regional smash into a national one. Due to various circumstances, described later, this was Celia's only release. Thanks to the wonders of the web and the sharing of information by various record collectors it is now possible to tell the story of what until now had remained hardly more than a single line entry in a few ERA Records discographys.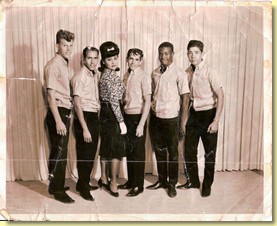 Celia Marie with The Occasionals
Celia Marie's message to the boys
(Scans courtsey Sam Hill)
The 'Arizona music dude', John P. Dixon, introduced me to this obscure Jack Nitzsche arrangement, sending mp3s and label scans. Despite Celia Marie's youth and unfamiliarity to a studio her powerful, confident vocal dominates the proceedings on both sides of the 45. A very energetic release it's proved popular on the Northern Soul and Mod scene in the UK. I'd assumed with that much soul in her voice Celia must be a black girl but the evocative group photo, supplied by Sam Hill via his collector buddy John P. Dixon, of Celia with The Occasionals (shown left), shows otherwise. A ghoulish sense of humour as shown by her funny penned messages to the group, a beehive to rival Ronnie Spector, even Dusty Springfield come to that, high heels, white gloves and a demure bow in her hair, contrasting with that foxy stare into the camera, she not only had the voice, personality and the looks for the TV cameras but the poise also.
I was delighted when a year after the original Record Of The Week review, showcasing Celia's "Walk With Me", in May 2006 I received an email from Michael Gleisner:
"I happened by your website and found, much to my delight, a performer who is very much dear to my heart and to whom I know quite well. You see, Celia Marie happens to be my mother with her actual name being Maria Celia Felix (maiden). She was born in California but raised in both Glendale and Tucson, AZ (she now resides in a suburb of Phoenix). She continued singing throughout her long career (lounges) and became quite a talented and professional jazz vocalist. Her powerful voice had matured considerably and coupled with her sophisticated phrasing and electric improvisation, she was strongly reminiscent of, and often likened to, the great Nancy Wilson. She truly was something else to hear in person but unfortunately she no longer performs. I was so happy to have found something written about her."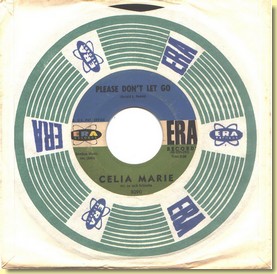 Please Don't Let Go label scan
Walk with Me label scan
(Scans courtsey John P. Dixon)
I used Michael's email as the basis for another Record Of The Week review on the a-side of the disc, "Please Don't Let Go". Since then I sent Michael mp3s of the sides and plauged him with questions and requests for some photos. I've collated these and can now proudly present 'The Celia Marie Story'
"That is so FANTASTIC and THANK YOU so much!!! I have not heard these songs in over twenty-five years or so. She sounded so powerful and... raw. Of the two "Please Don't Let Go" is my favorite. She definitely matured over the years. I could not resist in calling her up right away and play them over the phone for her. Needless to say she was quite amused but once was enough :)."
"Ever since my mother was a young woman, she had always had fantasies about performing upon a stage in front of an audience, whether it would be via acting or singing (Broadway). At around 16 or so, she began performing at local teen parties in Tucson backed, as she puts it, by 'two-bit' bands (not The Occasionals). After getting some notoriety amongst the teen circuit, my aunt, Delia Felix, stepped in and decided to take it the next level, that is, if my mother was sincerely serious about it. My aunt never had any musical aspirations of her own. She was an elder sister who took the reigns of my mother's musical dreams into her own hands and attempted to facilitate. She wanted my mother to learn 'good music' along the likes of Eddie Gorme, Keely Smith and Carmen McCrae. However, my mother was truly a reflection of her times and that is what she emulated upon the stage. She had always been heavily influenced by the R&B/Soul aspect of Rock 'n Roll and whenever the Chantells, Little Richard or James Brown were in town performing, she was always front and center cheering and taking mental notes. In fact, she was often referred to as the Latina James Brown due to her natural rhythm and fancy footwork. My aunt wanted to channel her raw energy and talent into becoming a 'song stylist' rather than a 'fly by her pants' artist. My mother did have potential and it would eventually materialize at a later date but it was not to be for the local teen sensation Celia Marie."
"When she was starting out, she would compete against various local singers/bands either through talent shows or 'battle of the bands' venues. One of her early rivals was Linda Ronstadt. Her family was/is well known in Tucson and she also had began her singing career around the same time as well (Ms. Ronstadt is two or three years younger I believe). As conveyed by my mother, whenever they competed against each other, my mother always won. They never new each other personally and only saw one another when they were onstage. My mother said that her following was predominantly Latino and African-American whereas Ms. Ronstadt was always more mainstream, or white (both my mother and Ms. Ronstadt are Mexican-American). My mother grew up in a rather poor Latino barrio (neighborhood) versus Ms. Ronstadt 's upper middle class upbringing her family owned several local hardware stores. Everyone always thought that my mother was the more talented singer and performer (hands down), she just did not have the monetary foundation or backing. Needless to say, Ms. Ronstadt went on to a very successful and long career. It is sort of interesting to imagine 'what could have been' if my mother were given the same resources."
"Gerald Reese (Gerry) had approached my mother on several occasions while she was performing in Tucson and eventually she and my aunt signed him on as her manager (with my grandparents' approval/signature). She remembers he had her touring extensively throughout the southwest with several bands (The Occasionals were just one of many) and opened for the likes of The Shirelles and The Chantels amongst others. She remembers Gerry was very dishonest and untrustworthy and says that he kept her demos and even took credit for writing the two songs on the 45 (he did not). In fact, that honor belongs to a young African-American male whom she never met (does not remember his name unfortunately). She remembers that Gerry had 'paid him off' and then proceeded to take credit for both the music/lyrics. The original songwriter resided in Tucson at the time and had written numerous songs for both her and others (she thinks) and that he had returned home somewhere back east (Louisiana, Mississippi?), it was not right what he did to that songwriter. Eventually my mother and Gerry went to California where she cut some demos and the record with ERA"
"She does remember seeing a very 'square looking' guy while she was at the recording studios (a Buddy Holly type). Thin, white, not to good looking with dark rimmed glasses. She did not speak with him but she thinks he was there as an arranger of some sort. He may have arranged the other demos as well but she is not too certain. The California record executives were extremely interested, her 45 was quite popular and brought her considerable local success. Soon afterward though, she and my aunt fire Gerry over some illegal wrongdoings and with him goes the rest of the demos. She returns to Tucson and continues singing."
"Not long after returning she met my father and had to make a choice: love vs. her career. Needless to say she chose my father (or else I probably would not be e-mailing you right now). The next year they were married and, two years later, I was born. My mother sang limited engagements locally (Tucson) from time to time but nothing ever quite took off for her again like before. My parents moved to the east coast in 1969 where they would soon separate and then eventually divorce. It was around 1973 that she began to sing again (on a dare) at one of the local nightclubs and, with one thing leading to another, she soon found herself back in the thick of it. A year later she met my stepfather, an accomplished pianist, and formed a duo. For the next 20 or so odd years, they performed with each other (as a trio or a quartet) at exclusive lounges back east. As stated previously in an e-mail, my mothers voice matured considerably. The person one hears on the 45 is somewhat foreign to my ears. She definitely mellowed out and became quite cool and sophisticated in both her interpretations and delivery of songs. I am not lying when I say that she was often likened to a Nancy Wilson or a Dinah Washington. It is truly a shame she gave it up. I know that my mother often looks back upon this period in her life with great nostalgia for they were all happy memories of a young girl living out the rock'n roll dream. She does toy with the idea of performing again from time to time."

Michael Gleisner
---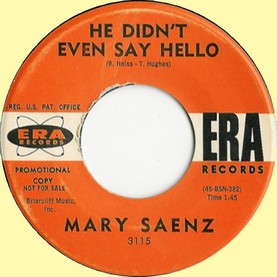 Two other LA record releases by Tucson Arizona notables Mary Saenz & Vicki Sallee
other Tucson babes
When I wrote the first Record Of The Week review for "Walk With Me" I had wrongly assumed that Celia Marie was a LA resident, had a shot at stardom and then for whatever reason moved down to Tucson, Arizona. That she was actually from Arizona and had gone to LA to cut her 45 shouldn't have been that much of a surprise. Lee Hazlewood, Al Casey and more pertinently Gary Paxton had, very successfully, travelled this road before. Charles J. Brown contacted Spectropop looking for a few obscure girl vocal 45s, including Celia Marie's, on LA record labels. I was able to supply some tracks and asked him, why the interest?
"I think Celia Marie, Mary Saenz and Vickie Sailee all had Tucson and Arizona connections of some sort. All three charted on KTKT during the years 1962-1965. Gary Paxton who produced several Mary Saenz sides also has Tucson connections as he attended the UA at Tucson circa 1956-1960 with his singing partner (Skip and Flip) Clyde Battin, The later also worked as a DJ in Tucson during his UA years."
Ace Records CD "Boy Trouble - Garpax Girls" includes three excellent Mary Saenz sides produced by Gary Paxton and Alec Palo's sleeve notes confirm her Tucson origin. Her Era Records 45, "He Didn't Even Say Hello" / "In Your Arms" is an excellent two-sider with strong girly backing vocals on the stomping a-side and the ballad flip. No producer or arranger credits are shown but it does predate her work with Paxton. Jack Nitzsche worked on many records for Era, some uncredited, it's tempting to hope Nitzsche may have had a hand in the arranging.
Charlie also had interesting news on Celia Marie's erstwhile backing group The Occasionals:
"This group was very popular in Tucson circa 1961-1965. IIRC they started out doing the Ventures and surf type instrumentals with a venture into Santo & Johnny numbers. The Occasionals not only backed up Celia Marie's Tucson appearances but also Chris Montez and Kathy Young when that duo toured in Arizona during late 1963 and early 1964. The group scored a big local hit by teaming up with another local female vocalist Linda Lorraine reviving the old Gene Thomas hit "Sometimes" on the Premier label."
---
Vikki (Vicki) Sallee
While waiting for some photos of Celia Marie to finish off the article I was delighted to see Vikki Sallee pop up on Spectropop answering a query from Chris Brame about her Dot Records recording of "Jimmy Darling". Vikki is still active with her music career, checkout her website Hillbilly Hollywood and remembers her early 60s pop songs with affection. As Vikki Sallee told me she wasn't actually an Arizona native...
I am originally from Oklahoma but spent so much time in Arizona. It wasn't too far from home, my songs were on the Arizona Charts a lot and I loved it there. One of the Clubs I would frequent in Tucson, was called the Maverick Dinner Club, it was a nice Show place at that time. In Phoenix I played at the Peppermint Lounge a lot; a place up in Safford Az., The Buena Vista Hotel and also a larger place there with big artists (mostly Country, George Jones etc.); Vegas, and all over Nevada. Wanda Jackson's father, Tom Jackson got me my first deal and managed me for a couple of years. They were wonderful people and of course I was influenced a lot by Wanda. I did a lot of Rockabilly & R&R on my live shows plus some Standard Country and pop ballads. My first gig was with Roy Clark at the Golden Nugget and Timi Yuro, was playing at the Thunderbird Hotel and used to come and listen to me. I also worked with the "Champs" and the "Markays". LOL. Those were the days. I was twisting the Night away!
Vikki released three 45s in the 60s, all as Vicki Sallee, "There Goes the Lucky One" / "Your Favorite Lie" (Reprise Records 20118) '62, "Jimmy Darling" / "Wild Angel" (Dot 16651) '63, "Little Wishing Star" / "Oh My Love" (Dot 16710) '64. Unlike Celia Marie, Vikki recorded her sides in Nashville:
I was about 20 yrs old when I made my first record for Reprise. I recorded in the old "Quonset Hut" studio, where Brenda Lee, Patsy Cline and sooooo many other girl singers cut their records. It really was a treat. I just know it was the whole "a" team that Owen Bradley used; Buddy Harmon, Bob Moore, Charlie McCoy, Charlie Daniels, Hargus 'Pig' Robbins, and I believe Floyd Kramer, The Jordanaires & the Anita Kerr Singers on vocal backing and a violin section from the symphony. I bet there were at least fifty people in those sessions; I wish I could recall everyone that was on it. The producer was Chuck Sagle, who came out from the West Coast. I even got to go out there and meet Frank Sinatra who was Reprise's owner at the time. He was doing a session with the Nelson Riddle Orchestra, when I was there. It was quite a "trip", kind of like going to heaven for a little while! LOL. My records on Dot also included some of the "GREAT'S" that played on the Reprise dates, Great Memories.
Vikki is still looking for a copy or mp3 of "Little Wishing Star", "Oh My Love" so if you're able to make a charming lady very happy...
---
mp3s!! - but first, a competition!
For a limited period only, to promote the new feature, five mp3s are available for downloading, namely: Celia Marie "Please Don't Let Go" & "Walk With Me", Mary Saenz "He Didn't Even Say Hello", Vicki Sallee "Wild Angel" and Linda Lorraine &amp The Occasionals "Sometimes". In order to be sure that you've read the feature and are paying attention, first you must answer the following questions. (Click the correct answer to play the 'reward' or get the booby prize.)