Previous ROTW.... What you've missed! An archive of the ROTW's review and label scan. (part 6)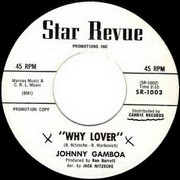 Many of my hunts for that elusive 45rpm have led me to the web site of Bob Pegg Records. Once there, partly due to checking out the mp3s and label scans, I usually buy more than intended. My latest Google search led me to his Jukebox. The pages of 'Spectropop style' 45s are great and include a label scan, an early concert flyer and the mp3 of Johnny Gamboa's "Why Lover". Produced Ron Barrett, arr. Jack Nitzsche, it's another example of the unheralded quality of their work together. My first hearing of the side left me with the feeling that, although the sound quality might not be terrific, the music certainly is.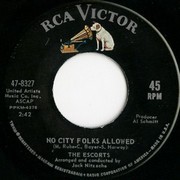 Here's a prime example of Jack Nitzsche, the arranger-as-auter. His schematic for "No City Folks Allowed" is so complete that nominal producer Al Schmitt had little (if anything) to add. The disc also shows the seminal influence of Jerry Leiber and Mike Stoller's production style. As they played mentor to Phil Spector, Leiber-Stoller's studio style influenced aspects of The Wall Of Sound. Leiber and Stoller taught Spector to create a sense of drama and urgency unique to each song. By osmosis, Nitzsche absorbed this influence and further refined it in his arranging/producing efforts. This is a very New York-sounding disc. The song itself (co-penned by Carole Bayer, Sherry Harway and the enigmatic "M. Rube") combines the best aspects of two stellar L-S efforts--the Coasters' "Poison Ivy" and the Drifters' "On Broadway." The song pairs gutsy, I'm-sick-of-city-life lyrics to a melody that borders on plagiarism. Its opening strain is almost note-for-note from "Poison Ivy." After eight bars, the melody briefly strolls down "Broadway" territory. Then it resolves in dynamite, highly original and musically florid chorus. The song's Frankenstein-monster melody gives it a built-in appeal factor. Nitzsche's dynamic, beautifully apportioned arrangement creates a comparable magic to Gary Sherman's chart for "On Broadway." He also brings to mind some of Del Shannon's big-sounding sides--particulary on the song's bridge. With a small but potent palate, Nitzsche paints a street scene with dramatic reeds and brass, crisp, creative percussion and two rhythm guitars--one an electric, playing straight chords, the other an acoustic with a skittering spaghetti-Western rhythm. He saves the Escorts' tight R&B harmonies for maximal moments, such as the chorus, when, after a flurry of 13 rapid-fire "no"s, unison lines suddenly burst into full three-part glory. The double-tracked lead vocal is passionate and involving. A key-change ups the song's ante, bringing dramatic, droning horns and reeds into the foreground. "No City Folks Allowed" demonstrates Nitzsche's gift for creating a big sound that isn't muddled or chaotic. The overall effect is engulfing, hypnotic and intensely appealing. Warning: contents may become habit-forming.
Frank M. Young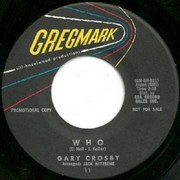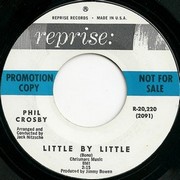 Two of Bing's sons were lucky enough to get the Nitzsche treatment. Gary Crosby's "That's Alright Baby", written by Phil Spector, was Jack Nitzsche's first arrangement for Lee Hazlewood, appearing on Lee's and Lester Sill's Gregmark label in '61. Played as a ROTW in June '04, the flip "Who", written by Cynthia Weil and Jack Keller, is even better. A lot of the credit is due to Jack's arrangement and Gary's strong vocal. This is a storming rock 'n' souler, one of the toughest songs either writer put their name to. Cynthia, whose compositions have usually been with husband Barry Mann, was punished for her musical infidelity by having her name misspelled on the label, shame!
Brother Phil's Reprise 45 "Little By Little" was cut in '63. The a-side, a smashing rocking cut of dad's hoary old chestnut from the 30's "Where the Blue Of The Night" was played as a ROTW in February '03 but surely a Sonny Bono written b-side looks like it should sound even better? Well, looks can be deceiving. I'm sure many will like it but it's a bit too rinky dink for me. Whenever the horns are played this way, I can't help thinking of Benny Hill. Jack however was a bit of a fan of horns. I can't recall the title but I'm sure I've got an early 60's tune by Nitzsche that is a dead ringer for The Benny Hill Show's theme tune. Maybe Mr. Hill was a fan of Nitzsche's. Although it's hard to imagine Benny's 70's chart topper "Ernie (The Fastest Milkman In The West)", a tale of sorrow and tragedy, being bettered even by a Nitzsche arrangement, the thought is quite appealing!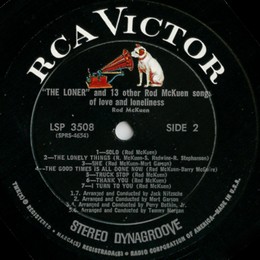 Playing BGP's The Mariachi Brass! CD put me in mind of other similiar-styled tracks that Jack arranged. Maybe World Pacific's Bud Dain heard Jack's "Solo" and decided "yep, he's the guy for me" - and who could blame him? Despite a Rod McKuen composition sounding an unlikely source, the arrangement Jack gives "Solo", with its trumpets, castanets and strings, makes a perfect template for the Mariachi Brass sound. This and the other three, very different sounding, sides that Jack arranged in '65 for McKuen's "The Loner" LP on RCA really are superb. Two of the cuts, "Some Trust In Chariots", perhaps my favourite also released on 45rpm, and "The Loner" are available on assorted Rod McKuen Greatest Hits CDs. So although I played "I Turn To You" as a ROTW in April 2003 it gets a repeat play. Produced by Neely Plumb, three other arrangers, Perry Botkin, Jr., Mort Garson and Tommy Morgan share the duties with Jack. They all put their own mark on the recordings and Botkin's "The Good Times Are All Gone Now" and Morgan's "Truck Stop" come very close, but they don't quite capture the emotional force of Rod McKuen's intricate word play. The accompaniments are too sweet, too intrusive, even too polite, whatever. As he showed throughout his career, Nitzsche had that magic, no matter who the artist was, whatever style they were associated with, a Nitzsche arrangement sounded right.
A phenomenal talent, Rod Mckuen, is still active. To keep up with what he's doing now checkout his website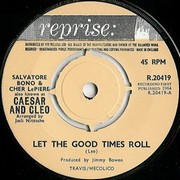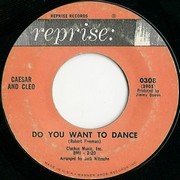 Summer Sale time, TWO 45s for one!!!
Although it was recorded early in '64, Caesar And Cleo's 45 "Love Is Strange" / "Do You Wanna Dance" (Reprise 0308) was not released until September of that year, coincident with the release, the next on the label, of Sonny & Cher's debut 45, "Baby Don't Go" / "Walkin' The Quetzal" (Reprise 0309). It was fairly common for a failed act to adopt a new name in the hope of changing their luck, or for a successful act to use an alias to see if they could still hit the charts. But Reprise's marketing was bizarre and I think unique. Neither single, at least at the time, created much impact. But what if "Love Is Strange" had been a huge hit? Would the future of rock'n'roll have been changed forever? Would Cleo have set hearts all a flutter performing "If I Could Turn Back Time" in skimpy attire on a US battleship? Or perhaps sung whilst playfully caressing her asp? Even in the world of politics would Caesar have been elected mayor of Palm Springs? Luckily, the hits soon came tumbling in for Sonny & Cher following their label switch to Atco. Reprise was not slow to cash in on their earlier recordings. The Harold Battiste arranged "Baby Don't Go" was re-released (and charted) as was Nitzsche's "Love Is Strange" backed with a different flip "Let The Good Times Roll". All five tracks were released on a LP credited to S&C and Friends, this featured their five sides and tracks by The Lettermen, The Blendells and Bill Medley. (Including his superb "Leavin' Town"). Since then though the 'non-hit' Reprise cuts have proved harder to find. A stereo version of "Do You Wanna Dance" was released in the '90s on a German CD but I assume licensing hassles have prevented all but the admittedly superior a-sides "Love Is Strange" and "Baby Don't Go" appearing on the many Sonny And Cher compilations. A pity. "Let The Good Times Roll", although far from being essential, lacking the originality of say Nitzsche's arrangement for Judy Henske, is a lot of fun and "Do You Wanna Dance" is even better, with Sonny especially in fine vocal form. The Nitzsche arrangements, although not capturing/creating the S&C sound we now know and love, are great. If you've any interest in Sonny and Cher you must check out Rick Hough's Behind the making of Sonny & Cher and Harry Young's Sonny Bono Laugh At Me pages.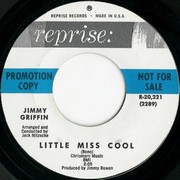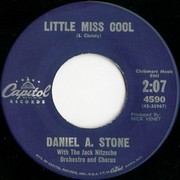 Summer Sale time, TWO 45s for one!!!
A couple of 45s with Nitzsche's name were released in 1960 but by 1961 he was really cooking. He worked with producers as diverse and interesting as Lee Hazlewood, H.B. Barnum, Joe Saraceno, Art Laboe, Lester Sill, Al Hazan, Marty Cooper and Ron Barrett. A few of these 45s even carried an 'arranger Jack Nitzsche' credit. But surely the sweetest credit to date came via Nick Venet's Capitol produced 45, Daniel A. Stone 'With The Jack Nitzsche Orchestra and Chorus' (cool eh! ) "Little Miss Fool". For Jack, with the work coming in and a credit like this, he must have thought he'd 'arrived'.... which of course he had! The singer, described by Marty Cooper as "Jack's artist", (Daniel) Albert Stone was to cut two more confirmed 45s with Jack. The song, a guitar led rocker with counter harmonies supplied by The Blossoms (I think), was written by Nitzsche's buddy, S. Christy (aka Sonny Bono).
Two years later he was one of the busiest men in the business, arranging all those hits for Phil Spector, working with established artists such as Frankie Laine, Bobby Darin and Doris Day, as well as a hit record under his own name via his association with Jimmy Bowen at Reprise. There must have been something about the song, or perhaps the writer, that made him want to cut it again. Jimmy Griffin's version has been played before as a PROTW but I hope you find it interesting to compare the two recordings.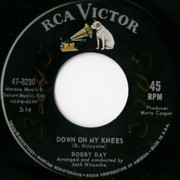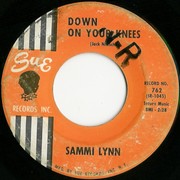 Summer Sale time, TWO 45s for one!!!
Bobby Day's "Down On My Knees" (RCA) was originally recorded as "Down On Your Knees" by Sammi Lynn for Sue Records in '62. Sammi, aka Gracia, was married to the songwriter Jack Nitzsche. "Down On..." is an excellent tear-jerker of a song, with both performances given a different, yet soulful arrangement. Gracia's soft emotive rendering oozes pain, while Bobby's far more forceful delivery suggests he'll get over it! Bobby Day had plenty of hits as group member, solo vocalist and writer, but still much of his career and recordings remain unknown. Marty Cooper has a lot to say about Bobby in the new "Produced Marty Cooper arranged Jack Nitzsche" feature.
The history of Gracia's two releases as Sammi Lynn can be found in Produced Ron Barrett arranged Jack Nitzsche. Both producers had a soft spot for Gracia. Marty Cooper was a big fan of Gracia's voice, employing her, along with Albert Stone, in his and Lee Hazlewood's Shacklefords.
"Gracia had a lovely, simple voice and was an instinctive vocal arranger in her own right. She could read music really well. Jack always tried to get her to be 'soulful', but Lee and I just liked the sound of her voice and her willingness to work out things with us in the studio."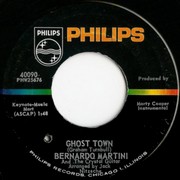 It's 'mystery' artist time, well, maybe not such a mystery. I think it's safe to assume that Bernardo is Bernard 'Jack' Nitzsche and Martini is Marty Cooper, which would making this Jack's first credited release as an artist, and his only duet. The writer, Graham Turnbull, is also better known as Scott Turner. A publisher, producer and songwriter, Scott worked with, among others, Buddy Holly and Phil Spector. He's credited with having discovered Harry Nilsson and has had top-ten hits with his compositions for Slim Whitman, Tommy Sands, Johnny O'Keefe, Gene Vincent et al. You can also add to his writing credits one of my favourite Herb Albert & The Tijuana Brass sides, "Mexican Drummer Man". This boasts a great vocal performance by Darlene Love and the Blossoms. Scott wrote many sides produced by Marty Cooper, often with Jack arranging. Remembering Jack fondly, Scott had a high regard for his talents. As a pair they wrote, produced and arranged for Jamie Horton on Joy Records. Scott has recorded 21 cassette tapes which include unreleased recordings, along with photos, telling his own story of almost 50 years in the music business. Check out Music Morsels' Scott Turner Chronicles, web page.
If you're hoping for ghostly wails and rattling chains you're going to be disappointed. A cool, atmospheric instrumental, featuring 'The Crystal Guitar' and heavenly chorus this Ghost Town is a Cowboys and Indians-styled Western recording. You can read Scott's letter relating some of his work with Jack on the new "Produced Marty Cooper arranged Jack Nitzsche" feature.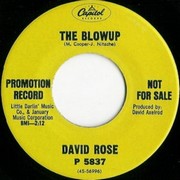 It seems quite a compliment that British born David Rose, composer of "The Stripper" and "High Chaparral" amongst many others, an Emmy award winner and a symphony conductor of world renown, should cut an obscure Jack Nitzsche and Marty Cooper composition. "The BlowUp" aka "Surf Finger" was released on a Capitol records 45rpm in 1967 and was produced by David Axelrod. Thanks to Mike Edwards for tipping me off as to the unlikely pairing of Nitzsche and Rose on record.
As good as this is, Jack Nitzsche's original un-released recording, is even better! It's a big-screen blockbuster of a sound, equally at home as, in what I guess was its original planned incarnation, a spy/secret agent soundtrack, as it would have been to Antonioni's era-defining "Blow-Up". Recorded without the sweetening of Rose's version, this cut drives along at an exciting, tension-filled rate of knots. You'll have to wait to hear this though. Mick Patrick, co-compiler with Tony Rounce on Ace's "The Jack Nitzsche Story" CD has lined this up for inclusion on, the can't come soon enough, Vol. 2.
Many of Cooper and Nitzsche's instrumentals were cinematic in scope, although not as grand. I'm pleased to report that the "Produced Marty Cooper arranged Jack Nitzsche" feature is finally ready. Besides "TheBlowup" aka "Surf Finger" release, other hitherto unknown recordings, stories and info are shared by Marty. With celebrity guests Rick Cunha and Scott Turner stopping by, I hope you'll find something of interest.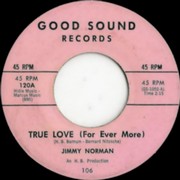 A recent discovery for Jack Nitzsche's discography is Jimmy Norman's "True Love (For Ever More)" [Good Sound 106] from 1961, co written by Jack with his mentor, and label owner, H. B. Barnum. The record bears the usual 'An H.B. Production', but was Jack involved in the arranging? I'd like to think so. It's a superb rolling soul track with girly backing, piano, organ (used to great effect on the gospel tinged finale), echoed drums and a soulful rich voice to die for.
Jimmy's recording career is quite fascinating. He started as a member of the doo-wop group, The Chargers on RCA (checkout Marv Goldbergs R&B Notes). Shortly after he gained a big admirer. For the next six years (and in the 70s also), HB wrote, produced and mostly released on his own labels, a host of recordings by Jimmy, often solo, but also dueting with Dorothy Berry, with vocal backing by both the Viceroys and The O'Jays. In the 60s he co-wrote "Time Is On My Side", recorded by Irma Thomas and covered by the Rolling Stones. Later, he took a young Bob Marley under his wing and employed Jimi Hendrix to play guitar on a couple of his sides. Fascinating enough? Jimmy is still recording today and has his own web site. Visit Jimmy Norman.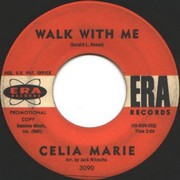 The featured song this week is another relatively unknown recording, Celia Marie's "Walk With Me" on Era 3090. Celia's powerful vocal dominates the proceedings on both sides of this 45. On "Walk With Me" the backing is raw and soulful with bluesy guitar licks, grumbling sax blasts and girly backing. Nitzsche doesn't feature many of his trademark flourishes but does display his talent for giving a record the arrangement it needs. Besides the record fetching big bucks in the collectors market and apparently being a popular track on the 'Mod Scene', not much is known of the vocalist or of this, her only(?) release. Well, until now that is, with thanks to the 'Arizona music dude' and friend of the Nitzsche site, John P. Dixon, who also supplied the mp3 and label scan, and his collector friend, Sam Hill. We can at least reveal what Celia did next: she moved to Tucson AZ. Sam was at high school where his friend's band, The Occasionals, backed Celia at local shows. Sam said she dated two of the band members at different times, with her bee-hive hairdo and foxy look (checkout those gloves(!)) it's not hard to understand the tension this could have created! She also had a ghoulish and fun sense of humour, read her farewell messages to the boys.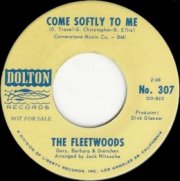 The Fleetwoods' "Come Softly To Me" arranged by Jack Nitzsche, surely not? Well, it's not the original hit version, but a later re-recording from '65, but still Jack Nitzsche arranging the Fleetwoods, who knew!? Martin Jensen actually. He tipped me off to the 45 being on eBay. Since then I've come across a very cool site, www.colorradio.com, hosted by oldies DJ, Brian Lee. The many pages of the site are full of info and photos of groups and artists of the 50s and 60s. The page devoted to the Fleetwoods is a joy, comprising full sized label scans, streaming music files and, as Gretchen Christopher told me, The Fleetwoods first TV performance from Dick Clark's BeechNut Hour, performing "Come Softly to Me". So how about the music; how does Jack interpret this classic? Great! I love the drum echoed intro, the clarity (the recording sounds so clean you might think it is in stereo) and intimacy of the record. Grab an earful. While you're at it you might care to check out group founder Gretchen Christopher's www.thefleetwoods.com site. She has just finished recording a CD of new material, Gretchen's "SWEET SIXTEEN! (SUITE 16)". The CD, including two versions of "Come Softly to Me", can be ordered from the site. Sound clips are available.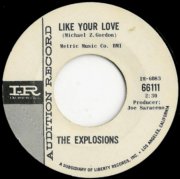 The "Jack Nitzsche - The Arranger As Superman" feature and interview by Ken Barnes for Greg Shaw's famed BOMP! magazine opened up many hitherto unknown musical chapters in the reclusive arranger's life. Even after thirty years, and despite many other recordings being uncovered, the article still poses questions. One currently playing on my mind is what stuff did Jack do with Brenda Holloway? I am pleased, though, that at least one mystery has been solved. Mention of Bobby Vee's "Run Like The Devil" (Liberty 55828) enlisted this comment from Jack Nitzsche: "Done on the same session with the Explosions and Gene McDaniels, all on one date. All Joe Saraceno hits." Bobby Vee's tracks were actually produced by Saraceno's often partner, Dave Pell. Checkout Bob Celli's Fans' Reviews piece. These, and Gene McDaniels "Walk With A Winner", a Northern-Soul biggie, are epic, grandiose arrangements. But what of the Explosions? Finally the missing piece, "Like Your Love" / "Work With Me Annie" on the Liberty distributed Imperial label. This equals the majesty of the earlier arrangements, a strong Righteous Brothers-styled recording complete with a 'Blue-Eyed Soul' R'n'B workout of Hank Ballard's song on the flip. Amazingly, Jack's comments give the impression that after an all-nighter with Phil, working on the latest Ronettes track perhaps, he knocked these off in the afternoon before strolling off to a Stones session in the evening!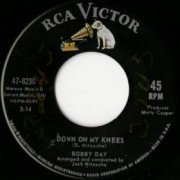 Jack Nitzsche's composing was given a big boost with encouragement from Marty Cooper. The pair collaborated on eleven sides, more than Jack wrote with any other composer. Marty produced two of Jack's solo songs, the first of which was "Glass Of Tears", the flip of Sherrell Townsend's "He Thinks I Still Care" on Gone, from 1962. The second of these, "Down On My Knees" was cut the following year by Bobby Day. A more melodic recording of this song had been recorded a year earlier by Jack's wife, Gracia (under the name Sammi Lynn). Produced by Ron Barrett on Sue Records, this is a lovely record, showing off Gracia's gentle and emotive vocal skills with, I'd guess, the Blossoms offering sympathetic backing support. Marty was a big fan of her voice. Maybe it was this reason that prompted him to cut the tune with Bobby? Whereas Gracia's reading of the lyric, one of Jack's finest, is pleading, Bobby attacks it with a sense of outrage. Jack's arrangment is typically original, with low strings carrying the riff and punctuation from Mariachi-style trumpets, oh, and a stop ending! The record bears repeated listening. The time expended will not be wasted.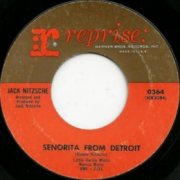 You get a great, must-have CD reissue - in this case Jack Nitzsche's "The Lonely Surfer" on the Collectors Choice Music label - and what do you get? Carping from the likes of me! Sorry about that, but I find the thought of casual music fans picking up the CD and assuming that this is all they need of Jack's instrumentals from his Reprise era depressing. There is hardly a plethora of Nitzsche's music available, and for tracks like this one (check out the discography page for others) to remain solely on 45rpm is criminal! A few have dcrept out on CD, for instance "The Last Race" and "Rumble", but it is time for them all to be gathered in one place. Who knows what gems might turn-up with a good shuftie through the WEA vaults? Marty Cooper has just made Jack's original recording of their tune "Surf Finger" available on a promo CD, and I dare say there are other unreleased tracks; then there are the instrumentals that Jack arranged for artists such as Soupy Sales(!); 45s like The What Four's "Gemini 4" / "Night Surf" , 'A Dick And Deedee Production' but lacking an arranger credit, and Jack's "Chopin 66" LP.
Anyway you get my drift. As far as "Senorita From Detroit" is concerned, although Marty has expressed great dissatisfaction at the mix, it is only one of many just waiting to bring you unbridled pleasure.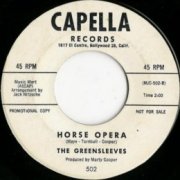 The first track to promote the imminent feature, "Produced Marty Cooper, Arranged & Conducted Jack Nitzsche", is "Horse Opera" by Greensleeves, Marty and Jack's studio group. It was their first record together, and its January '61 release date means that it's one of Jack's earliest arrangements. Considering the kudos attached to their greatest hit together two years later, "The Lonely Surfer", it's appropriate that this is an instrumental. A raw, rocking guitar track with a Western feel, it makes for a fine debut from the pair. It was released on the independent label, Capella Records, which was probably the first of the many labels Marty was to set-up. Unsurprisingly, considering distribution and airplay etc., it didn't set the charts alight. The song was penned by Maye-Turnbull-Cooper, who for the A side collectively adapted and rocked-up the English folk perenial, "Greensleeves".
I'm pleased to say that not only has Mr. Cooper shared his memories of these times but Mr. Turnbull also. This gentleman, who is far better known under his later pen-name of Scott Turner, worked on many Nitzsche recordings and was to later achieve much success in the music biz. I still need to know who 'Maye' is though...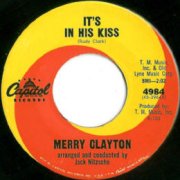 For Ron Barrett and Jack Nitzsche things were looking very bright. Their latest record had the backing of Bobby Darin and a major record label, a strong song from Rudy Clark and a singer, Merry Clayton, whom they both admired. The production is super-fine and, as Ron confirms, The Blossoms, Hal Blaine and friends provided the musical accompaniment. They couldn't really miss and yet... The only reason I can guess for the release failing to set the charts alight was too much respect. A fan of Merry Clayton, Jack had worked earlier with her on the Teldisc label, he later used her to great effect on the "Performance" soundtrack. Merry's voice is allowed to shine and soar. The girls and the arrangement, as superb as they are, are defiantly in a supportive role. If the singer had been a little weaker, or a bit less confident, perhaps Jack would have accentuated the Blossoms' harmonies and the bouncy pop arrangement? Was the record just a bit too soulful to hit on the charts? (There again, Merry was later to cut "Usher Boy", one of the best ever girl group 45s, with an arrangement by David Gates that attempted to match Merry's power. This also failed to chart.) It was academic by now of course. Ramona King, fresh from her stint as a Nitzsche recording artist at Eden, covered the song first. It was produced by Joe Saraceno and Jerry Riopelle and it's a little sweeter than Merry's original, but without the "shoop, shoop" hook. Betty Everett, with her wonderful voice, had the first hit with the song, reaching #6 in '64. Her version sported a poppier arrangement and not only the hook but also the song was re-titled "The Shoop Shoop Song". Later the song, featured in the Nitzsche scored movie 'Mermaids', sung by Cher, went all the way to No. 1 in '91.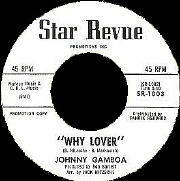 The next 45 to promote the "Prod. Ron Barrett, Arr. & Cond. Jack Nitzsche" feature is even harder to find than the Sammi Lynn track we played last week. Johnny Gamboa's "Why Lover" (Star Revue 103) was the second release on Ron's label and has never been legitimately reissued. I haven't got a copy myself, taking the scan and mp3 from "Teen-Age Dreams Vol.12", on the rather coolly named, Teenie Weenie Records. (It's a sorta public service record; very well packaged, excellent sleeve notes and the best sound quality possible.) So many of these early rock'n'roll/r'n'b releases appeared on small labels that have proved impossible for the legitimate record companies to trace and license the tracks. Hopefully, with the flourishing internet and more easily shared information, folk such as Teenie Weenie will contact the likes of Ron Barrett, Al Hazan etc. and offer some form of financial recompense for their musical offerings. Anyway, back to Johnny's disc: a very classy recording, doo-woppy feel and a mature vocal, defying the tender years of the singer, whilst the sound of the record denies the comparative youth of arranger and producer. This is Johnny's debut recording, and one he recalls with affection. He wrote to Ron's Star Revue site and left a message in the guest book. This is what he wrote:
"I remember Ron Barrett coming to a dance where my band was playing and asked me if I wanted to record a few tunes. Of course I said yes, and he in turn asked me how old I was. I was 16yrs old at the time. Ron became a great friend and I talked to him in late 2004 in Hawaii. "Why Lover" was a nice tune, written by Jack Nitzsche and I had a ball with the other songs that I recorded. It's thrilling that some people still like that song."
Johnny followed his Star Revue 45 with a late 60s release on Epic. He is still active in the music biz with his own web site, Johnny Gamboa. Check it out.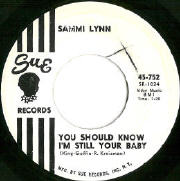 Remember the remorse that nice man Bobby Vee felt at having lost the love of his girl, imploring his rival to "Take Good Care Of My Baby"? Well, good news, she had the grace to forgive him. Sammi Lynn answered Bobby's guilty concern with "You Should Know I'm Still Your Baby". (Personally, I like to believe Ralph Emery's "I'll Take Good Care Of Your Baby" is more a case of wishful thinking.) All the songs, of course, are works of fiction from the pens of Brill Building dream team, Gerry Goffin and Carol King - with Kreisman (Steve Douglas) adding his lyrical input (but not his sax) to Sammi's answer disc. Sounding for all the world as if this disc was recorded in NYC rather than LA, it's a worthy answer record to Bobby Vee's original. It's long been said that Sammi Lynn's name is also make believe. Whether this is conjecture, a half-remembered conversation or a long-forgotten quote from rock history, I've been unable to trace a source to confirm Sammi's real identity - until now, that is.
Sammi Lynn had two 45s released on Sue Records and, despite three of the sides bearing Jack Nitzsche's name as co-writer, no other clues are given. However, some months before Sammi's debut disc, Jack had produced Judy Hart (aka Judy Henske), for what I believe, was his own Staccato Record label. As far as I was aware, this was the only release on the label. However, Al Hazan recently sent me a scan of another Staccato 45 that Jack had given him. It's the original label for Sammi's disc and has the arranger and producer credits. As I suspected, Jack is the arranger for both sides, but of equal interest is the producer, Ron Barrett. I'm grateful to have been in email conversation with Ron for some months now, as well as confirming that Jack's wife, Gracia, is 'Sammi Lynn', he has many other interesting stories to tell.
Now featured on the site, the second in the Producers features, "Prod. by Ron Barrett, Arr. & Cond. Jack Nitzsche", is now ready for your edification and delight.
In the sleeve notes to the ACE CD, "Chuck Rio The Tequila Man", Rob Finnis notes that saxophonist and club owner Jimmie Maddin founded the short-lived Saturn label. All the 45rpm releases were during '63 and mainly featured Chuck (co-founder, writer and sax man on The Champs' "Tequila") and his new recording buddies The Persuaders aka Creshendoes. Amongst all of this macho posturing, one girly side slipped out.
Maybe 'girly' isn't quite the right description, considering that Orphelia McFall's rasping vocal is more akin to Dorothy Berry or Ramona King than Priscilla Paris or April Stevens. The lyric (she's jilted at the altar) and the strong and soulful female chorus do place the record firmly in the girl-group genre. I'd guess she could hold her own in any company, the rough and rocking R'n'B accompaniment sounds as if The Persuaders may well be backing her on the disc. I'm not aware of other records by Orphelia but if she did change her name I hope her distinctive voice will find her out.
Jack Nitzsche co-wrote the song with S. Christie, not Lou's sister Susan but Jack's ol' pal, Sonny (Don) Christy. No producer or arranger credits are given on Orphelia's disc. Possibly Jack, who was signed to Saturn's publishing division for a short time, was involved as more than a co-writer. No doubt he would have loved working with a vocalist as strong as Orphelia. The first cover of a Nitzsche composition, "She's Never There", was sang by Johnny Gamboa on Star Revue 1003 in '62. There will be further ROTWs detailing Jack and, Star Revue's founder, Ron Barrett, in the following weeks.
The playing of Orphelia McFall's "He's Never There" (Saturn 403) enlisted (for those matrix and label spotters, like me, who enjoy this kinda thing) some great posts from Hans 'Hasse' Huss and Stephen C. Propes. The messages can be 'searched' on Spectropop but with my acquisition of the Essar 45 and purloining of the Little Star label scan I decided to list the main points here.
The 45 was released on three labels, Saturn SAT-403, Concert Room CR-373 and Essar ESR-1008. All seem to have been released in the same '62 - '63 time period, with the original release proving difficult to pin-point, have the same 116 matrix number and Jimmy Madden involvement. Essar and Saturn spell Nitzsche as Nitzche whereas Concert Room has Netzche. (The writer credit on the flip, "Did You Know" is the same on all labels, Yolanda Garlio. Hasse suggests - hopes? - that Yolanda may be the same Yolanda of the Nitzsche arranged Tandem label Castanets, Smash label Charmanes and possibly even the Fowley/Paxton Kimley label Naturals. Geography and time frame fits for all sides AND with the name spelling at the time, seemingly worse than mine, the writer of The Castanets, "What About Me", Y. Daglio could be the same lass ). The Essar label is the only one to have a producer credit, Jimmy Madden (both sides).
Orphelia must be the same girl who had an earlier release on H.B. Barnum's label, (Little Star 110). The label scan 'borrowed' from an auction on eBay, my bid being below the 100 plus dollars selling price, is shown. The sound clip that accompanied the auction, as with many Little Star releases, 'sounds' as if Jack Nitzsche was at the session.