Fans' Reviews...Nitzsche's Recordings digested by fans of the artists he recorded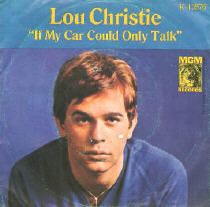 Many thanks to the Lou Christie Fan Club.
Do visit LIGHTNING STRIKES,
The Lou Christie International Fan Club.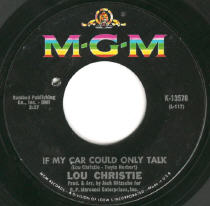 Writers: Lou Christie, Twyla Herbert
Producer / Arranger: Jack Nitzsche
Label / Catalog Number: MGM K 13576, UK MGM 1325
Recorded: July 28, 1966, RCA Custom Record Sales 6363 Sunset Blvd. Hollywood, California
CD: EnLightnin'ment: The Best Of Lou Christie, Rhino 70246, March 1988
With a stellar studio band (including Glen Campbell on guitar), IF MY CAR COULD ONLY TALK is a passionate anthem that continues to exceed all expectations. With falsetto flashes, tasty tempo switches and countless audio archaeological layers, IF MY CAR is too big to be fully captured by vinyl (thus the inevitable distortion).
While a real life character named Sarah Jane has not yet been located, the lyrics reflect Lou's 1964 Army service, his red Jaguar XKE and his family's South Heights, PA pizza restaurant:
She met me at the station 'Cause I'm coming home on my leave
I let her use my XKE 'Cause she could drive around and think of me
Baby I'm home You look surprised It's written on your face
Where's the old crowd Do they still hang out at the pizza place
A flash of suspicion You learned a new way of kissin'
Sarah Jane If My Car Could Only Talk To Me It would tell me about you baby
Wee Wah Ah Baby
The lyrics also include a tribute to Lou's favorite Skyliners single "This I Swear" (Calico C 106 May 1959):
Since I've been home I've found evidence of a love affair
Tickets to the drive-in show A fool but once This I Swear.
The back seat back-up singers (Jack Nitzsche's then-wife Grazia Ann May, Carolyn Willis and one additional as yet unidentified female) help set the scene and push the story along:
Watch your step Sarah Jane He'll catch you yet
He's home He's home / He's gone He's gone.
IF MY CAR can be seen as a sequel to Lou's "Big Time" (Colpix, 1964; Wee Wah Ah Baby = Just For You Baby). The chorus ring-down also recalls "Hollywood's My Stop" (recorded April 1966, released on Lou's 'Painter Of Hits' MGM LP, August 1966).
In this CAR, Lou's love went much too far. So check out his equally thrilling Nitzsche productions: WILD LIFE'S IN SEASON, SONG OF LITA and WATCH YOUR HEART AFTER DARK.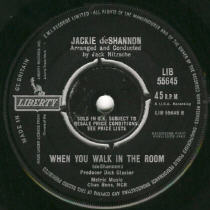 Many thanks to Peter Lerner.
For more on Jackie and a complete discography, compiled by Peter, visit

The home of the Jackie DeShannon Appreciation Society.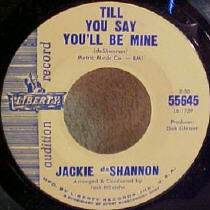 Writer: Jackie DeShannon
Producer: Dick Glasser
Arranger and Conducter: Jack Nitzsche
UK Liberty 55645
"This American girl made the original recording of 'Needles and Pins', and she has also composed many hits, especially for Brenda Lee. Her pleasant voice and the rich backing combine to make a very commercial sound. Unfortunately, like most good American songs, a British group will have to record it before it is successful here".
So wrote the influential and perceptive critic "PL" in his highly rated Record Review column in the Ellesmere Port Pioneer, in a week (11th June, 1964) when he also rated the Dixie Cups' "Chapel Of Love" 'outstanding', Francoise Hardy's "Tous les Garcons Et Les Filles"'charming', and the Migil Five's "Near You" (are you still awake out there?) 'boring'.
That review, nevertheless, was sufficient to send this writer hot foot to Hilda Catherall's Record Ship in St Werburgh Street, Chester, to collect his first ever blue-sleeved black labelled UK Liberty 45, an event which, moving on through the years, led to the formation of the Jackie DeShannon Appreciation Society by a fan who had finally learned to spell her surname correctly, and a never to be forgotten journey to the Bottom Line, Greenwich Village, New York in March, 2001, to listen to and meet the lady herself.
But first things first. I used to look at my records closely and study the labels. The name of DeShannon, usually in conjunction with the name Sheeley, had appeared in small songwriter print on many of my favourite Brenda Lee 45s. I had no idea whether this person was male or female, not even when I discovered the first name was Jackie. I knew later that Liberty had issued the original record of "Needles And Pins", by this person, but had never heard it, although I guessed it ought to be good (at age 15, I couldn't afford to buy every single I fancied).
Liberty was by this stage one of my favourite labels. Think Bobby Vee, Johnny Burnette, Dick and DeeDee. The combination of Liberty and this strangely named person would be a winner, I was certain. Excitement really kicked in when I studied the record on my way home from Chester. "Arranged and conducted by Jack Nitzsche". I read my NME from cover to cover every week, and knew that Mr Nitzsche was in part responsible for that Wall of Sound on my very favourite London-American Phil Spector singles, the ones I would play all day if opportunity allowed.
The thrill that charged through me on first hearing that exquisite 45 is still there today. I still play it. Yes, the original 45. Not from an album, not from a CD, not in stereo. Listen to that music. The crystal-clear, incisive guitar riff. The thundercrack drums. The tinkling, clacking percussion. The confident strings. And how the arrangement builds, adding layers, strings, the works. And then the girl's voice (yes, Jackie's a girl!) Brattish, defiant, emotional, raw. No surprise to me that the song's a DeShannon composition; listen to the words - "Glowing sensation", "Nonchalant" - a bit better than the yeah yeah yeah's our Mersey lads were coming up with, eh? And the last verse, where Jackie spits out each word with equal intensity - I Can Feel A Some Thing Pound Ing In My Brain. A perfect record - great girl singer, stunning arrangement, dynamite song, amazing sound. Should Ms Lawley seek out my opinion at any stage, this 45 will be on that island with me. And the B-side, "Till You Say You'll Be Mine", is pretty hot, too.
Some explanatory notes for non-Brits:
Ellesmere Port is a real place, in Cheshire, England, and the Ellesmere Port Pioneer is a real weekly newspaper. The NME is the New Musical Express, once an influential British weekly journal of popular music. Ms Lawley is Sue Lawley, the presenter of "Desert Island Discs", a BBC radio programme where celebrities talk about their life and play their 8 all-time favourite pieces of music. The present writer is most unlikely to appear on it.
Peter Lerner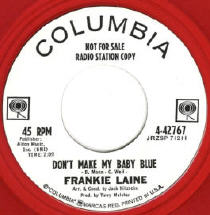 Many thanks to Tony Cooper.
Do visit FLIAS The home of the Frankie Laine International Appreciation Society.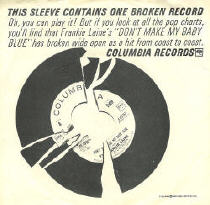 Writers: Barry Mann, Cynthia Weil
Producer: Terry Melcher
Arranger and Conducter: Jack Nitzsche
Columbia 42767
Jack's arrangements of Laine's DON'T MAKE MY BABY BLUE, I'M GONNA BE STRONG and TAKE HER SHE'S MINE were way ahead of their time. Terry Melcher produced the final sessions for Frank at CBS as follows:- March 4th 1963, Don't Make My Baby Blue plus Hey There Mountain (unissued) and July 2nd 1963, Take Her She's Mine plus I'm Gonna Be Strong.
All the above tracks, except Hey There Mountain, were also recorded (November 5th & 6th 1963) in Italian, Spanish and German. The German versions have never been issued but will appear on the forthcoming Bear Family set, I am still searching for the mastertape of Hey There Mountain to include on the 8 Disc set.
Unfortunately, the pressings issued by CBS were TERRIBLE. The red vinyl promo is about the best but is still not good. Thankfully, the CD versions are much superior and sound like different versions (although they aren't).
"Baby" has been issued on a compilation disc but the others are (for now) only available on the third Bear Family Box which I'm now working on. Interestingly, I'M GONNA BE STRONG had a choral backing added just for the European release (although a few American pressings featured this version in error). On some of his tours over here, Gene Pitney actually stated that it was hearing Laine's version in '63 that made him want to record the number in '64.
Tony Cooper
Many thanks to Les Peckham.
For more information visit the Guy Mitchell Appreciation Society web site.
Writer: S. Wiseman
Arranger and Conducter: Jack Nitzsche
Joy 273
Guy Mitchell and Jack Nitzsche came together in the recording studios on just one occasion. Guy's 12-year contract with Columbia Records had expired in 1961 and during 1962, Guy made some recordings for his manager, Eddie Joy, the owner of Joy Records. The session that involved Jack as arranger and conductor took place in October 1962 in New York. The three songs recorded were all totally different and didn't follow any particular pattern so perhaps Guy was trying new styles for the 60's. Certainly, Jacks arrangements were totally different to anything Guy had done during the 1950's.
'If You Ever Go Away' was probably the least effective of the three songs - the arrangement was catchy enough with a children's chorus, but the song is best forgotten. 'Blue Violet' is a very pleasant song, again with a very catchy arrangement by Jack, so much so that Pye International Records in Britain chose this for the 'A' side of the 45. The best track, without a doubt, was 'Have I Told You Lately That I Love You'. A lot of singers had recorded this over the years but the solid beat and a chanting female chorus was unusual for Guy.
None of these recordings reached the charts either in the USA or Britain and it is rather sad that Guy never made any more recordings that used the arranging expertise of Jack Nitzsche. In a conversation with Guy Mitchell back in the 1980s, about Joy Records, Guy commented that he couldn't remember all the songs he had recorded but did know every arranger and conductor at all his sessions.
Les Peckham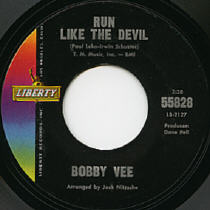 Scan supplied by, Bob Celli
Thanks to Bob Celli for this informative piece.
Bob runs the fun Yahoo Group, Bobby Vee Collectors Club lots of chat on recording information, memorabilia, news and naturally with Bob, humour.
Be sure to also check out the official Bobby Vee site.

Lots of CD's bear the 'Essential' tag but this one, "The Essential & Collectable Bobby Vee" sure deserves it. It includes, "Run Like The Devil" but for the Nitzsche arranged flip you'll have to track down the 45.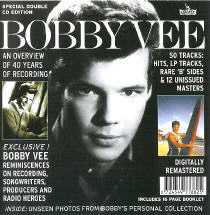 Bob Celli has kindly let the site play the unreleased "Like Someone In Love" as Jack Nitzsche's, 'Record of the Week'. To read the review, visit the Previous ROTW 4.
Writers: Paul Leka - Irwin Shuster
Producer: Dave Pell
Arranger: Jack Nitzsche
Liberty 55828
In August of 1965, Bobby Vee went into Sunset Sound Studios, and recorded perhaps one of his very best tracks. Among the tracks recorded that day were "Run Like The Devil", "Like Someone In Love", "Take A Look Around Me", and "See You Home". Bobby, who had recently left his long time producer Snuff Garrett, was hooked up with Dave Pell for this session. Pell was one of several producers Bobby would shuffle through during that time period before finally settling down with Dallas Smith. Both Bobby and Dave Pell were very aware of the talents of arranger Jack Nitzsche with Bobby having been very impressed with Jack's recent work with Jackie DeShannon. Bobby asked Dave to see if Jack would be interested in arranging his next session. He did, and Jack agreed.
In the mid sixties Bobby couldn't buy a minute of airplay, mostly because of poor material choices, not the British Invasion. As far as material choices, "Run Like The Devil" flew in the face of all this. I recall walking to the local record shop weekly to look at the new release page in Cashbox magazine, hoping a new Bobby Vee record would be available. I knew I would have to order it because at that time no one stocked them! Lo and behold, there was a new 45 listed for Bobby Vee called "Run Like The Devil". I quickly ordered it and waited for the store to call me when it arrived. It came in about a week later. I picked it up and rushed home to play it. I was not disappointed. The sounds I was hearing off that disc were unlike any previous Bobby Vee records! I looked at the names on the label and saw one I had never seen on any Bobby Vee record before; Jack Nitzsche. I thought that whoever this guy is, he sure did a great job on the arrangement! A couple of days later I called a local DJ at WHOT in Youngstown, Ohio, and requested the song. He affirmed Vee's chart demise for me when he replied, "He's dead". I said "He's not dead! What are you talking about?" He said, "I mean he's not popular anymore; we're not playing his records" So unfortunately, the record did not get any airplay in my area or anyone else's for that matter. The record became sort of an underground favorite among Bobby Vee fans. Whenever the title came up in conversation, people just raved about how great it was and bemoaned the fact that nothing ever happened with it!
In a conversation with Bobby earlier this year, I asked him about the sessions. I mentioned that many people consider "Run Like The Devil" among his very best work and wanted to know about the circumstances surrounding the session. He told me that he recorded it at "Sonny's studio" meaning Gold Star I believe, but according to the file cards at Liberty Records, it was Sunset. What he did remember was how amazed he was after hearing the orchestra run through the arrangements for the first time and being blown away by the sounds he was hearing! He also told me that he had no idea that the session would end up turning out as good as it did. I then asked him if "Run Like The Devil" was a difficult song to sing, and he replied, "Heck no, the song virtually sang itself".
"Run Like The Devil" was released again on EMI's "Bobby Vee, Essential and Collectable" double cd set. I was directly involved in compiling the tracks for this release and immediately insisted on "Run Like The Devil", stereo version please! When the DAT arrived, the song was in stereo, but it was the completely different version from the lp, "Do What You Gotta Do". We did manage to get the correct song on the disc but the stereo version never appeared. I would have to assume that the multi tracks were never mixed to stereo and no one at EMI was going to bother to do it (of course).
The song is still being discovered as evidenced by a post in Spectropop by Frank Youngwerth in March of 1999.
"I just got a nice British 2-cd comp of Bobby Vee which includes a haunting previously unreleased Goffin/King song, "The Idol", and the Spectoesque "Run Like The Devil", which got no higher that #124 in Billboard, but surely is one of Vee's best".
Another appropriate comment came directly from a British fan on the Bobby Vee Collectors Club board on Yahoo:
"Run Like The Devil" is up there with the best. The flip side, "Take A Look Around Me" is pretty good too. Once again the "super promotion" for this single let it sink without a trace. Here in the UK, I had to get the secret police on the case to get me a copy!
That just about says it all!
Bob Celli