Previous ROTW.... What you've missed! An archive of the reviews and label scans. (part 2)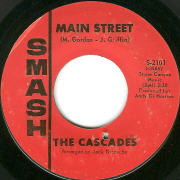 Mike Gordon (who was involved in more 'surf' records than there are sticks to shake at them) and Jimmy Griffin (who wasn't!) wrote "Main Street" for The Astronauts in '65 and damm good it is too. The Cascades take has a softer, folksy feel, super intro, beautiful surf harmonies and a lush late Spector-styled arrangement. Nice one Jack! Shame it loses its way a bit in the middle section...
Despite most of their records being self-written, The Cascades don't appear to be amongst the Softpop-devotee's favourite groups. A quick Google search turned up just the one site of interest, the big V Jamboree. Even here, despite being a good site, the Cascades are only really mentioned on this page as label mates of the main featured artist, Barry and the Tamerlanes.
Maybe if "Rhythm Of The Rain" hadn't hit so big...not so cool when your granny, aunt and sisters are humming along with 'your' record. Anyway, some of their material is a tad bland for my tastes but, amongst their extensive back catalogue, there are many gems.
Many thanks to David A. Young for the label scan and, what do you know, all the credits are there! Jack and Steve in charge of the music; Lester and Lee taking care of business. A perfect combination, but without any chart action.
From the Spanish guitar and castanet intro it's impossible not to be captivated. Nothing ground-breaking about the individual parts of the record, just the sum of all the parts meshing into a delicious whole. Sweet doo-wop vocals, a touchingly innocent lyric combined with a persuasive percussion-driven rhythm, cutesy girl-group heaven.
The mysterious Yolanda (who apparently co-wrote the flip, "What About Me") and her appropriately named Castanets handle the Latin-tinged beat with an aplomb that belies their apparent youth. A safe bet to accept that Yolanda is the same girl who later recorded with Jack and Steve on Smash, but what about the earlier Yolanda and the Naturals on Kimley?
Sadly, Tandem 7002 is almost impossible to find, but both sides are on the Crystal Ball CD, "Rarest Of The Rare Vol.7".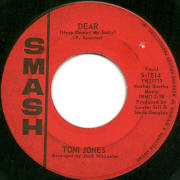 The early years of Philles Records seemed to provide Phil Spector with the most enjoyment. The records had to be good but they didn't yet have to be the most glorious, most wonderful masterwork since his last record. Released at the same time as classics like "He's A Rebel", Da Doo Ron Ron", "Zip-A-Dee Doo-Dah" are 45s like "Puddin' 'n' Tain", B-Sides such as "I Love You Betty" and LP tracks like "Look In My Eyes" and this song, "Dear (Here Comes My Baby". He was having fun with his producing.
Released on the "Zip-A-Dee Doo-Dah" LP, Bobby Sheen handles the vocal with the girls in warm support, and it's a late doo-wop feel-good song that's guaranteed to leave a big smile on your face.
Lester Sill thought he could smell a hit and got Jack and Steve Douglas back into the studio to re-cut the song they'd just recorded for Phil Spector. Phil was right to leave it as an album track. Despite the same amount of fun, and an excellent lead vocal by Toni, the 45 failed to make any chart impact. Two questions remain: Is it Bobby Sheen on backing vocals and who's Toni?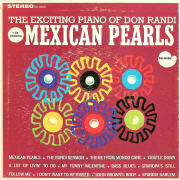 Don Randi's "Spanish Harlem" was originally released as a 45. I'm playing this stereo version from one of those rather groovy 33+1/3rpm mini LPs (three tracks per side) which were designed to be playable on jukeboxes and promote sales of the artists LP. The recording deserves its colourful sleeve. Jack, who was very partial to the Latin sound, stays true to one of the most beautiful melodies in popular music. Supported by swirling strings and castanets, the spotlight, however, remains on the piano playing of Mr. Randi, whose name is, or should be, known to all lovers of music via the small print on the back of countless LPs; "Don Randi - Piano".
Accompanied by pals and fellow West-Coast session luminaries such as Hal Blaine, Ray Pohlman and Tommy Tedesco, the musicianship is excellent. The title song of the LP, "Mexican Pearls", even reached the Top 100 in 1965.
Don was described by Phil Spector as "out of sight" but he can be seen and heard, playing his first love, jazz, most nights at his club, The Baked Potato, in North Hollywood.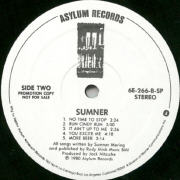 Sumner were formed at the tail-end of punk-rock and named after the group's guitarist, lead singer and writer, Sumner Mering. After a year or two touring around Los Angeles, Sumner's only album received good reviews but achieved limited sales.
"Run Cindy Run" encapsulates the melodic, driving rock beat of most of the offerings on here with an energetic production by Jack.
The songs, all written by Mering, are as good as most that were heard on the radio at the time. In fact Nicolette Larson used the first song on the LP and chose it as the title of her 3rd album, "Radioland".
The group comprised talented musicians Larry Treadwell (guitar and background vocals), Novi (Novog) (viola), Robert Louis DeChiro (bass) and Mark Sanders (drums).
Mark has apparently quit the music business, as has Sumner who (despite guesting on Lauren Wood's '81 solo debut for W.Bros along with Larry and Novi, and recording one self composed track for a Christian Praise album in 1990) is now apparently vice-president of a medical publishing company and living in Pennsylvania.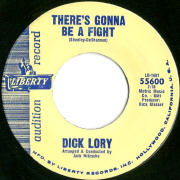 A cowboy-flavoured tale of love, jealously and fighting for the woman you love. Only one side of the story is told (I'd treat Dick's telling of the story with a fair amount of suspicion). From the opening triangle intro, emoting "seconds out, Round One", it's a story in which it's almost possible to visualize the two protagonists squaring up.
Dick Lory's vocal, honed as lead voice for The Golden West Cowboys, is the perfect vehicle for the tale; mature and clearly enunciated with just the right amount of desperation and determination to be believable. My money would be on Dick to win the fight and keep his girl.
The excellent production by Dick Glasser and the arrangement by Jack add immensely to the sound. But the song is the star, written by Jackie DeShannon and Sharon Sheeley, who at this time and the preceding two years seemed to churn-out superbly crafted songs with ease. Dick Glasser (he often used the 'Lory' surname for recording) was well aware of the writing and singing ability of Jackie, having signed her to Metric music.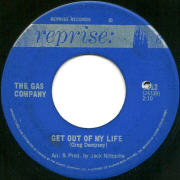 Of all his early songwriting partners, his friendship with Jackie DeShannon and Sonny Bono spawned his most prolific output, along with some (mainly instrumental) recordings either with, or under the aegis of, Marty Cooper. Another figure to feature as Jack's co-writer was Greg Dempsey. The pair had one hit, the harmony-pop "I Could Be So Good For You", recorded by Don and the Goodtimes. They also wrote P.J. Proby's UK-only released "Sweet Summer Wine".
Greg Dempsey's group, the Gas Company, had their first three 45s produced by Nitzsche, "Get Out Of My Life", a country-rock song, being one of their best. There is a web site that's worth checking out, featuring the recordings of Greg Dempsey.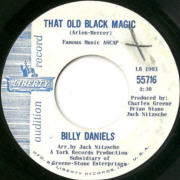 The 'Exciting' Billy Daniels showbiz career covered five decades consisting of films, shows, hit records, at least two continents and a notable first: a US network TV variety show hosted by a black man. His voice had a dramatic quality that quite possibly influenced and inspired P.J. Proby and Tom Jones.
The song most closely associated with Mr. Daniels was first heard in the 1942 film, "Star Spangled Banner", sung by Johnny Johnson. Billy's recording in 1951 was the first of five he recorded, including a 1978 disco version.
How did Jack go about re-creating the great man's "That Old Black Magic"? Sounds like he had a lot of fun. Jack enjoyed working with characters and cared more for a good voice and attitude than the latest teeny-bopper sensation.
Working with long-time admirers Charles Green and Brian Stone, Billy's voice, sounding great, is allowed to shine, with a powerful, rocking, mainly drum & percussion driven beat and foxy girl backing. Please remind me to play the B-Side, "Woe, Woe, Woe" one day, a perfect soul record.
The Cinnamon Cinder was a chain of nightclubs started by KRLA DJ Bob Eubanks, which soon spawned a TV show, "The Cinnamon Cinder Show". Acts performed live and were usually backed by a resident band from one of the clubs. North Hollywood's 'Pastel Six' were one of the most popular, and they got their chance to record "The Cinnamon Cinder (It's A Very Nice Dance)", written by Russ Regan.
Despite the rapid growth of music on the West Coast, the novelty dance craze of the early 60s was dominated by the East Coast labels. Most of the Californian dance records only achieved regional success. A major exception was this release by The Pastel Six, a strong male lead and a good-time R'n'B feel, it reached number 25 on the charts in early '63.
Copycat records were released, amongst them Johnny Rivers' "CC Cinnamon Cinder", a slight re-write cheekily credited to Jimmy Bowen and Nick Venet as well as this version by "The Cinders", which may well be the original.
Both records were recorded in late '62, the Nitzsche-arranged version by The Cinders has the good-time feel but lacks that R'n'B edge. The better record won the chart battle.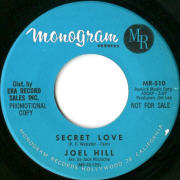 As apprentice to Mr. Spector, Jack thankfully didn't pick up on the throwaway B-side; a typical Nitzsche 45 has as much care lavished on it as the A-side. However, although usually understated in comparison to Phil Spector's approach, Nitzsche's arrangements/productions are littered with "Wall Of Sound' musical references.
This B-side, a version of the evergreen, "Secret Love", is an excellent example. Recorded shortly after Jack had arranged "Zip-A-Dee Doo-Dah" for Bob B Soxx and the Blue Jeans, the vocal could deservedly be credited to Joel Hill and the Blue Jeans. Joel's vocal is more to the fore than Bobby Sheen's, but despite not having his strength of delivery, Joel's voice conveys warmth and richness. And the 'Blue Jeans'? Same as Bobby's; Darlene and friends, The Blossoms.
There's the same jerky, stately beat and heavy use of percussion; missing is the 'other-world' guitar and perhaps the main ingredient, Jack Nitzsche not wishing/needing to shout out, "HEY KIDS, LISTEN TO ME!"
Perhaps Jack could have benefited from more of the razzmatazz and egotism that Phil exhibited, but his working with and for the artist/song rather than himself, enabled Nitzsche's career to encompass and enrich all styles of music.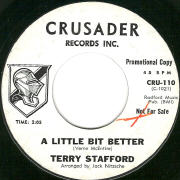 Written by Verne McEntire, "A Little Bit Better" is a super 'boy-group' record very much in the Jackie DeShannon mould. It's a melodic, folk rock groove with clever lyrics:
Terry is losing his girl to the boy with the better car, haircut, and continental clothes and if this wasn't enough "he's the leader of the band and the girls just love to hear him sing". Terry knows what's happening, "He's got a head start, sweetheart, it's so easy to see that bit by bit you think he's just a little better than me". But our Terry is no wimp; he's not cowered, and by the end of the song he's responding with a carefree disdain, "If you want him, tell me, just tell me that we are through, so I can find someone just a little bit better than you". Great stuff!
All this is played out against a super fine arrangement by Jack, girly backing, strumming guitars, drum rolls, piano triplets are all pushed back in the mix, heard but just enough to mark this record different and just a little bit better than most.
For more information on the career of Terry Stafford please visit the Terry Stafford "Suspicion" Home Page, an excellent page, run by this site's good friend, Harry Young.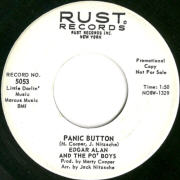 Jack worked on more record labels than there are sticks to shake at them, scores in the sixties alone. It is hard not to be amazed at the vast amount of records credited "Arranged Jack Nitzsche". And when taken into account the number of records he worked on but is not credited, even allowing for the studio musicians, he was surely one of the busiest folk in the 60s music business. To James Brown the moniker "The Hardest Working Man In Show Business" belongs, but perhaps looking beyond the razzmatazz of the bright lights, the sleight figure in the dark glasses, deserves the title, "The Hardest Working Man Behind the Music Business".
It was a big buzz for me to find Jack's name attached to a record from the independent east-coast Rust label. Unfortunately, as a record, it perhaps looks better than it sounds! But the shared writing and production credit of Marty Cooper and Jack Nitzsche has appeared on a number of super tracks and to fans of this type of 'Go Go' music I'm sure this will be a big hit.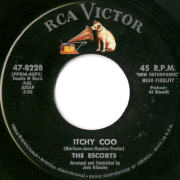 Frankie Laine's "I Believe" from '53, The Beatles', "She Loves You" from '63, David Bowie's "Life On Mars" from '73, all big selling and 'important' releases of their time, setting new trends and pointing the way forward.... or were they? Starsailor from 2003, are they consolidating and progressing the 50 years of music that preceeded? Is it as emotionally involved as Frankie, as invigorating as the Beatles, more pertinent than David Bowie? I reserve my judgement.
Most of the arts do not view present writers or artists as better than what has gone before, even with Film (which has benefited and made large advances due to SFX) the 'old' is treated with the same respect as the new. Only in music does the feeling exist that unless the music is by Brian Wilson, Phil Spector, The Stones or The Beatles the music is not really worth more than an hour a week on some 'Oldies Show' on the radio.
So to The Escorts, "Itchy Coo"; how does this stand a cat-in-hell's chance of getting listened to! A soul-doowop, novelty, dance track that's only merit is that it's great fun, highly infectious and is likely to leave you smiling throughout. Grab your chance this week, give it a listen and enjoy!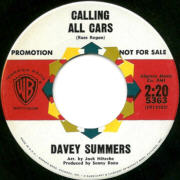 This week, it's an infectious novelty pop song written and sung by Russ Regan (using the nom-de-plume Davey Summers) with prominent girl group backing (Blossoms?). The recording is produced by associate and fellow music hustler Sonny Bono with Jack Nitzsche arranging. All three achieved massive success throughout their careers in the biz. Sadly, Jack and Sonny have passed on, but the last I heard Russ is still active; hustling records and working as an advisor for a latter-day 'song-poem' company.
This cut was released three times, received a fair amount of radio play, and was almost a hit! I'm uncertain as to the release history, but I assume the first, on Vim 101 (not the same label as the Candy Stripes), was a one-off on Russ Regan's own label; the second, on another of Russ' labels, Zen 101; and finally ending up on Warner Brothers 5363 when it looked like it might see chart action.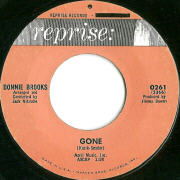 One of the first signings Jimmy Bowen made on being appointed head of A&R at Reprise in 1963 was Jack Nitzsche. Despite not having the confidence to set Jack loose with his boss, Frank Sinatra and his associates, Mr Bowen recognised a talent that was integral to Phil Spector's "Wall Of Sound".
For four years, while working on Spector's grandiose productions, Andrew Loog Oldham's new-style RnB with the Stones, as well as artists such as Jackie DeShannon, Bob Lind and Bobby Darin, Nitzsche worked with over 25 artists for Reprise Records.
The variety of his work spanned the comedy of Soupy Sales to the Rock n Roll of Ral Donner and the pop aspirations of Don Drysdale to the striving for renewed chart glory, as heard by the current ROTW winner, Donnie Brooks.
On the strength of two big hits for Era, Donnie carved out a recording career that lasted a decade, but even Jack couldn't get him back on the charts.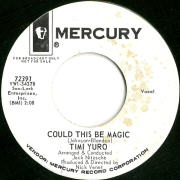 The Dubs' original version of this song (from '57) is one of my favourites from the doo-wop era, featuring a beautiful lead vocal by the co-writer, Richard Blandon. This is definitely the sort of record not to copy, unless the intention is to use an equally fine, but distinctly different, vocalist - and an arrangement that, while acknowledging the original, creates a mood and feeling that can deceive the listener into believing that the two recordings share little more than the same title.
It features a stately beat, maintained by drum 'n' bass and piano 'n' tambourine, occasionally double-tempo. The strings are swooping in and out throughtout along with backing vocals that you sense more than hear. Jack Nitzsche channels this energy through talented musicians to focus our ears on one of the best and most soulful of white vocalists, Timi Yuro. A powerful recording, in which the arrangement and singer are equally deserving of high praise.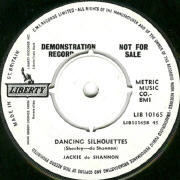 Liberty should hang their heads in shame at the way they treated the multi-talented Ms DeShannon. Besides "Jackie DeShannon" and "Breakin' It Up On The Beatles Tour", her albums and 45s were released without any apparent regard to nurturing or promoting her career. Her 60s LPs and 45s on Liberty, and later Imperial, are littered with gems that seem to owe their release more to the whims of the promotion department rather than where Jackie was at musically.
For the collector, seeking obscure B-Sides and 'Greatest Hits'-styled compilation albums containing a track not available elsewhere, effort is usually richly rewarded.
"Dancing Silhouettes" is a case in point - an absolute blinder, tucked away on the B-Side of "Faded Love" from '62 in the US and "Hold Your Head High" from '64 in the UK. Written by Sheeley - DeShannon, and a favourite of Jack Nitzsche (who arranged a later version by Thurston Harris).
If you have any interest in Jackie's work you must check out the JDSAS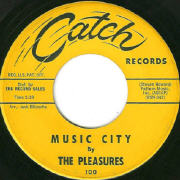 From 1963, and the days of the 'phonograph booth', this is a stomping "Zip-A-Dee-Doo-Dah" beat with the Blossoms; a verse or two from"Walk Right In", "Loop De Loop" and "Let's Twist Again"; lyric and structure recalling Leiber & Stoller's work for the Coasters/Robins; oozing 'soul and fun'; Pop-Eye, Limbo, and the Bossa Nova; Nitzsche's arranging has so much going on, and the result is SO infectious that, if you play it three times, you'll be playing it all night!
Steven Howard, the composer of the song, also wrote the Castells' "So This Is love". But the famous composer of "The Birds And The Bees" and co-writer of "The Wayward Wind", record label owner, AND the first man to sign the Beach Boys, is better known as Herb Newman.
The first two releases on the Catch label were arranged by Jack and I'd like to know the credits for the other releases.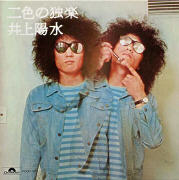 Jack Nitzsche's evocative use of sound to create moods and mental images can be traced back to his solo work at Reprise. For example, "Senorita From Detroit" and "The Lonely Surfer", along with vocal recordings by artists as diverse as Bobby Darin and Judy Henske, are able to make the listener feel present in the music. His technique was further honed in the early 70s via movie compositions such as "Performance" and "The Exorcist".
Jack spent most of the early/mid '70s at the movie lot. In 1974 Yousui Inoue's composition, "Nishoku No Koma" tempted Jack into a rare trip back to the recording studio. (A & M Studio, Hollywood Sound Studio.)
The result is haunting, unsettling and incredibly beautiful. The vocals are in Japanese but this is not a distraction; The universal themes of despair, longing and hope are sung by Yousui with a restrained passion, understandable in any language.
With grateful thanks to Yoshinori Otake for supplying the sound file and cover scan.
A good song, written by Chris Andrews for Adam Faith. The pair were rewarded with a big UK hit. Nice, and rather quaint, but it lacks the 'sparkle' of Adam's later cover of Bob Lind's (Nitzsche-produced) "Cheryl's Goin' Home".
Albert's US cover went virtually unheard, and that's called sad because the production is among Nitzsche's best: a big, melodic sound which conveys a sense of importance without being grandiose.
Being rather more 'pop' orientated than his earlier soulful releases, this 45, the fourth I know of by Albert (Daniel) Stone, and possibly his finest record, is backed with "Don't Believe Him, Donna". Stone handles the vocal with ease and, on the B-Side, gives both Lenny Miles and Chuck Jackson a run for their money.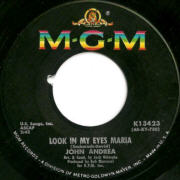 Money man Bob Marcucci seemingly spared no expense on the launch of John (D')Andrea's bid for pop stardom. This has a real 'kitchen-sink' arrangement, orchestral backing, choir, mariachi brass plus castanets, horns and timpani a plenty. It's an original Bacharach/David composition that sounds like it must have been great fun to record but...
The song is not one of the writers' strongest and John's voice is pleasant but lacks that extra power the song perhaps needs. Jack Nitzsche's arrangement has perhaps TOO much going on. (Not often I find myself saying this!)
John D'Andrea, still under the patronage of Bob Marcucci, went on to be the front man for The Young Gyants on Parkway. Dick Clark even recommends the LP in the sleeve notes as "the sound of the Young World".