Previous ROTW.... What you've missed! An archive of the ROTW's review and label scan. (part 8)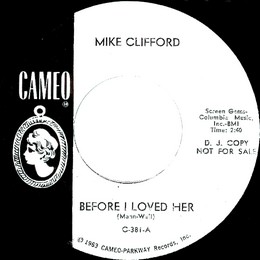 Anthony Reichardt wrote to the site with a new Jack Nitzsche discovery:
"I have been recently obsessed with a 1965 recording by Mike Clifford, "Before I Loved Her". I have a video copy of him singing it on the teen dance show, 'Shivaree' which originally aired on September 4th, 1965 so I imagine the single was issued sometime that summer. The arrangement on both sides are very Spectorian, the strings are beautiful and I thought it was so Nitzsche-like. (There are no producer or arranger credits.) I and fellow Spectropopper, Dan Hodges have been emailing back and forth in regard to Spector Soul records and I sent the mp3 of this one to him as well as the 1962 version by Johnny Maestro on United Artists. Dan had brought to my attention the fact that the lyrics on this Mann/Weil tune had been completely changed for the version by Mike Clifford. Johnny's was about the happiness of love while Mike's was about the pain of love. I discovered he had a fan page on Facebook and asked for any session details. The contact talked to Mike and told me that he said a fellow by the name of JACK NITZSCHE had something to do with it. (The B-side, Shirl Girl written by Bobby Darin and Rudy Clark was recorded a couple of years earlier by Wayne Newton on Capitol Records.)"
Anthony Reichardt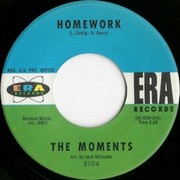 Pleasant enough song, good arrangement, but just a bit too 'rinky dink' for my taste. I'm not even certain that the focus of this ROTM, the featured female vocalist, is Gracia Nitzsche. Jack Nitzsche did say in his BOMP! interview (talking about The Moments) "My wife Gracia, that was her, and Albert Stone..." Despite Jack referring to the 'group's previous release (and small hit), "Walk Right In", the vocal personnel sound the same.
Interviewed for this site, Marty Cooper spoke of Gracia's vocal prowess "...Jack always tried to get her to be 'soulful', but Lee and I just liked the sound of her voice and her willingness to work out things with us in the studio". So, if we accept Gracia is the featured female vocalist, she's showing that Jack was right, she could indeed sing very soulfully. A la Darlene Love on this one, sultry lead-in on The Rip-Chords "Gone", soft and sweet as Sammi Lynn with "Blue Butterfly". A vocalist for all seasons and many more records than you might think.
She enjoyed being behind the mike but never sought the limelight. Until Peter Trautmann, a German cousin, supplied me with a photo of the young Nitzsche family, used in "The Jack Nitzsche Story Vol.1", only people who knew Gracia even knew what she looked like. Thanks to Jack Nitzsche Jr., Gracia Nitzsche Remembered features many more photos.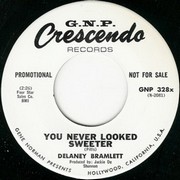 60s Los Angeles pop aficionado, Steven Evanich, contacted the site with information on three 'lost' Jack Nitzsche arrangements for Delaney Bramlett. Recorded August 4, 1964 at RCA Records studio, two of the cuts, "Heartbreak Hotel" & "You Never Looked Sweeter", gained a 45 release on G.N.P. Crescendo, while the third, "Tomorrow Never Comes", had to wait seven years until it was issued by G.N.P. on a 'cash-in' LP, "Genesis", credited to Delaney & Bonnie, although Bonnie only appeared on three cuts. The tracks were produced by pop goddess Jackie DeShannon, with Leon Russell tickling the ivories. The information comes not from the record label or sleeve credits but from a July 1999 'Discoveries' article on Leon Russell, written by Steve Todoroff. He started by cataloguing all mentions of his hero Leon Russell's session details from record labels and sleeve note credits etc. but as a true obsessive fan this was not enough. He contacted the L.A. Musicians Union in Hollywood and hired several of the staff to work overtime trawling their archives for mention of Russell. The 'Discoveries' article features some of the fruits of this labour with the details displayed in date, label, studio, artist, tune and session leader information, while the 'colour' is provided not only by label scans and photos but by recollections from Russell himself. Fascinating stuff! The planned book, Long Hair Music: The Leon Russell Story, should prove an essential purchase.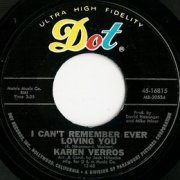 Strewth, I had forgotten just how powerful this cut is! Karen's phrasing, with her apparently stoic acceptance, wrings the emotion from the lyrics, while Jack Nitzsche's mature 'Wall Of Sound' arrangement (this ain't one for the kids but their elder brothers and sisters) builds and builds until the listener is left drained. Petula Clark released a cover on her "My Love" LP but, as good as her version is, it lacks the emotional involvement of Karen's original. It may have been the first release of "I Can't Remember Ever Loving You" on disc, but Jack Nitzsche also recorded the song with Tammy Grimes. I haven't heard it yet but it's an unreleased cut soon to be heard on Ace Records' "On Vine Street: The Early Songs Of Randy Newman" CD. Tammy's vocal and Jack's production of Randy Newman's "Nobody Needs Your Love More Than I Do" has long been a big favourite, so to hear another cut involving the talented threesome, possibly utilising the same backing track (it would seem hard to better) as Karen Verros, is almost too exciting to bear!
Nitzsche and Newman's collaborations have uniformly been excellent and with Jackie DeShannon's "Take Me Away" also on "On Vine Street" most are now available on CD. Perhaps the track that best displays their empathy, though, is "Let's Burn Down The Cornfield". It's not a grandiose production but the intensity of the performance leaves me shattered. It's one of my favourites by both artists.