Previous ROTW.... What you've missed! An archive of the ROTW's review and label scan. (part 7)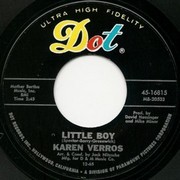 If anyone is thinking of sending a belated Christmas present, I am missing a few Jack Nitzsche records. Marry Clayton's "The Doorbell Rings" (Teldisc), Johnny Gamboa "Why Lover" / "She's Never There" (Star Revue) and Karen Verros "You Just Gotta Know My Mind" (Dot) among them. All three 45s, in different ways and with very different appeal are excellent examples of Jack Nitzsche's work. Not having stumbled across the first two 45s isn't that surprising, small labels, small pressing run and both having a big appeal to certain obsessive record collectors. The monetary value attached to the Karen Verros 45 though does cause me to raise an eyebrow. A comparatively large record label, the A-side is readily available on The Jack Nitzsche Story Vol.2, but twice I've been outbid on eBay for sums way beyond what I'd be willing to pay. Lacking the psychedelic appeal, apparently Karen's other 45 on Dot is even harder to come by. I bought my copy in heaven, well the nearest I've come to it so far, a record shop in Orange County for $4, back in the late 70s. So, as my belated Christmas gift, Nitzsche's second go at arranging a song he helped make famous with La La Brooks, The Crystals, Spector, Greenwich and Barry, "Little Boy". If you've been really good boys and girls I'll play the flip side in a month or two.
Released on Jack Nitzsche's own record label, Staccato, the artist name on the label is Johnny Storm. From the opening "I cried some buckets full of tears..." Johnny Storm is without doubt another nom-de-plume for Albert Stone. The disc is fairly beaten-up but as it's the only copy I have seen, or, until recently, knew existed. I'm not complaining, once you give it a listen I don't think you will be either. The lyrics and bluesy beat are a throw-back to the despairing rhythm & blues style, perfected so well in the fifties by Leiber & Stoller. As with L & S's vocal couplets, despite, perhaps because of, the abject misery of the lyrics, you can't help smiling. This guy isn't sad, he's desperate, wailing and screaming in total misery while the tears course down his face, a vocal tour-de-force. What brings this side bang up-to-date, for the early 60s, is Jack Nitzsche's arrangement. The music only heightens the pathos. The same skill that at the end of the decade was to unnerve; actually terrify, you in his score for "Performance" was already evident. The female backing vocalists, uncredited of course, but possibly include a future star of "Performance", namely the young Merry Clayton. Their gospel-tinged response to Johnny's grief completes the desolation.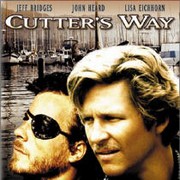 I share Ian Penman's view that "Cutter's Way" was the apex of Nitzsche's accomplishments, both as an author of film music and as a composer, full stop. This unsettling and poignant music was perhaps the best evocation of what Nitzsche once described as the emotions living in the cracks between the piano keys. The score was written for a quixotic and terrifyingly effective ensemble, comprising glass harmonica, harpsichord, bowed saw and the Armin Family's electric string quartet. Recorded by a then-unknown Daniel Lanois at his Grant Avenue Studios, the sessions for Nitzsche's score introduced Lanois's name to a larger public before Brian Eno entered the picture. Between the cloudiness of a Harry Partch tone poem and a mariachi band's brassy sentimentality, Nitzsche carved a space in which courage, tragedy and suicidal pluck could coexist. Incidentally, Leo Kottke's self-titled 1977 debut on Chrysalis works as a companion volume for the "Cutter's Way" score. in a better world this would have been billed as a duo effort, so integral are Nitzsche's arrangements to the album's form and mien. And always, the sound of his strings, so unique even when playing deceptively simple unison lines: strings were Nitzsche's sonic thumbprint, every bit as immediately recognisable from the very first note as a mid-70s lee Perry Production.
Richard Henderson
(Excerpt of a piece originally published in WIRE.)
Andrew Loog Oldham's book '2Stoned', the vastly entertaining sequel to 'Stoned', continues his trawl through the 60s as he lived it. Chronicled by ALO, as well other participants in those heady times, he has quite a lot to say about recording The Rolling Stones "(I Can't Get No) Satisfaction".
He describes earlier attempts at nailing what was to prove to be The Stones major breakout track around the world as hardly rising above the scumline or, of a later cut, "as if the Stones had done a version of the 1963 'Walk Right In' by The Rooftop Singers. This version called for striped shirts, Brylcreem, basket ball slacks and a time-out" This was to change though when the Stones had another go at the track in RCA's recording studio in Hollywood.
Now I'm not that blinkered in my appreciation of Jack Nitzsche to put ALL the success of the resulting 45 down to him but... According to ALO, as well as "the magical fuzz" and "bed of acoustic guitars" laid down by Keith Richard; "Jack Nitzsche played a stellar non-intrusive piano that glued the elements into that comfortable place." I've related this tale a number of times. Only problem is, as I've been told and my ears confirmed, you can't hear any piano on 'Satisfaction'!
Well, until now that is. With grateful thanks to a 'keeper of the faith' music lover who wishes to remain anonymous, the backing track has been made available to us. On this you can clearly hear Nitzsche's piano and understand ALO's appreciation of the role he played in the recording. Enjoy!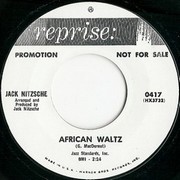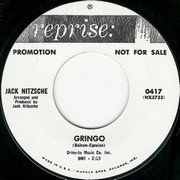 Jack's seventh, and last, single for Reprise Records was the usual eclectic mix of styles and sounds. "African Waltz", written and originally recorded by Canadian Galt McDermot (later to be best remembered for the musical 'Hair') in 1956 and made famous (or nearly) by Johnny Dankworth and Cannonball Adderley who both took their versions to the mid point of the U.S. charts in 1961, was given a tad more uptempo treatment and, if anything to my ears, actually improved on the 'originals' for that. Whilst still retaining its jazz roots, Jack's take on the tune gave it a whole brighter sound, even adding in some rock 'n' roll echoes along the way. But flip it over and behold "Gringo", a Jim Balcom(e)/Art Laboe tune that The Champs or Bobby Rey should have killed for. Both had their 1958 composition "Corrido Rock" in mind for sure when they wrote this piece, complete as it is rebel yells, Latin Rock styling and catchy trumpet phrasing throughout. There's also a nod in the direction of Herb Alpert who was cornering the 'Mexicali brass' market by the time this single came out in 1965. All of that said, it's almost certain that 'Gringo' was the filler track while Jack and Reprise felt 'African Waltz' was ready for another trip to chartdom. Sadly, as we now know, this was not to be.
Austin Powell
I thought it may be off interest to see the German picture cover and the Cashbox review kindly supplied by Harry Young. Interestingly the review shows 'Gringo' as the intended a-side but by the time the 45 had crossed the Atlantic 'African Waltz' was the intended hit.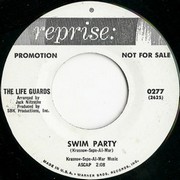 "Swim Party" was issued as the B-side of the 1964 single "Swimtime USA" by the Life Guards on Reprise. Bearing the writing credits of Krasnow-Sepe-Al-Mar the tune was seemingly a perfect example of the type of throwaway instrumental Jack Nitzsche could cut in the studio in a matter of seconds. Frantic use of castanets and some hot sax and guitar work really got the party going.
However, despite writing credits associated with the hustling trio of Martin Brooks, Robert Krasnow and Tony Sepe, "Swim Party" bears a striking melodic resemblance to a similarly titled demo by local pop commandos Phil Sloan and Steve Barri – the song being one of the duo's many early songwriting efforts that were tied in with the current swim dance craze. Perhaps not so coincidentally Sloan-Barri had not only written the Reprise A-side, "Swimtime USA", but also donned imaginary swimwear when masquerading vocally as the Life Guards.
As for the duo's own demo of "Swim Party", the somewhat low production value was more than compensated by Sloan's energetic vocal. Who can resist an opening line like "Dig that Suzy! Hey, what a dish. She knows how to move and she acts like a fish."? It is a shame that Sepe, Brooks and Krasnow, listed jointly as producers under the SBK Productions moniker, and Nitzsche, who arranged the session, did not enlist Sloan to also sing on the B-side bound "Swim Party". A good song that obviously could and should have been further developed was thus relegated to throwaway status.
Martin Rovang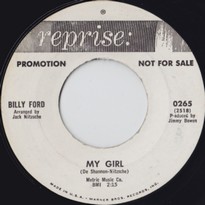 Bob Lind's concert at The Luminaire was the best show I've seen since... ooh Jackie DeShannon's at Dingwalls. Both songwriters were signed to Metric Music and are still pals. Before Bob flew out for his gigs he gave Jackie a call to ask how her UK trip had been. I'm sure it was positive, I know both performers are thrilled at the reception they received from their UK fans. The warmth of this greeting was due not only to the respect accorded their classic material as writers and performers but also for their work as contemporary artists, which has lost none of its passion or relevance. Jack Nitzsche's empathy served as a catalyst to both, and the body of work these three contributed to popular music is awe-inspiring. Guess I'm pleased to note that all the Bob Lind - Nitzsche recordings are available on CD, so I won't be playing them here, go buy 'em. But a few gems from the Jackie DeShannon - Nitzsche catalogue have escaped the silver discs. One of my favourites is this massive soul blast, written Nitzsche - DeShannon, arr by Nitzsche and sung by the powerfully voiced Billy Ford, (who may or may not have had releases dating back to '51). Amazingly I've not been able to turn up any other records by him after "My Girl" but the quality of this and its equally impressive flip, a version of "This Is Worth Fighting For" hold out the hope that other cuts remain in the can.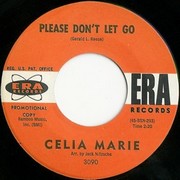 Michael Gleisner wrote to the site;
"I happened by your website and found, much to my delight, a performer who is very much dear to my heart and to whom I know quite well. You see, Celia Marie happens to be my mother with her actual name being Maria Celia Felix (maiden). She was born in California but raised in both Glendale and Tucson, AZ (she now resides in a suburb of Phoenix). She continued singing throughout her long career (lounges) and became quite a talented and professional jazz vocalist. Her powerful voice had matured considerably and coupled with her sophisticated phrasing and electric improvisation, she was strongly reminiscent of, and often likened to, the great Nancy Wilson. She truly was something else to hear in person but unfortunately she no longer performs. I was so happy to have found something written about her."
Celia Marie's "Please Don't Let Go" and her Previous ROTW cut "Walk With Me" both display the strength of her vocal. Just the one 45rpm was issued but hers is an interesting, albeit typical, story of a shady manager, lots of hard work for scant financial reward and young love. Certainly too much info to fit into the format of the ROTW. I'll collate the stories told to me by Michael and feature them soon in the 'Records Review' section of the site.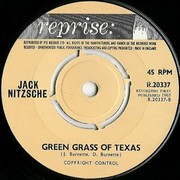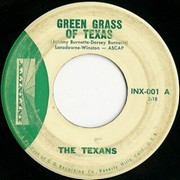 I received a email regarding the Prod. Ron Barrett pages from Andreas (Andi) Grabsch. He pointed out a spelling mistake and had a question or two. As a companion to his main "Good Golly Miss Molly" site, Andi has some pages devoted to the writer of many classic Little Richard records John Marascalco and his label Infinity Records. I'm afraid my German isn't that hot, but it looks an interesting site with a growing collection of Infinity label scans. Ron Barrett had a 45 released on that label and Jack Nitzsche arranged a rather coveted 'Northern Soul' release for Billy Storm. I shared with Andi my hunch that Jack Nitzsche may have arranged the first release on the label, The Texans' (commonly accepted as being Johnny and Dorsey Burnette) "Green, Green Grass Of Texas". I'm a bit of a sucker for instrumentals and like this a lot; I was 'shocked' at Andi's response which was "totally simplistic... There is not really any arrangement... Do you really like it?!". Maybe there aren't many musical gymnastics, unless you count the way the track builds, I do, but as mentioned in my last ROTW review the track sounds 'right'. Nitzsche himself covered the tune a couple of years later on Reprise, with a similar arrangement but apparently he felt the need to woosh it up a bit. And here we do get a bit of 'trademark Jack Nitzsche' sweetening.
Andi sent an email, as well as promising to get his labels scans up on the site, he supplied a web link to an excellent Johnny & Dorsey Burnette discography. It confirms The Texans were the Burnette brothers AND lists a '59 release date. This does seem to rule out a Nitzsche arrangement but why was the release delayed for two/three years? And with no actual recording date or studio information given, I cling to my hope!
The mail continues to arrive regarding Jack Nitzsche's theme music for '9½ Weeks'. The latest, from Paco in Spain, contained an intriguing YouTube link. Entitled "Ending Music from 9½ Weeks" it's a beautiful piano piece, excellently presented by 'Parkthoven'. Play the YouTube video and then give a listen to Nitzsche's actual theme which I've taken from the DVD, entitled "By The Time I Count To 50". Coming at the end of Elizabeth (Kim Basinger) and John (Mickey Rourke)'s passionate love affair it's easy to understand the emotional strings Jack's music is playing with. Just watch and listen to films as varied in subject matter as Performance, Stand By Me, Hard Workin' Man, One Flew Over The Cuckoo's Nest and Starman, among many others, and without always realising, your feelings have been shaped by a master. The music doesn't scream Nitzsche rather, as with his arranging and producing, whatever mood the film, song or artist needs, Jack's magic creates it. He had his insecurities, but this self-doubt never seemed to cause him to question his musical talent, nor did he feel the need to be 'in the face' of listeners with a kind of "hey, you're listening to Jack Nitzsche", 'trademark wiz-bang'.
So what happens? You leave the movie theatre desperate to relive the moment, buy the soundtrack and be bitterly disappointed. Instead of heart-wrenching melodies you get pop-pap. There's nothing wrong with the chart hits but, as my post bag shows, it's Jack Nitzsche's music that helps reflect the drama on screen. And, sadly in the case of "Nine And A Half Weeks", this remains not only unavailable but the themes unnamed.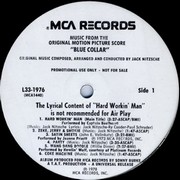 I was sure that the new Jack Nitszche CD comp, "Hard Workin' Man", would include the rare 'obscene' version of the title cut from the film "Blue Collar". But contact with this website confirmed that the whale got away again, making me, apparently, the only person on the planet who has an official audio issue of this alternate vocal.
I dug my copy out of a thrift store box in New York, where promotional copies of almost anything were very common until Reagan changed the charity tax laws. It is on an advanced copy of the entire soundtrack LP (see scan). This only figures for a Captain Beefheart item, as his career was littered with issues on labels just starting out (Buddah, Blue Thumb, Straight, Bizarre) that had troubled distribution. This superior version, almost unheard, was only sent to radio stations who would be legally incapable of broadcasting it unless they censored it themselves, so those few who actually got a copy probably tossed it immediately. I have literally the only copy I have ever seen or know of among Beefheart aficionados. To give you a whiff, the singer is grappling with a 'shit ass foreman' and is a 'hard workin' fucked over man'.
The recording in any version is very interesting anyway as a reunion between Beefheart and Ry Cooder (who quit the "Safe As Milk" Magic Band just before they were to play The Monterey Pop Festival) although, as the backing track is identical on both versions of the song, they may not have actually performed in the studio together.
It may never see the light of CD but not to despair - this version actually begins the film, which is on DVD (the rarest version is actually the censored obscene version made for American television broadcasts). The DVD recording is marred somewhat by machinery sound effects and a bit of dialogue overlaid at the end; but the film is excellent if extremely downbeat, so twice worthy of purchase - until someone finally gets their hands on it for a CD issue.
John Ellis
John Ellis is a longtime devotee of Captain Beefheart and has written articles for Goldmine & Forced Exposure, among other publications.
He's also hosted several annual Beefheart birthday radio shows (on which he played the offending cut once) for WNYC's "Plastic Tales from the Marshmallow Dimension". He is the author of plays about Marc Blitzstein, 'Blitzstein Strikes Back', and 'On Will to Love', the rather obscene love story buried in Shakespeare's sonnets.
Thanks John for the review and suppling the label scan and mp3.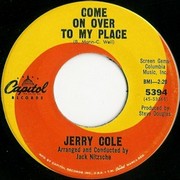 Jerry Cole's cover of Mann-Weil's "Come On Over to My Place" manages to make The Drifters' original sound soulful. The Drifters might not have too much to worry about in the vocal department but for a overtly pop record this is prettty good, especially as it's the b-side. Sax, hand- claps, girly chorus, bouncy beat, there's even a mouth-organ in there. What, besides dubbed party noises, could possibly make for a more fun, good-time record? Like it or not, after a couple of plays it spends the rest of the day swimming around your head. I'm of the opinion that Dave Walton's recording of the A-side, "Every Window In The City" is better served by Irving Martin's production than Jack Nitzsche's arrangement. But Mr. Cole has been coming in for even more stick on Spectropop recently. Despite being one of the busiest session players on the West-Coast, recording under his own name and various pseudonyms, Cole has apparently taken the credit for recordings he wasn't involved in. I have a lot of sympathy for Mr. Cole, ask me what I did yesterday and I'm likely to draw a blank, let alone 20, 30 or 40 odd years ago! Even Jack Nitzsche when asked about "You've Lost That Loving Feeling" commented that he "felt" like he'd arranged it!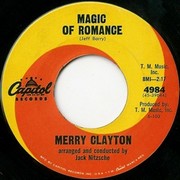 Hitching a ride on the coat-tails of Laura Pinto's enjoyable Spectropop article Mr Music Man - A Glimpse into the Life and Career of Jeff Barry is a solo Barry composition, "Magic Of Romance". I guess for most of us, as soon as Barry's name is mentioned, the mind automatically links to Ellie Greenwich, or if you're groovy, maybe Tony Powers, Artie Resnick and Andy Kim squeeze in, but rarely, if we're thinking 'Brill Building Pop', does Barry's solo writings get much of a look in. "Magic Of Romance", unlike his desperately sad "Anyone But You" by Ruth Brown (produced Phil Spector) or the sneering "You Ain't As Hip As All That, Baby" by Jay and The Americans, is lyrically at least, classic Greenwich/Barry. The young Merry Clayton glorifies the feeling of being in love while the Blossoms, more conservatively, egg her on in the chorus with a 'shoo-bee-doo-bee-magic' refrain - echoing the shoop-shoop of its more illustrious a-side flip "It's In His Kiss". The rinky-dink production and the restrained arrangement doesn't really do it for me but it's a good song and it's easy to understand why there was so much excitement about Merry Clayton's vocal prowess.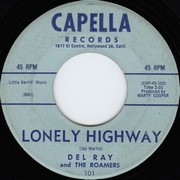 In Stephen McParland's book, "Surf Music U.S.A.", he quotes John Blair's sleeve notes from "Cowabunga! The Surf Box":"The melody of 'The Lonely Surfer' is very similar to that of 'The Lonely Highway' by Del Ray And The Roamers, issued on Capella 101 in July, 1960." Intrigued, a web search led me to Dick Rosemont's Originals Project site. With lots of info and obscure records it's easy to spend a few hours wandering around and whilst there do check to see if you can help him out his with 'wants list'. Dick kindly supplied the label scan and mp3 used here and yes, the melody of "Lonely Surfer" and "Lonley Highway" is VERY similar. This isn't quite as surprising as it may at first seem. Marty Cooper co-writer, along with Jack Nitzsche, of "The Lonely Surfer", was, as revealed on Marty Cooper Producer's site the owner of Capella Records, Little Darlin', his music publishing company, and he's the producer. I've since sent Marty Cooper an mp3 of "Lonely Highway" and he's confirmed that Jay Martin, the listed writer, is in fact him using an alias.
Gary Myers in a Spectropop message suggested an even earlier blueprint for "The Lonely Surfer".
"I always figured "The Lonely Surfer" was inspired by Duane Eddy's "Lonely One" from 1959 - take the latter's 1st 4 notes, but repeat the 2nd one (do), then raise the 5th melody note 1/2 step and change the chord from vi to bVII."
Stephen McParland passed on an email regarding this ROTW from John Blair, I've quoted from part of it: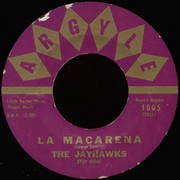 "Both sides of the Capella 101 single were reissued on Argyle 1005 as by The Jayhawks!!!! Marty Cooper ---> Jay Martin ---> Jayhawks, I suppose. Attached are label scans of both sides. Notice that "Lonely Highway" is written by Jay Martin, but "La Macarena" is by George Temple (also published by Little Darlin'). However, the same track on the Capella single is by A.O. Calero & B.B. Monterde and published by Peer International. OK....."La Macarena" (the better side, IMO) is subtitled "The Bull Fight Song" on the Capella single, but not on the Argyle release. While I'm not sure when the Argyle single was released, it was almost surely later than the Capella single, which has a delta number (June/July, 1960). For a 1960 guitar instrumental, there's enough reverb used on "La Macarena" to put it in the "proto-surf" category". John Blair
Interesting stuff! John supplied the attached label scan which for limited period is 'click to play', it really is a cool number with a great production. I have written to Marty Cooper for more information but haven't received a reply as yet. Argyle operated during 1961, I've found five other releases, without any obvious Cooper involvement, that seem to be reissue's of earlier rock'n'roll sides. BMI lists the writers of "La Macarena" as Bautista Monterde Bernardino & Calero Ortiz Antonio but for "Macarena" a third writers name is added, Dorothy Dodd. I assume it's a 'standard' Spanish/Mexican tune, any further info gratefully received! Stephen McParland adds an amusing PS.
"Dorothy Dodd is Australian (or at least was living here - I never met her). Many years ago, when I was working as a land surveyor, the guy I was working with belonged to a local lawn bowls club. Every year they held a musical revue and Dorothy was the person who organised and wrote for it! She wrote the English lyrics for Granada and probably did a similar job for La Maracena!"
Stephen McParland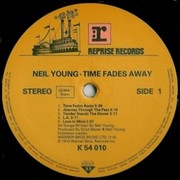 Great 'lost' albums...part 436: Neil Young "Time Fades Away" (Reprise 2151)
Peace, love and who gives a shit about understanding? Hippie Neil Young pissed people off from the outset, and his latest release, "Living With War", demonstrates that he hasn't lost the touch. Throughout his career he has seemed determined to test the loyalty of his legion of fans with every new record and concert; "Time Fades Away" was and remains one of his most contentious. After Young's stint with Buffalo Springfield, three successful solo LPs (particularly the praise afforded "Harvest") and work with Crosby, Stills, Nash & Young, the fans and critics were beginning to think that perhaps they did understand him. Consternation, anger, bewilderment and yes, to a few, delight greeted the 'Time Fades Away' tour and subsequent LP. Instead of performing what was expected, a 'Greatest Hits' package, his set was made up of not only mainly new material but the angry angst was 'country' without any good time feel. Tales of the tour, as described in Jimmy McDonough's biography, "Shakey", make for harrowing reading and certainly following the dismissal (and subsequent death) of Danny Whitten from the rehearsal sessions it couldn't have got off to a worse start. The remaining musicians, dubbed The Stray Gators, were talented but largely un-tested, at least in performing on stage, with Mr. Young. (Continued in Part 2)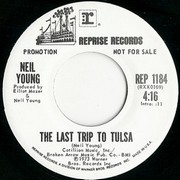 continued... Neil Young's starring role extended to a separate floor at the hotels the group shared, turning up late for rehearsals and often being the worse for wear on tequila. The band wrangled over money, struggled to cope with Young's inconsistent musical demands and they all shared the stress of the tour. Add to this tense and volatile mix Mr. Jack Nitzsche, whose behaviour, caused among other things by frustration at Young's un-professionalism, was bizarre in the extreme. Young asked his buddies David Crosby and Graham Nash to help, but although they eased Young's vocal burden they didn't help the mood of the tour, both having their own problems. Due perhaps to unpleasant memories of the tour, Young has no love for the LP and has vetoed a CD release. Actually though the material stands comparison with Young's major works. The barely suppressed rage, Young's cracked vocal and the naked beauty of tracks like "Journey Through The Past" (solo Young on vocal and piano) make for compelling listening. The album has been reassessed by critics and fans alike and an on-line petition has been set up pleading for a CD release. Young's quite a collector himself; sure he'll understand his fans request. Can we expect a "Time Fades Away" (with bonus 45rpm cuts such as "The Last Trip to Tulsa") CD? I wouldn't hold my breath! Jimmy McDonough's "Shakey" has the most innaresting stories I've read of the tour but there is lots of stuff to be found on the web.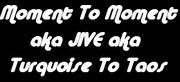 Robert Downey, (no, not him, not Junior but his dad) first made a name for himself in New York in the 60s with short B/W art-house films. Putney Swope, released in 1970, was his feature-length writing and directorial debut. It was a satirical, anti-racial piece and it may have been filmed on the cheap but it made enough of an impression at the box-office to garner proper backing for his next project, "Greaser's Palace". The anarchic Downey could not fail to have been intrigued by Jack Nitzsche's unnerving score for "Performance" and he approached him for his planned blockbuster. Denny Bruce in his essay for Rhino HandMade's "Three Piece Suite - The Reprise Recordings 1971-1974" recalls their meeting and subsequent work and friendship. "Jack and Robert became the best of friends... After "Greaser's Palace" was 'in the can' they both came back to L.A....In late '73 he and Downey were trying to get financing for another movie...Mo [Ostin] decided to give Jack and Downey a shot at working on a Jack Nitzsche solo album". Downey and Nitzsche's movie "Sticks And Bones" (which I've not seen) came out soon after "Greaser's Palace". Their LP release had to wait until 2001 but "Jive aka Moment To Moment" the film I guess they tried to get backing for, was distributed in '76. Maybe not as lush as planned, it is an interestingly bizarre L.A. character piece, matched by Nitzsche's score. The music and sounds - many that had previously been, or were soon to be, heard in different forms - are mainly split (as is the film) into tantalising 'moments'. Here are a few of the segments. Please excuse the sound quality.
Around the time Jack Nitzsche was recording his solo LP, "St. Giles Cripplegate", working live and on record with Neil Young and Crazy Horse, recording with The Stones and Buffy St. Marie, he was hanging about with new buddy, Robert Downey. I'll play some of their stuff from "Moment To Moment" next, but in the meantime, how's about this rocking boogie woogie from the film "Greaser's Palace"? In the film Jack can be glimpsed playing guitar, but I'd like to think for the recording he's the one hammering the keys.