Previous ROTW.... What you've missed! An archive of the reviews and label scans. (part 5)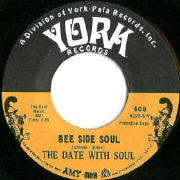 Three years after it was first unleashed, the third time issue, in 1967, of "Yes Sir, That's My Baby", failed to charm. The record was finally taken off life-support, only to become legendary among record collectors some years later. Each of the three releases features a different mix of the A-side, as well as a different B-side. The York release has the hottest, most vibrant of the mixes, a fact that gives "Bee Side Soul" (the instrumental backing track) more sparkle than it would have had if it had been the flip of the Apogee or Reprise issue. If you've ever wanted to explore your inner Edna Wright, this karaoke opportunity will afford you the chance to belt with abandon; be sure to invite 40 of your closest friends to form the choir behind you.
Unlike most backing tracks issued as B-sides, this one stands admirably, and could have easily found a place on Jack Nitzsche's "The Lonely Surfer" LP. It makes me wish there were more Nitzsche tracks available for study, as an intent listen offers great appreciation for his genius. Consider, for example, that the melody is doubled in the arrangement for only six bars in the middle of the song; the rest is all ebb-and-flow countermelody that deliciously complements the vocal parts, giving emotional emphasis. On the vocal version, Edna's powerful lead, and the massed chorus, command the listeners' total attention. So it's a revelation to hear the "bed" Ó la carte; one quickly learns that it took much more than the superstar singers to make "Yes, Sir.." the force that it is.
All that said, the music in the grooves had to have sounded anin 1967, and the failure of the York release is easier to explain away than the two from 1964. In fact, as grateful as I am for the opportunity to experience the backing track on its own merits, I have to wonder whether Greene and Stone (York's owners, tellingly credited as co-producers on this disc, unlike on the other two) were deliberately issuing a tax deduction.
Trivia note: The Satisfactions, with Jack's wife Gracia singing lead, recorded their own version of "Yes Sir, That's My Baby" for their unreleased LP; presumably, that 1966 effort (new vocals over the existing track) would have sported yet another mix.
David A. Young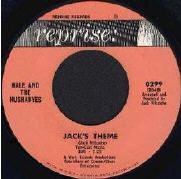 Reprise knew a good thing when they heard it, and in August 1964, a few months after it flopped on Apogee, they reissued the mighty "Yes Sir, That's My Baby" by the once-in-a-lifetime studio supergroup dubbed, for the purposes of those two releases, Hale and the Hushabyes. Like its predecessor, Reprise 0299 featured what has come to be known as a "throwaway instrumental" on the flip side, this time a ditty entitled "Jack's Theme", with composer, arranger, and producer credits all going to our Mr. Nitzsche.
Since the master was leased, Reprise made up consecutive matrix numbers that were consistent with their own releases for these two sides, so it's difficult to determine when "Jack's Theme" was actually committed to tape. Jack's previous release under his own name had been Reprise 0285, "Theme from 'The Long Ships' " (matrix number 2749); the next was Reprise 0337, "Green Grass of Texas" (3039). Perhaps "Jack's Theme" (2848) really was recorded between those two specifically for the purpose of backing the Reprise issue of "Yes Sir..." I suppose until we hear from someone that was there, we'll never know.
As has been noted previously at Spectropop, this marked the second time Jack Nitzsche's name was referenced in a B-side title, the first being "Flip and Nitty," the other side of November 1962's "Zip-A-Dee-Doo-Dah" by Bob B. Soxx and the Blue Jeans. (A different tune written by Nitzsche and also titled "Jack's Theme" appeared on the 1980 "Heart Beat" soundtrack, but referred to one of the film's subjects, Jack Kerouac.) "Jack's Theme" is an ironic title for the number under scrutiny here, though, since it sports none of the devices that make so much of his work from the period instantly identifiable. Instead, it's the essence of unashamedly blissful na´vetÚ, standing in deliberate, simple contrast to the sophisticated grandeur of the inexplicably unsuccessful top deck. Listening to it today provides a bittersweet reminder of the difference between the carefree times that spawned it and the troubled world in which we live now.
David A. Young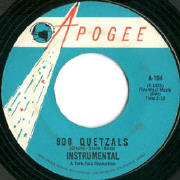 As most reading this will be aware, Apogee 104 was the first of three 45 rpm releases of "Yes Sir, That's My Baby", in anyone's book a Nitzsche career highlight whose story is oft-enough told that it doesn't bear repeating here. (If your memory needs refreshing, click here .) Each of the three discs featured a different instrumental flip, the first of which, "900 Quetzals", appears on this spring 1964 issue.
Harold Battiste, when interviewed for Rick Wilson Hough's Sonny & Cher tribute site, commented on the series of B-sides, like this one, containing the word "Quetzal" and attributed to Greene-Stone-Bono: "Often, when we were finished doing a session, Brian and/or Charlie [Greene/Stone] would ask me to 'make up' a little something to put on some B-sides. I knew they wanted to not use a good track... What I did NOT know was that the 'little something' I made up would become a copyright for them and their publishing company. It just never occurred to me that they, or anyone, would do that to me."
The phrase "throwaway instrumental" is justifiably applied to any number of B-sides of the era, but this one offers somewhat deeper aural gratification than most of its ilk. The piano-driven combo turns in a credible performance, rather than merely going through the motions as occurred on so many such "filler" sides. Even at their laziest, the Wrecking Crew knows how to get it done, and it sounds like they've had a couple of double espressos here.
"900 Quetzals" doesn't boast the most compelling melody, granted, but the entire purpose of the "throwaway instrumental" genre was to deflect attention to the other side of the record for maximum exposure. Despite its limitations, though, the tune succeeds in conveying a sense of urgency, playfulness, and excitement, and is perhaps an even more satisfying listen today when heard in "time capsule" context than it was when it was new.
David A. Young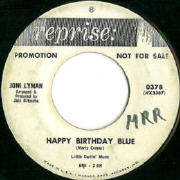 Tucked away on the flip of Joni Lyman's version of Bachrach and David's "I Just Don't Know What To Do With Myself" is a Marty Cooper song, "Happy Birthday Blue". Nitzsche's subdued, stately, Spector styled A-side is well known to girl group collectors but, even amongst this die-hard breed, the b-side remains relatively unknown. Even the writer of the song was unaware of the cut.
Originally released by The Victorians, (Gloria Jones and significant others - surely, one of the closest acts to girl group heaven), arranged by David Gates and produced by Marty, the song is a classic of the "It's My Party" genre; "Sixteen candles glowing on a cake, 16 reasons for my heart to break..." (Hard to listen without a lump developing in the throat :-)
Teenage angst knows no dateline but as much fun as the record is, for its time, mid 65, it's quite an old fashioned release. It wouldn't surprise me if Nitzsche's use of the song wasn't a 'thank you' to Marty for their earlier work together. Despite the big pop production, the twangy lead guitar lines and a bit of a complementary twang in Joni's voice create (to quote Marty Cooper) "A Little Bit Country, A Little Bit Rock 'N Roll".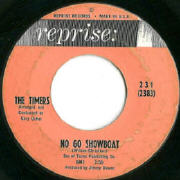 Written by Brian Wilson and Roger Christian, "No Go Showboat" was first heard on the Beach Boys' "Little Deuce Coupe" LP. Despite a beautiful and rocking cover, recorded in French, by Petula Clark, my favourite, and one of the hottest hot-rod 45s, is The Timers' version on Reprise 231. To aficionados of the genre, the history of the recording is fairly well known. The Timers were a studio creation of the credited arranger & conductor, Gary Usher. He shared lead vocals with Brian Wilson who also, apparently, helped with the arranging. The Castells, Chuck Girard and Joe Kelly provided the background harmonies. The label credits Jimmy Bowen with the production, but perhaps his greatest skill as a producer lay in recognizing the talents of others. Jack Nitzsche, Mark Wirtz and Gary Usher were just three of the artists Jimmy let loose in the studio to do their own thing.
Stephen McParland reveals, in Vol.1 of "The California Sound, An Insider's Story - A Musical Biography of Gary Lee Usher", that Jack Nitzsche was actually in charge of the 4½-hour session. Apparently leaving Gary and Brian to it he nevertheless wrote the score. I'd assume Jack also assembled the musicians. This was the first time Gary had used such an all-star cast, featuring, Hal Blaine, Steve Douglas and Leon Russell amongst them. The session also provided the b-side, "Competition Coupe", and another hot-rod/surfin' must-have, Soupy Sales "Santa Claus Is Surfin' To Town", with an instrumental take of the tune on the b-side. This 45 is clearly identified as a Nitzsche arrangement.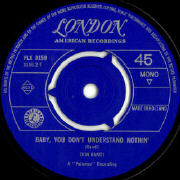 If Jack Nitzsche had recorded a version of 'Exodus' on his album 'The Lonely Surfer', it probably would have sounded a lot like this. Wrecking Crew regular Randi (who shared keyboard duties on the latter album with Leon Russell) plays with passion across the emotional gamut, sometimes banging the hell out of the poor instrument to make sure you notice him above Nitzsche's riveting, lush, and dramatic arrangement. Trademark flourishes abound, from finger cymbals and hand-plucked violins to suddenly surging - and very sexy - string lines that threaten to hit the supersonic as well as three-rising-half-step devices that achieve an effect similar to a key change without all the trouble.
As is to be expected with Nitzsche's work from 1964, the Wall of Sound is an obvious influence. Furthering the Spector connection, the sleeve for the Dutch release reads 'PHIL SPECTOR presents: DON RANDI and his mysterious PIANO' (Click here for a scan and more information.) One's left to wonder just what was supposed to be so mysterious, and there are no hints to be found on the flip, 'Mexican Sunset'. The greater mystery here is the song title, which sounds more like the name of a throwaway B-side than the memorable contribution to the Nitzsche oeuvre that it is.
It's too bad this gem didn't make it to Randi's Nitzsche-arranged LP, 'Mexican Pearls'. Not only would it have been the strongest track by far, but it also would have offered a chance to explore the song's deeply rich complexities in stereo. Perhaps it's not too late; could there be a place for it on 'The Jack Nitzsche Story, Vol. 2'?
David A. Young
Thanks to David for the review and also for providing the original mp3 and label scan.
It's very rewarding collecting an artist as hard working as Jack Nitzsche, as his name is tucked away on so many record labels. There is the problem though of the number of records he arranged but did not receive a visible credit. Through the kindness of many visitors to the site, a number of hitherto unknown recordings have been revealed, but I fear these are only the tip of the iceberg.
Jack is credited as arranger on a few ERA and many of its subsidiary labels. Acts such as The Castells and The Moments bear the visual evidence. But there are many other records on the label that are most likely arranged by Jack. Albert Stone's "Blue Shadow" / "Not In Vain" for instance, sounds like, and bearing in mind Jack's history with the artist seems most likely to be by, Nitzsche. However, to make an entry in the discography, the evidence needs to be more concrete. Happily, such is the case with Bruce Cloud's "A Little Spark Of Fire". Stephen McParland was able to confirm this as a Nitzsche arrangement after catching a look at the American Federation of Musicians contract sheet.
Sonically, the record has Nitzsche written all over it: Swirling strings, a strong rhythm and girly chorus you feel rather than hear. It's a good song, albeit derivative, trumpeting the strength and endurance of true love. The b-side, "I Waited", written by Al Hazan, was previously featured on the site by virtue of being a rocking cover of Terry Day's "I Waited Too Long", arranged and conducted by Nitzsche. It's a cool record, but one that is fairly hard to track down.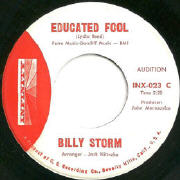 If Northern Soul is pure dance music, "Educated Fool" fits the bill nicely. Although it's early for a 'Northern' 45 (from 1962), which generally take a cue from the later Motown dancers, the beat and rhythm are just right. Billy gives a great vocal performance, the back-ups are not too 'pop' sounding (which is often a problem on early Soul records) and it drives alone solidly enough to work on a Northern Soul dance floor.
Subsequently it currently carries a price tag of up to 50ukp, not expensive for a Northern Soul 45. The early organ sound gives it a nice hook and it's a great song too; nice lyrics with a 'once bitten, twice shy' theme and being led astray by a flirty bad-girl.
Mr Storm had been busy in the 1950s on the L.A. Doo-Wop scene, working with the same guys but using various group names, notably The Valiants, who recorded a version of Little Richard's hit "Good Golly Miss Molly", written by John Marascalco - who produced "Educated Fool"!
Simon White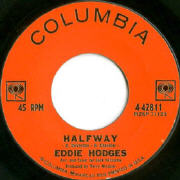 Eddie Hodges recently wrote to the site with some memories of working with Jack Nitzsche. I'm very pleased to print his comments on The Jack I Knew page. Eddie has also written of his time in the studio with Jack and Terry on the Terry Melcher pages. The Eddie Hodges track I've chosen as the ROTW fittingly features Terry as producer and Jack as arranger. "Halfway" was his last 45 on Columbia but not his last collaboration with Jack Nitzsche. Some splendid sides were later recorded on Aurora.
Interestingly with "Halfway", an excellent Barry DeVorzon - Bodie Chandler composition, is the chance to compare Eddie's vocal prowess with two of the finest vocal harmonizes, Bruce And Terry. The Nitzsche arranged backing track was used by Melcher and (Bruce) Johnston but remained unreleased until Sundazed's '98 CD release, "The Best Of Bruce And Terry". The songs lyrics attempt to understand the fairer sex, "Oh why can't you meet me, halfway once in awhile, that's all I ask of you is that so very hard to do?" are tailor-made for a teenager frustrated by his love. Eddie handles the vocal perfectly with just the right amount of incomprehension and sadness in his delivery. I guess Bruce And Terry's maturity weighed against them. They do not convey the heartfelt angst so effortlessly expressed by Eddie. As enjoyable as it is I can understand their release staying in the can, what I can't understand is how Eddie's failed to burn-up the charts.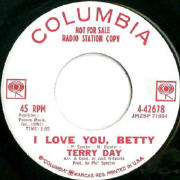 To mark the launch of the new Terry & Jack pages, one of Terry Day's own discs has been designated the new Record Of The Week - "I Love You Betty". Terry recorded two solo 45s for Columbia, both of which were arranged by Jack Nitzsche. The first, 1962's "That's All I Want"/"I Waited Too Long", was produced by Al Hazan, while Phil Spector produced the second, "Be A Soldier"/"I Love You Betty", released the following year. The Crystals had recorded "I Love You Betty" previously as "I Love You Eddie", but it's possible that Spector and Hank Hunter wrote the song with Connie Francis in mind. A casual listen reveals no major differences between the Crystals and Terry Day versions, but the latter does boast one vital ingredient missing from the former - a typically grandiose Jack Nitzsche string arrangement. The Crystals' rendition, cut in New York with Spector arranging and producing, was recorded as an album track, while Terry Day's was obviously made specifically as a single, making it the bigger and, some might say, better of the two versions. To be filed alongside such other great Jack Nitzsche-arranged versions of songs first cut by the Crystals as "Another Country - Another World" by Bobby Day and Keely Smith's "No One Ever Tells You". Now, if I could just bag myself a copy of the original picture cover.
Mick Patrick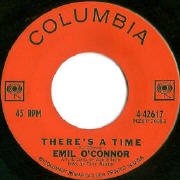 Two previous Emil O'Connor tracks have featured as the ROTW: the unreleased, Al Hazan written, "I Wanna Be There" and the Phil Spector/Terry Phillips composition, "Some Of Your Lovin'". Both resulted in a huge postbag. Continuing the build-up to the release of the 'Terry Melcher pages', this week's ROTW is the flip of the latter track, "There's A Time". On this occasion Emil wrote the song but the producer and arranger team of Terry Melcher and Jack Nitzsche remained the same.
It's another powerhouse, soulful vocal, this time on a novelty-dance item similar to Jewel Akens' "The Birds And The Bees" which it name-checks. The feel of the song though, especially with Darlene Love's prominent vocal, is closer to Big Dee Irwin and Little Eva's Dimension label duets.
Despite Emil's awesome voice, his released recordings are as rare as hens' teeth. I know of one earlier 45 and a pair of tracks that sneaked out on an ACE CD. Does anyone know of any others?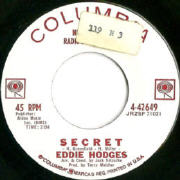 Released in '62 Eddie Hodges, "Secret" was only the second record to bear the credit, 'Produced by Terry Melcher arranged and conducted Jack Nitzsche'. The pair (and Eddie) were already sparkling. Ace's soon come Nitzsche compilation passed over this side in favour of, a previous ROTW, the flip, "Seein' Is Believin'". Mick Patrick and Tony Rounce can't be faulted for their choice. "Seein'..." with it's impressive cast and Spector sound is a very special record. Not that "Secret" isn't deserving of your attention. A super intro, traditional girly backing, trademark Nitzsche strings, melodic lead from Eddie in the Bobby Vee mold; it featured all the ingredients for a teen pop hit. With the pedigree of the 'Brill Building' team of, Howie Greenfield and Helen Miller as writers, the recording deserved more attention than it received.
This is the first of a mini-series of tracks to herald the "Producer's" page featuring Terry Melcher. This will be on the site soon, watch out for it!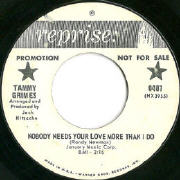 While deciding which musical delight to thrill you with this week, I was pleased to find that I haven't yet played one of my all time favourite tracks, namely Tammy Grimes "Nobody Needs Your Love More Than I Do" (Reprise 0487) '66. As with much of Jack's work, a first glance would not identify an artist seemingly suited to prime rock'n'pop material. Tammy Grimes is best known for her stage work and show tunes. On this recording, however, she is amazing. Imagine Shirley Bassey with attitude, Tom Waits in a dress, Edith Piaf with rhythm and Eartha Kitt with a drink problem! It sounds as if Jack had dragged her away from a downtown blues bar, sobered her up just enough to be able to read most of Randy Newman's lyrics and then built the most glorious Spectorian production around her vocal. File the record under, breathless, heart-stopping magnificence.
A cool website has an excellent listing and review of Randy Newman's compositions. Unfortunately, in this case, Tammy's recording is described as a 'comparatively syrupy version on Reprise.' The writer needs his ears syringed!