Mambo Gee Gee
THE STORY OF GEORGE GOLDNER AND TICO RECORDS
by Stuffed Animal




PART TWO:
¡Qué sabroso está!
MAMBO USA, MORRIS LEVY & RHYTHM'n'BLUES





Goldner embarked on a frenzy of recording activity in 1951, making up for lost time. He and engineer Allen Weintraub practically took up residence at Bell Sound, which, along with Broadway Studios and A & R Recording, was one of his favorite recording sites for Tico sessions. The following year, the label issued 27 ten-inch record albums on Tito Rodríguez, Tito Puente, Leal Pescador, Joe Loco, Pupi Campo, and two anonymous groups of pick-up musicians, Los Rumberos de Cuba and the Tico Orchestra, culled from both new and old recording sessions.

By 1956, the records were selling briskly enough for Tico to inaugurate a 12-inch LP series. No less than thirty long-players hit the market that year; it was an all-time production high. Goldner continued to expand his artist roster. Conguero Mongo Santamaría took a break from Tito Puente's band to cut a solo session, and vibraphonist Pete Terrace quit Joe Loco's band to form his own quintet, The Latin Boys. However, Goldner hardly needed to cannibalize existing acts to acquire new talent - it was literally flocking to his door. By 1954, his new signings included three veteran Cuban bandleaders: José Fajardo and Rosendo Ruíz, Jr., who specialized in the hot new rhythm called cha-cha-chá, and Arsenio Rodríguez, whose lusty guitar-playing added a piquant new flavor to the mambo. Also welcomed to Tico was Alan "Alfredito" Levy, a Jewish percussionist whose mambo band ranked with the best; celebrated Mexican troubadours Trío Los Panchos, masters of the bolero ballad form; and José Alfredo Jiménez, the portly singer/songwriter who was already being hailed by some as Mexico's greatest composer. From the Dominican Republic came Ricardo Rico and his merengue band, and from the Palladium Ballroom bandstand came Machito and His Afro-Cubans. With Machito's signing, George Goldner managed to corral all three of the Palladium's biggest stars.
The beauty of having an act like the Afro-Cubans on your label was that it was like getting three stars in one package: Frank "Machito" Grillo and his sister Graciela Pérez, two incredibly charismatic vocalists, along with their brother-in-law, music director Mario Bauzá, an unapologetically progressive horn arranger. Bauzá had roots not only in Latin music but also in the great swing ensembles of Cab Calloway and Chick Webb. He hung out with guys like Dizzy Gillespie, Buddy Rich and Charlie Parker, and there was no telling who'd show up to lend a hand on record dates Bauzá supervised. After singing for Xavier Cugat, Noro Morales, Alberto Iznaga and other bandleaders, Machito had his fill of working for other people. He resolved to form his own band in 1940, recruiting Bauzá the following year. By the time Graciela arrived from Cuba in 1943 to substitute for her brother, who'd been drafted into the Army, the Afro-Cubans had been installed as the house band at Manhattan's Club La Conga. The club broadcast their sets over station WOR, and they became a sensation. Bauzá's fusion arrangements won them the patronage of important jazz disc jockeys like Fred Robbins, and the admiration of established jazz stars like Stan Kenton.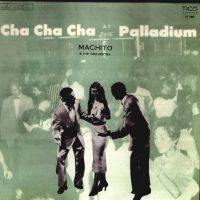 In 1947, promoter Federico Pagani hired them as one of three house bands at the Palladium, where they came under George Goldner's direct scrutiny. Machito and company began their decade-long tenure at Tico Records with a 10-inch album of cha-cha-chás, and each successive release got hotter and hotter. The hottest was probably "Sí, Sí, No, No", a record in which Graciela vocally approximated an orgasm while Machito gleefully egged her on. A live recording originally released on Columbia Records, it became an X-rated smash throughout Latin America, anticipating by at least twenty years similar hits by Jane Birkin, porn star Marilyn Chambers and Donna Summer. The Afro-Cubans recut their 1949 cult smash "Asia Minor" for Tico with excellent results, and also essayed an ambitious album of songs inspired by the movie version of Ernest Hemingway's novel "The Sun Also Rises". Led by a family of proud black Cuban musicians, their albums, singles, and live performances were as popular among African-Americans as they were among Latinos. Black audiences may not have understood all the words, but they couldn't fail to recognize their cultural idiom whenever Graciela stepped to the microphone and screamed, "Listen, listen, honey . . . ¡qué sabroso está!"
While the ink on Machito's contract was still wet, George Goldner was finalizing plans for the most ambitious Latin music extravaganza yet mounted in this country. As conceived by Goldner and concert promoter Irving Schact, "Mambo USA" was to be a nationwide tour featuring the best mambo bands and dancers working in New York. The bill would include over forty artists, stopping to perform in 56 cities. Predating by nearly a decade similar rock 'n' roll tours by Berry Gordy's Motown Revue and Dick Clark's Caravan of Stars, it was an ambitious attempt to give these artists some nationwide exposure, as well as promote the latest Tico Records releases. Goldner and Schact gave New York a tour preview on February 20, 1954, booking Carnegie Hall for a "Mambo/Rhumba Festival". Tito Puente, Joe Loco and Pupi Campo headlined the sold-out date, with the Phillips-Fort Dancers stepping fancy for the crowd, Cuban percussionist Candido Camero holding forth with his shirtless-and-covered-in-baby-oil conga drum routine, and singers Miguelito Valdés and Myrta Silva appearing as special guests. A week later, Tito Puente and Joe Loco kicked off a mini-tour at Brooklyn's Paramount Theater, and in July, Goldner sent Machito's Afro-Cubans on a three-week jaunt to whet the public's appetite a little more. It took the better part of a year to get the logistics down, but "Mambo USA" finally hit the road that fall.
Four decades later, Max Salazar spoke with Pete Terrace, one of the tour participants. "The tour began in late October", Terrace remembered. "On the bill was Machito's orchestra, Graciela, Joe Loco's Quintet, dancers Mike and Nilda Terrace, the Facundo Rivero Trio and the Mambo Aces (a duo comprised of dancers José Centeno and Anibal Vásquez)". Actor/singer Carlos Ramírez, Mexican comedy star Tin Tan, and several other Latin dance teams also performed. Reportedly, Pérez Prado and His Orchestra joined the tour for selected dates on the West Coast. "We performed in Philadelphia, Boston, Cleveland, Chicago, Washington, DC, Miami Beach, San Francisco, St. Louis, and other cities in Texas. In most of the cities, the turnout was disappointing. Some nights, we were playing to less than twenty people sitting in the audience!" Poor turnout was bad enough, but another problem - blatant racial discrimination - was worse. Pete Terrace: "Most of the musicians travelled in a bus marked 'Mambo USA', and when we stopped to eat, we were refused because of the dark-skinned musicians. Julio Andino, our Afro-Cuban bass player, developed an ulcer . . . the discrimination (he) experienced made him ill". Meagre box office receipts and the musicians' discontent over treatment they received in segregated cities ended the tour prematurely. If any live performances were taped, none ever saw release. However, George Goldner did issue a 10-inch Joe Loco album titled Mambo USA, featuring the peppy theme song and other numbers Loco had performed onstage. A positive result of the tour was that many people in the South and Midwest got a chance to see Latin bands live in concert for the first and possibly only time. At the end of the day, Tico Records more likely than not derived some promotional mileage out of it; still, the thousands of dollars lost in the debacle taught Goldner a stiff lesson about the limits of Latin music's appeal outside its home base.
Tico released its first and only soundtrack album in the late '50s. It featured a group called The Boataneers playing Bahamian music heard in United Artists' tropical romance flick Island Women. This recording, along with those of Ricardo Rico and Mongo Santamaría, was folkloric in nature (in fact, Santamaría's Changó is said to be the first Afro-Cuban folk album ever issued in the United States). These albums sound quite rustic compared to the typical Tico release. Other Latin label owners craved musical authenticity, and didn't seem to mind if their product sounded like it had been taped on old-fashioned wire machines in the Guatemalan jungle. Not George Goldner! Recorded in state-of-the-art studios with impeccable arrangements, his Tico tracks were bold, sassy, and tailored strictly to the tastes of big city consumers. He and Allen Weintraub often bathed them in a rippling echo, making them sound as if they were being played back in a subway station. Tico Records was about fancy, dressed-up Latin dance music, and the keyword was sophistication. Swing and bebop influence was evident on nearly every recording date, and playbacks compared favourably to those of the best jazz bands working at the time. It was major label quality with small label ambiance, and that's what probably drew so many great artists through the doors of its busy new offices at 220 West 42nd Street. It certainly wasn't Tico's royalty rate, which by most accounts was hardly competitive with that of the major labels.
Unfortunately, Goldner's spending habits had much to do with that fact. His passion for Latin music was dwarfed by his mania for gambling. He lost thousands of dollars on horse races and casino games, and his dependence on loans from Joe Kolsky grew. Soon, he was dealing directly with Kolsky's boss, Morris Levy, owner of the famed Birdland nightclub. Levy was widely believed to have gangland ties, and while Goldner was no pushover, he certainly must have been more than a little intimidated. When, in 1955, Levy was instrumental in getting Tito Puente signed to an album deal with RCA Victor, he could do little more than complain bitterly. By then, he was far too indebted to the club-owner to challenge his actions. On the other hand, Levy's seemingly inexhaustible sources of money gave Goldner the freedom to sign acts, record them and release product at a rate few other independent label owners could afford to. Accordingly, he took advantage of the situation and began to branch out.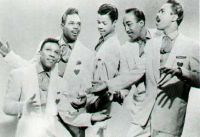 George Goldner's life took a fateful turn on the day he discovered that many of his black and ethnic customers were turning their attention to a new kind of dance music called rhythm and blues. With backing from Morris Levy, he formed the Rama label specifically to market the R & B vocal groups, which had begun to proliferate on the East Coast. He recorded The Crows on a song called "Gee", and Levy used his considerable promotional savvy to help make it one of the first major R & B crossover hits. In the days when black singers were all but banned from pop radio, this Top Five R & B platter shocked the music industry by placing Top Twenty on the national hit parade. Goldner later had Joe Loco record a cover of "Gee" on Tico; in the '60s, future Tico artist Joe Cuba would also take a crack at it. Its success permanently shifted his focus to rhythm and blues, or rock 'n' roll, as these records were increasingly being labelled. In 1954, he debuted Rama's sister label, naturally called Gee, and signed The Cleftones. With singles like "Little Girl Of Mine", they also became successful crossover recording artists. That same year, he hired gifted singer/songwriter Ritchie Barrett away from another Gee group called The Valentines to assist him in A & R. This lay the groundwork for the million-selling 1956 Gee single "Why Do Fools Fall In Love?" by The Teenagers, a group Barrett would later bring to his attention. Hot on their heels was a new Rama group named The Heartbeats, who scored big with "A Thousand Miles Away".
1956 was also the year Goldner partnered with Joe Kolsky and Kolsky's brother Phil Kahl in founding the Roulette label (the allusion to his gambling habit was sharp enough to be painful). Roulette was to be a vehicle for straight-ahead pop releases. Goldner's heart wasn't in this venture, though, and according to some sources, he was never an active partner in the company. It wasn't long before Morris Levy had bought out his share, and installed himself as Roulette's chief executive officer. Kolsky and Kahl would sell out in 1961. The Roulette label went on to be one of the most important and longest-running independent record companies in the business; hits by Buddy Knox, Jimmie Rodgers, The Playmates, Joey Dee and The Starlighters and Tommy James and The Shondells kept its coffers full-to-overflowing. Roulette proved most important to Goldner as the distributor for Gone and End Records, his two newest imprints. They were initially meant as jazz outlets, but the temptation to sign hot young rock 'n' roll talent proved too strong. Soon, Gone and End singles by acts like The Flamingos, The Dubs, Little Anthony and The Imperials and The Chantels were shipping out of record plants, and smashes like "Could This Be Magic", "Tears On My Pillow", and "I Only Have Eyes For You" were climbing the charts. Hoping to simultaneously appeal to both mambo and R & B fans, Goldner attempted some fusion experiments on vinyl; artists like The Crows, Jimmy Wright and The Larke Sisters found themselves cutting such unlikely titles as "Mambo-Shevitz" and "The Lily Mae Belle Mambo". Predictably, these clumsy stabs at Latin rock went nowhere. Unadulterated rhythm and blues is what paid the bills and kept his bookie happy.
Within a very short time, George Goldner began to understand that rock 'n' roll was where the really big money could be made. Suburban white teenagers with disposable income were embracing this new sound, and generating huge profits for independent label owners like himself. There was just no comparison between the fairly modest returns he got from a regional Latin hit, and the monster-sized checks he pocketed after one of his vocal groups took off nationally. Goldner released a rock novelty single on a one-off label called Luniverse, and was astonished when Buchanan and Goodman's "Flying Saucer" zoomed up the charts, selling millions.
However, the profits his rock records pulled in were quickly eaten up by massive gambling debts; it seemed the more money he made, the more slipped through his fingers. "He liked horses", Morris Levy explained to author Fredric Dannen decades later. "He always needed money. It's a shame, because George knew music, and knew what could be a hit. But if he was worried about the fifth race at Delaware, and working (a) record at the same time, he had a problem!" In April of 1957, Goldner was forced to sell his interests in Tico, Rama and Gee to Levy. As would all of his early labels over time, it became a subsidiary of Roulette Records. Yet, Goldner didn't wash his hands of Tico - he still loved Latin music, and it was his first successful company, after all. He kept an active hand in its creative operations, and would occasionally supervise recording dates for the label until the end of his life.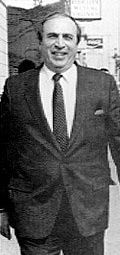 There was nothing middle-of-the-road about Morris Levy - people either loved him or hated him. Reputed to be in the employ of the Genovese crime family, he wasn't shy about throwing his weight around. Depending on the situation, Levy could reportedly come across as either hail-fellow-well-met or very much a bully. 1n 1975, he beat up a plainclothes police officer, causing serious injury. His connections were such that the matter never came to trial! During the thirty-plus years he spent selling music, allegations flew in his direction from all quarters: that he threatened to ruin artists' careers if they didn't do as he wished; that he short-changed artists on royalties; that he never wrote a song in his life, yet put his name to numerous hits; that he bootlegged records on the side. He was implicated in the "payola" scandal of 1959-60 and narrowly escaped indictment by a grand jury. Levy's most high-profile dispute occurred in 1978; he tangled in court with John Lennon over unreleased material he believed he had the right to market - mistakenly, as it turned out. The feds were constantly after him for one thing or another (and in 1988, they finally convicted him of extortion). Still, Morris Levy had his defenders, and not all of them were Mafiosi. "I might not have received every cent of my royalties due", '60s superstar Tommy James told Discoveries Magazine after Levy's death, "but when (I) had a record out, I knew that it would always get priority treatment because of Morris".
He was born in 1927 to one of the last Jewish families still residing in Harlem. During the 1920s and '30s, Harlem was the jazz capitol of the United States, and Levy grew up loving the music. He worked on the fringes of the jazz world for years, eventually becoming manager and then owner of several New York nightclubs. In 1949, he hit the big-time after opening Birdland. It became a Mecca for the cream of jazz talent: Count Basie, Dexter Gordon, Thelonious Monk, Miles Davis, Billie Holliday, and the club's namesake, Charlie "Yardbird" Parker, all headlined there. Celebrities like Frank Sinatra, Ava Gardner, Sammy Davis, Jr. and Marilyn Monroe flocked to Birdland, too. The atmosphere was very exciting, very glamorous, and (allegedly) very mob-connected. Levy got involved in the manufacturing side of the music business in order to record his Birdland acts, as well as claim a hefty chunk of their song income via Patricia Music, his publishing company. The standard "Lullaby of Birdland", written by George Shearing, was one of his earliest and most lucrative copyrights. After the Roulette takeover, several Tico artists suddenly "decided" to record it. Such conflicts-of-interest were typical of the way he did business: in addition to running Roulette and its sister labels, and publishing the songs his artists wrote, he had a hand in jukebox distribution!
Ethical lapses notwithstanding, Levy did know how to package and move inventory, and Tico Records definitely benefited from his knowledge. Everything about Tico started looking more professional after the company relocated to Roulette's office suite at 1631 Broadway. Photography for album sleeves looked sharper, informative liner notes (usually in both English and Spanish) replaced the catalogue list printed on the backs of early releases, and songwriter and publishing credits started appearing on albums for the first time. Many Tico albums got a second lease on life in the form of budget reissues on Roulette's Forum subsidiary. In subsequent years, some of the more jazz-oriented Tico sessions would appear on Roulette proper - for example, Tito Puente's Bossa Nova and My Fair Lady albums, and Machito's critically-acclaimed set Kenya. To his credit, Morris Levy preserved Tico's Latin orientation, and didn't try to hedge his bets by making it a jazz label. As always, jazz was a major influence, but danceable Latin sounds remained the order of the day.
Bandleader Rafael "Ralph" Seijo became Tico's new head of A & R. During his brief tenure, Tico signed and released albums by venerable Latin pianist Noro Morales, Argentinean tango king Astor Piazzola, café society bandleader Fernando "Caney" Storch, future "Mission Impossible" theme composer Lalo Shifrin, and Marco Rizo, music director for the "I Love Lucy" TV show. More aggressively than George Goldner, Seijo tried to diversify the catalogue beyond mambos and cha-chas, recording artists from Argentina, Mexico and Spain who performed in their traditional styles. Marco Rizo, Machito and Pete Terrace each contributed an album to a Seijo-conceived series that put a Latin-American spin on great North American standards by the likes of Cole Porter and Irving Berlin.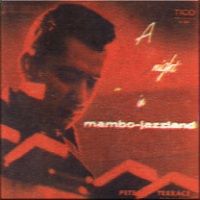 Tico artists kept Bell Sound buzzing with activity, and in the years just prior to Fidel Castro's takeover, a few recording sessions were also held in Cuba. Albums were issued in "dynamic stereo" for the first time. Pete Terrace expanded his quintet into a full orchestra, and arguably cut some of his finest dance tracks under Ralph Seijo's supervision, among them "Chanchullo," "Broadway Mambo" and "Cha-Cha-Chá In New York". Seijo could also pull together a mean cha-cha compilation - you'd be hard-pressed to find better collections than his 1959 releases, In The Land Of Cha-Cha-Chá and I Dreamt I Danced The Cha-Cha-Chá. He made it awfully hard to believe that Tito Puente was no longer a Tico artist, because he did such a good job of compiling new Puente albums from old tracks! Ralph Seijo departed Tico around 1960 for the chance to record his own orchestra on the Somerset label, just as the pachanga craze was beginning to take Latin music by storm. It was left for Teddy Rieg, Roulette's head of jazz A & R, to shepherd the label's artists into the swinging '60s. Despite the fact that rock 'n' roll's growing popularity was taking an ever-larger bite out of Latin music's consumer base, it would prove to be Tico's most successful decade.

Picture research by Stuffed Animal, Tony Rounce, Malcolm Baumgart, Richard Havers, Leonardo Flores, Phil Milstein, Rat Pfink and Jeffrey Glenn.