Welcome... To a celebration of Jack Nitzsche's life and music
When I look at a list of all the things I've done, it really does blow my mind. I really did a lot of stuff and nobody knows it
- Jack Nitzsche.


(From an interview for "The Encyclopedia Of Record Producers)" Billboard Books, 1999).
I visit your Jack Nitzsche site regularly, and still get choked up every time. I'm so deeply touched that you have kept the site alive and that people keep adding to it.
- Jack Nitzsche Jr.
Record Of The Month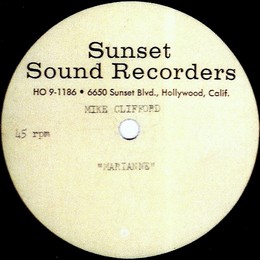 Mike Clifford - Marianne
(Sunset Sound Recorders Acetate)
Anthony Reichardt wrote to the site with a another new Jack Nitzsche & Mike Clifford discovery:
"I have been in contact with singer, MIKE CLIFFORD recently. We were talking about his brief appearance in the 1965 teen 'B' movie, 'Village of the Giants'. He said that he recorded two songs for the movie that Jack Nitzsche arranged. The first being, 'NOTHING CAN STAND IN MY WAY' which was supposed to be in the opening credits but was left on the cutting room floor in the final edit. The second tune was entitled, 'MARIANNE'. This song Mike Clifford performed in the picture but his screen time was less than a minute long so the song was quite abbreviated. He said that both of the songs were written by Jack Nitzsche and Russ Titelman. He said that he still had an old acetate disc that contained both tunes and has since send them to me on an CD.
Great backing tracks in the oh-so classy Nitzsche style.
Anthony Reichardt
Anthony has continued his email conversations and for the next update a feature on the "Record Reviews..." page will focus on the four hitherto unknown Clifford - Nitzsche tracks, including for a short time mp3s of all the cuts.
---
Thank You...very much! An appreciation of the folks who inspired the creation of the site.
---
The pages of this site are intended as a tribute to Jack Nitzsche and to promote his music. The contents may be used in any way that furthers these aims. However, a credit and link to the site is required. Material that is Š also requires written permission from the author before use.
Š Martin Roberts 2002-2011Presented by The Spectropop Team
---